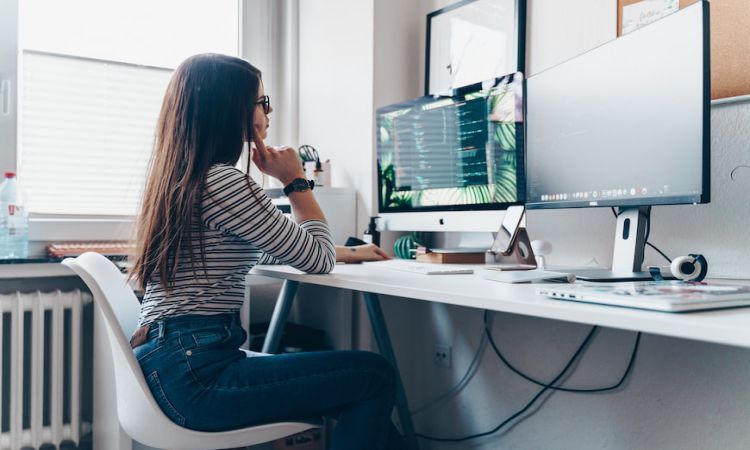 Ensuring a company's long-term success and profitability necessitates creating a positive and engaging workplace culture, doubly so in remote companies due to the many opportunities employees lack to foster connections. A wealth of studies demonstrates that only when employees feel engaged, valued, appreciated, and recognized can their productivity levels rise, resulting in higher earnings per share (EPS). Companies with engaged teams have the potential to outperform their competitors by increasing their EPS faster than other participants in their industry. Also, businesses with high employee engagement levels can boost their revenue three times compared to rivals with low engagement levels. However, the matter becomes complicated when remote employees are involved, and every team-bonding opportunity provided by the in-office setting vanishes.
As hybrid and remote work spread over the world, becoming a requirement for today's talent who prioritizes flexibility more than ever before, there's a growing need for remote companies to adapt and find solutions to make employees feel integrated and connected. Coffee chats, after-work hangouts with colleagues, and team lunches are off the table, calling for substitutes from businesses looking to gain a competitive advantage. But how can remote companies achieve this underestimated goal despite all the barriers?
Jump on the "corporate gifting" bandwagon
Businesses worldwide strive to make employees happier to boost engagement and retain staff. And while little yet meaningful acts of care are effective, there's no better way to proactively increase employee morale and show them support during difficult times when their engagement levels may fall rather than corporate gift-giving. Presents are a staple on anniversaries, but they have become increasingly popular in companies worldwide, with remote offices included.
A company can increase its teams' engagement rates in many ways by offering gifts, and the practice can also be encouraged among employees. For instance, choosing a symbolic and personalized gift is a way to show employees that their passions and identities are recognized and valued. At the same time, likely everyone can admit that the way the gift is wrapped adds a lot of weight to the overall experience and instantly impacts the receiver's perception and expectations about the gift. This is a good thing, as an eye-catching, dressed-up present using quality wrapping paper and a beautiful ribbon for that extra touch will go a long way in showing employees that they're treasured and cared for. As such, depending on the budget possibilities and culture of the company, occasional gift-giving can be a great ally in their strategy to boost employee morale and engagement.
Celebrate achievements (big and small)
Employees today want to feel heard and understood; many acts can show them how much they're valued. Face-to-face meetings are often more effective than virtual interactions, as everyone can pick up on body language and nonverbal cues. And there's no better time to set up such an event than when the company reaches different milestones or makes achievements, such as significant anniversaries, expanding to a new location, successful funding, or new partnerships.
It is one thing when employees can engage in conversations during their coffee breaks and lunchtime, and another story when they're occasionally meeting each other, and there's a roller-coaster of emotions that add up along the way in each of them. This endeavor must be purposeful, thus calling for extensive research and work to plan everything in the smallest detail, like designing themed parties or menus customized for every employee's dietary requirement, allergies, or intolerances.
Don't fear overcommunicating
Often, distant employees may feel left out of the loop, especially when various tools are used for work. It's common for remote employees to feel excluded from some tasks or like they're not in the heart of the action, with some individuals also feeling like they don't fit in when the company's culture doesn't focus on inclusion. As such, communication becomes a powerful factor that can erase any barriers and make everyone feel in the loop. Setting clear expectations and communicating news, changes, and even small modifications can keep everyone aligned and engaged. This doesn't mean oversharing irrelevant details that only consume employees' time when listening. But frequently remembering employees about the aspirations, priorities, updates, and other important elements will help eliminate any potential misunderstanding, and ensure information is delivered correctly and expectations are clear.
Connecting employees with the priorities at the core of the business will help them better understand the purpose behind their work, thus fostering stronger connections and engaging them better.
Prevent employees from overworking
Work-life balance has been frequently debated since employees left their in-office settings and moved their equipment and whole work-life to their homes. It's been a pressing issue since the pandemic kicked in, forcing businesses to shut down their physical office locations. This hotly-debated topic has been researched repeatedly to conclude that overwork is the culprit behind the lowering engagement levels, unproductive work, and less satisfactory outcomes.
While plenty of research suggests that the lack of healthy work-life balance leads to absenteeism, inefficiency, and even mental and physical health, there's still more to be done in this regard. As such, if the tasks assigned to your employees strain their time and health, it's time to make a change and start prioritizing your employees' wellness. Only by striking a balance between these two aspects of their life can they keep their interest in delivering good results at a high level.
Develop a culture of recognition
A common misconception prevails in remote work that in-house employees are more productive than remote employees, which couldn't be further from the truth. Both types of employees can deliver outstanding results when correctly guided and communicated. However, there's one essential factor that can trigger the ambition of every kind of employee to step up their game, and this is recognition.
Employee recognition is an essential engagement driver, with many studies finding that it's the tool that builds a stronger team culture. As such, make sharing frequent feedback and
recognizing employees through all sorts of available forms is part of your engagement-rising strategy.
The importance of boosting engagement levels has never been more pressing. With little yet effective steps, remote companies can overcome the existent barriers imposed by distant work, seeing their revenues grow and their position among competitors strengthen.