Maintaining optimal dental health is imperative for one's overall well-being. By practicing proper oral care, individuals can effectively ward off dental issues such as tooth decay and gum disease while promoting better overall health.
This guide provides valuable tips for maintaining dental health, discusses common dental treatments, and offers guidance on choosing the right dentist.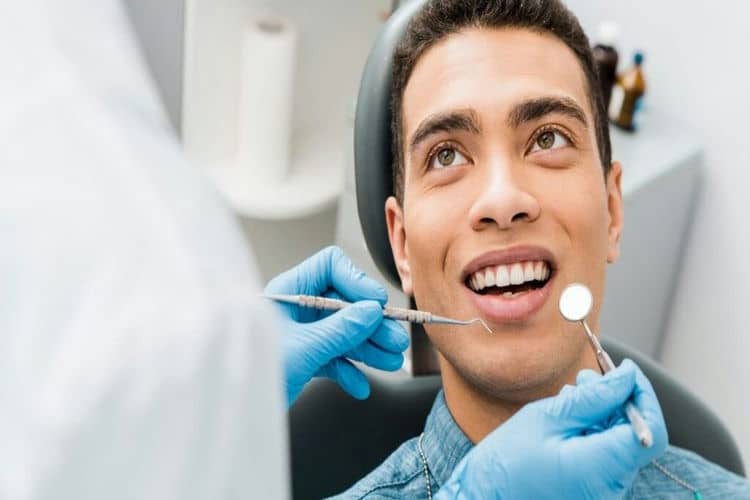 I. Tips for Maintaining Dental Health
Brush your teeth properly: Spend two minutes cleaning your teeth at least twice a day. Use a soft-bristled toothbrush and fluoride toothpaste. Brush gently, circularly, ensuring you reach all tooth surfaces and the gumline.
Make flossing a daily habit: Flossing plays a vital role in eliminating plaque and food particles lodged between the gum line and the teeth. To floss correctly, take approximately 18 inches of dental floss, wrap it around your fingers, and gently slide it between each tooth using a sawing motion.
Use mouthwash: After brushing and flossing, rinse your mouth thoroughly with an antibacterial mouthwash. It aids in bacterial eradication and breath freshening. Choose a mouthwash that contains fluoride for added protection against tooth decay.
Maintain a balanced diet: Reduce your intake of sugary and acidic meals and drinks since they can cause tooth decay. Instead, go for a well-balanced meal full of fresh produce, whole grains, lean meats, and other healthy foods. To stay hydrated and wipe away meal residue, drink plenty of water.
Avoid and limit alcohol consumption: The risk of oral cancer, other diseases, and tooth loss all rise with tobacco use. Additionally, issues with dental health might be exacerbated by frequent alcohol use. Quit smoking and limit alcohol intake for better dental and overall health.
Visit your dentist regularly: Regular dental check-ups and cleanings are crucial for maintaining oral health. Visit your dentist at least twice a year or as your oral healthcare professional recommends.
II. Common Dental Treatments
Dental cleanings: Regular dental cleanings by a dental hygienist or dentist remove plaque and tartar buildup, preventing gum disease and tooth decay. Cleanings also include polishing to remove surface stains.
Fillings: Dental fillings are used to restored damaged teeth by decay. The decayed portion is removed, and the cavity is filled with a suitable material, such as amalgam, composite resin, or porcelain.
Root canal treatment becomes essential when the dental pulp undergoes infection or inflammation due to severe decay or injury. This procedure entails the careful removal of the infected pulp, thorough cleaning of the root canal, and subsequent sealing with a suitable filling material.
Tooth extractions involve the deliberate removal of a tooth from its socket, typically due to various reasons such as severe decay, advanced gum disease, overcrowding, or significant trauma. Dentists may also perform tooth extractions for problematic teeth that may cause issues in the mouth. It may be necessary due to severe decay, advanced gum disease, overcrowding, or trauma. Dentists may also perform wisdom tooth extractions when they cause problems.
Dental crowns: It is used to restore severely damaged or decayed teeth.
Teeth whitening: Teeth whitening treatments help remove stains and discoloration, resulting in a brighter smile. Dentists offer various whitening options, including in-office bleaching and take-home whitening kits.
III. Choosing the Right Dentist
Seek recommendations: Ask family, friends, or healthcare professionals for guidance. Personal referrals can provide insights into a dentist's skills, expertise, and bedside manner.
Check qualifications and experience: Research the dentist's qualifications, including their education, certifications, and years of experience.
Assess dental clinic amenities: Consider the clinic's location, office hours, and availability of emergency services. Additionally, evaluate the cleanliness and comfort of the clinic environment.
Review patient reviews: Read online reviews and testimonials from previous patients to gauge overall satisfaction. Pay attention to feedback regarding communication, treatment outcomes, and staff friendliness.
Consultation and communication: Schedule a consultation with potential dentists to discuss your dental needs and assess their communication style. A dentist who listens to your concerns and explains treatment options is crucial for a positive dental experience.
Cost and insurance coverage: Inquire about the dentist's accepted insurance plans, payment options, and cost estimates for common procedures. Ensure they provide transparent pricing and discuss any financial concerns upfront.
Conclusion
Maintaining dental health involves following proper oral hygiene practices, seeking regular dental care, and making informed decisions about treatments and dental providers.  You can promote good dental health, prevent dental problems, and ensure you choose a dentist who meets your needs. Remember, a healthy smile contributes to overall well-being. By following the tips outlined in this guide, understanding common dental treatments, and choosing the right dentist, such as At Dean Street Dental, you can pave the way for a best smile that lasts a lifetime.