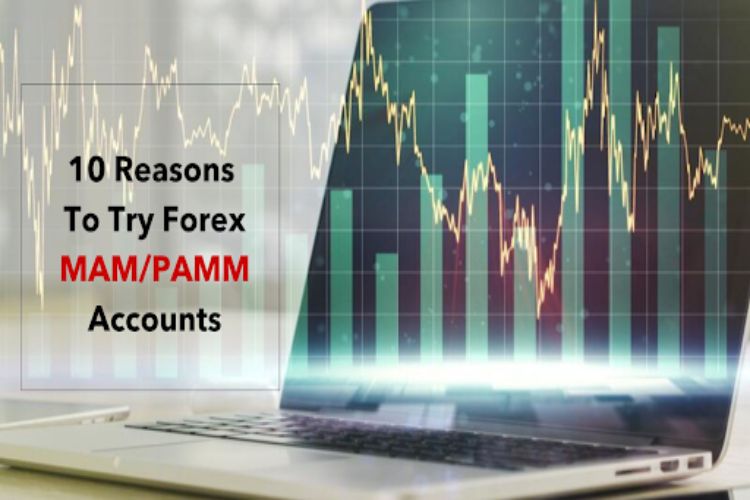 The global currency market is a place full of opportunities for skilled traders. Those with enough knowledge and ability to deal with the risk can always find a way to profit from favorable fluctuations in the prices of currency pairs as they happen to be the trading instruments in the forex market. However, forex trading is not something anyone and everyone can get into, as trading without a plan can push you towards huge financial losses. Now, managed forex account services, namely MAM/PAMM account investment, are becoming popular for individuals who want to profit from trading but lack the time or expertise to do it themselves. 
Individuals who are keen to explore the forex managed account investment opportunities will surely have a solid reason for the choice. But if you are still unsure about signing up for a Forex MAM/PAMM account service, this article will tell you the top 10 reasons to try Forex MAM/PAMM accounts while starting your trading journey.
Easier to Get Started –

One of the primary reasons many individuals choose to enter the forex world by investing in MAM/PAMM accounts is the ease of access. Getting started as an independent forex trader is a lot of work, as you need to come up with a solid trading plan or strategy.  Devising a trading system and implementing it with perfection is not easy as you have to spend a lot of time monitoring and analyzing the market to catch good trading opportunities. 
But when you sign up for a trading account using managed account services, you don't need to do all this as the professional trader/account manager already has a plan and trading system. They will carry out trades on your behalf, and all you have to do is find a broker platform that provides forex MAM/PAMM account services, choose a suitable trader or manager to do the work for you, and then invest your funds for trading. But, it is important to monitor the performance, which can be done by determining the profits or losses made by the manager. For this, you can use a trading calculator that calculates P&Ls along with various other aspects essential for placing trades smartly. 
Maximise Profit Potential –

Another reason to try forex MAM/PAMM accounts is the greater potential for profits. The expert traders in charge of managing multiple trading accounts are handling a large pool of funds along with their own funds. A higher amount of trading capital gives rise to higher profit potential, and you can also benefit from the same as someone investing in the professional trader's system. 
When you trade yourself, you can only utilize your own funds, and the only way to accelerate your profits is trading with leverage, but the amount of leverage available to retail traders is limited, and using excess leverage will add up to the risk. So, those looking to maximize their profit potential safely should consider investment in a managed forex account as a viable option.
An Apt Alternative for Beginners –

Forex MAM/PAMM accounts are highly popular among beginners who are taking their very first step into the dynamic currency market. This is because beginners always have a hard time trying to start forex trading on their own. They can let some experienced individuals trade and generate income on their behalf while they

learn the intricacies of trading

by trading in a demo account. When they are smart enough to trade on their own, they can stop investing and start trading or do both simultaneously. 

Perfect for Passive Trading –

When you decide to trade by yourself, you should be prepared to spare a lot of time for the trading process. It is not just about trading but the time and effort required to execute your trades perfectly. Many of us simply lack the will or interest to participate in the trading process actively. On the other side, many people want to engage in forex trading, but they are unable to do so due to time constraints.
Not all of us can quit our jobs for the sake of trading, so it would be hectic to manage our trading accounts. Passive trading is the only solution for this problem, and managed forex accounts are ideal to practice this approach. You still get a chance to tap into profitable trading opportunities without investing a lot of time or effort in the process.
Professional Management –

Another reason many individuals invest in forex MAM/PAMM accounts is that they are managed by professional traders with extensive knowledge and experience in the forex market. They are well-versed in the market conditions and have optimized trading systems to get desired results in any market situation. 
The professional touch they add to trading activities will be evident once you invest in a MAM/PAMM account. The way they manage the trading activities of multiple investors is surely commendable, and as an investor, you can truly leverage their professional-level skills.
Competitive Advantage –

People who invest in a managed forex account run by a profitable master trader will surely get a competitive advantage over other traders. Trading on your own is a different experience altogether, but we can't overlook the possible outcomes of a simple mistake that you can make while self-trading. Even minor deviations in performance can end up being costly in the volatile forex market. 
There are millions of traders competing against each other, so it won't be possible to grow your trading account and boost your profits unless you find your edge in the market. This is not easy for a novice trader, but you can surely increase your chances of success by choosing an account manager who already has this edge as a forex trader.
Diversification and Reduced Risk-

One thing that stops many people from trying forex trading is the market risk that comes with it. Even the most experienced and skilled trader is likely to encounter losses due to unpredictable events that affect the price of currency pairs. In this case, diversification is the only way to manage and reduce the risk. Diversification is essential for minimizing the risk with any type of investment. 
The concept of diversification can also be applied to your investments in a managed forex account. Here, you diversify your investments by allocating funds to different account managers or traders with distinctive strategies. Hence, forex MAM/PAMM account investment is worth a try for anyone who wants to reduce risk through diversification of funds.
Full Control Over Your Funds –

One misconception people have about managed forex accounts is that they might lose control over their own funds by placing someone else in charge of using them for trading. But that is out of the question as managed forex accounts always give full control of funds to investors, and they can always place specifications and criteria about the usage of their trading capital.
This is especially applicable to MAM account investors as they will make decisions about the maximum risk they are willing to take for trading. The account manager must trade based on the set parameters, giving you the authority to ensure the trading activities align with your risk profile.
More Market Exposure –

The primary goal of going for a managed account service is the opportunity to explore the currency market with minimal risk and effort. Even though it is a Forex account, you may get the opportunity to trade multiple asset classes offered by the broker on their platform, and this allows you to get more market exposure without trading yourself. The pro traders or account managers will be watching the markets with a wider perspective, and this thought process will also be reflected in their trading as enhanced exposure to various market trends.

Opportunity to Learn from Experts –

The last but important reason for most beginners to choose managed forex account services is the opportunities for learning.  Because The MAM/PAMM accounts managers will be expert traders following advanced strategies. By investing with them, you may also get a glimpse of their trading style and strategy on your own screen, allowing you to learn more about trading. Basically, you will be able to study different trading systems and take notes of the elements you may want to add to your strategies later on. 
Final Verdict
So, these were the top 10 reasons to try out forex MAM/PAMM accounts as an investor. Managed forex accounts are a perfect solution for all individuals interested in earning passive income with minimal risk, but it is important to choose the right account manager with a promising record because only that will brighten your chances of success as an investor.