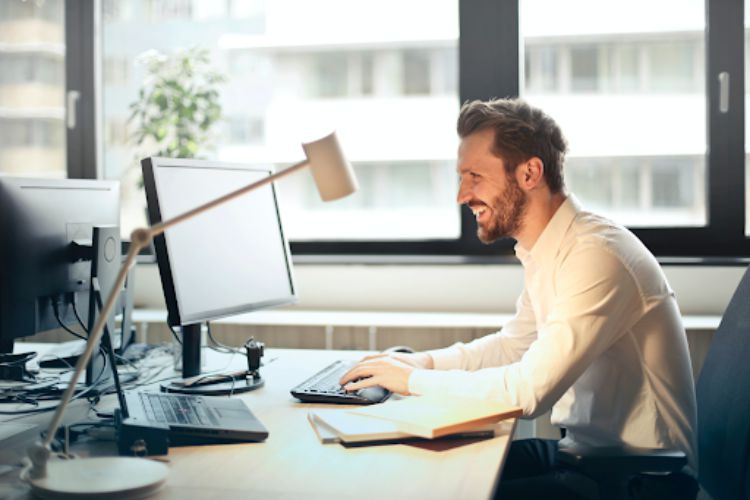 Location-based services are frequently used by applications today. Many mobile and web applications request permission to access their locations in order to deliver localized content to their users. Services provided with location data are one of the most important services that increase customer satisfaction today. Recently, there have been multiple services available to provide detailed geolocation data to their users. Although the first thing that comes to our mind is the Google geolocation API, today, an IP geolocation API also provides detailed location data for users.
Although Google Geolocation API is the most useful location API today, it does not have a suitable structure for some uses. This API only provides latitude and longitude information for the desired location. Therefore, it is not considered a suitable option for businesses that need more information about their target location. Nowadays, there are many location APIs, such as IP geolocation API, that provide detailed information about the desired location. In this article, we will list popular location APIs that can be used instead of Google Location API. But first, let's talk about the importance of using location API for businesses and developers.
Why is Using the Location API Important For Businesses?
There are many important reasons to use the location API for businesses. Today, geolocation information provides a great advantage, flexibility, and power to businesses. It can assist businesses in critical areas such as security and emergency management. Some of the main benefits this API brings to businesses are as follows:
Customer Experience Improvement:

Location APIs help businesses accurately determine the physical location of users. In this way, they can quickly customize the user experience. For example, they can direct users to the nearest branch or store.

Targeted Marketing:

Accurate location information offers businesses the opportunity to create marketing campaigns specific to users' locations. This allows for more effective targeting of ads and offers.

Geographical Analytics:

Businesses can better understand sales trends, customer behavior, and market demands using geographic data. This is important for making strategic decisions.

Logistics and Distribution Management:

Location APIs are unique resources that help businesses manage products and resources more efficiently. Location information plays a critical role in logistics processes such as transportation, delivery, and inventory management.

Social Media Sharing and Location Sharing:

With location APIs, today users can share their location on social media platforms. Users also can use the data provided by the location API to see the posts made in a specific location. Location APIs increase social interaction and offer the potential to attract attention to local events and venues.
Best 5 Alternative Location Services to Google Location API
In this section, we will list the most popular alternatives to the Google Location API.
The ipstack API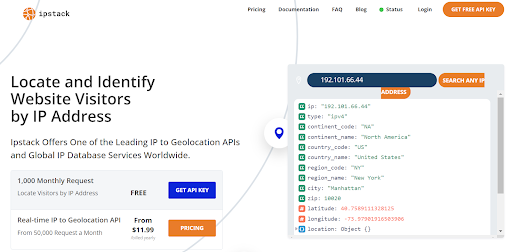 The ipstack API is one of the IP geolocation APIs that provides the most detailed location data corresponding to the IP address. It is actively used by thousands of businesses, such as Microsoft, Airbnb, and Samsung.
The ipstack API is a powerful tool for converting IP addresses into geolocations. It is known for its large database and fast response times, making it a very attractive option for many businesses that offer geolocation services. The ipstack allows users to determine their location in real time, and this information may be used to personalize the user experience or provide location-based services. This API also provides currency, timezone, and continent information for geographical location.
HERE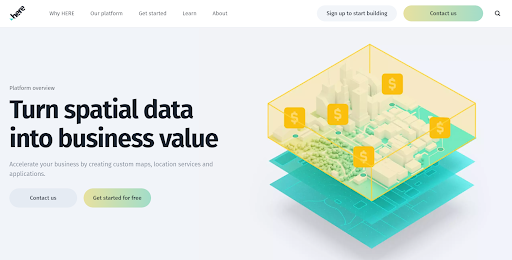 HERE is a leading company offering a comprehensive geolocation service. It offers many location-based services for businesses.
HERE stands out as an influential leader in geolocation services. It provides maps, routing, traffic, and location services for businesses. Thanks to its comprehensive mapping tools and powerful data analytics capabilities, it helps visualize location data and create high-quality maps. The accuracy of the data it provides is quite high. Thus, it helps users better understand the physical world and use data effectively.
The positionstack API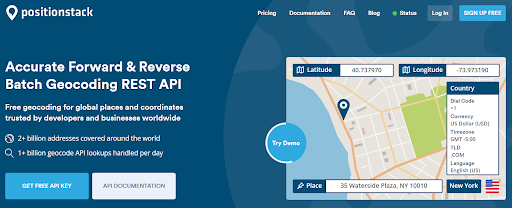 The positionstack API is a free service that offers geocoding services. It supports more than 2 million locations around the world.
The positionstack API is used to convert addresses and geographic coordinates. It also allows users to get fast and accurate results. It supports multiple languages and provides reverse geocoding services. It provides structured data and the data it provides is very detailed. Lastly, it has a simple and user-friendly interface, which allows developers to integrate it easily.
TomTom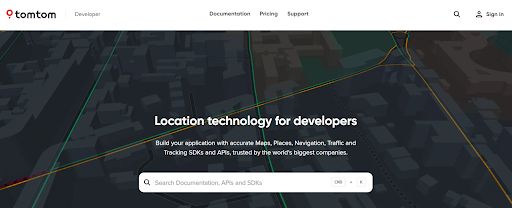 TomTom is one of the leading businesses in geolocation services and navigation technologies worldwide. He is particularly known for his expertise in mapping and location-based services.
TomTom provides powerful Maps, Places, Automotive, Traffic, Navigation, and Tracking APIs. TomTom allows users to quickly and accurately determine local and global locations. This helps drivers find the shortest and fastest routes while allowing businesses to optimize their logistics and transport processes. TomTom's mapping solutions are a valuable tool for businesses, especially in transportation, delivery, emergency services, and localization.
Mapbox

Mapbox is a popular platform that offers geolocation services. It is used by thousands of international service businesses such as BMW, Toyota, and CNN.
Mapbox specializes in map creation, data visualization, and location-based application development. It offers developers and businesses the ability to create custom maps and localized experiences. Mapbox provides detailed documentation with highly detailed references to all APIs.
Conclusion
In summary, geolocation information is becoming more and more critical as the importance of transactions provided by geolocation services increases for businesses. These five services, offered as alternatives to the Google Geolocation API, allow businesses to use geolocation data effectively. They offer significant benefits such as improving user experience, creating targeted marketing strategies, analyzing data, and optimizing operations.
FAQs
Q: What are the Popular Alternatives to Google Geolocation API?
A: Some of the most popular alternatives to Google Geolocation API are as follows:
The ipstack API

HERE

The positionstack API

TomTom

Mapbox
Q: How Does the ipstack API Work?
A: The ipstack API is basically an IP geolocation API that provides geolocation data for one or more IP addresses. This API takes one or more IP addresses as parameters and provides users with the location data corresponding to these IP addresses by querying the database with millions of location records.
Q: What are the Common Usages of Location APIs?
A: Some common use cases of Location APIs are as follows:
Finding Local Businesses and Services

Navigation and Directions

Weather and Climate Information

Social Media Shares and Location Sharing

Transportation and Logistics

Security and Emergency Management

Localization and Geographical Analysis
Q: Is the Google Geolocation API Free?
A: No, it is not. Google Geolocation API offers its users a pay-as-you-go pricing model. For 0-100,000 API requests, it charges each request with 0.005 USD, and For 100,001–500,000 API requests, it charges each request with 0.004 USD per each. In addition, it imposes a limit of 100 API calls per second to its users.