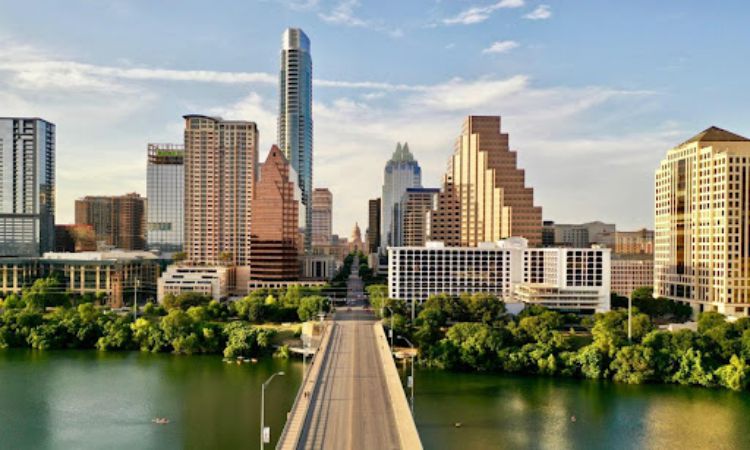 The live music capital of the world and the state capital of Texas, Austin, is renowned for its thriving culture, live music festivals, and many beautiful tourist attractions. Whether you're a history buff, a travel enthusiast, a foodie, or a music lover, Austin offers something to satisfy all interests. From exploring the stunning Lady Bird Lake to watching bats at Congress Avenue Bridge, there is everything to make your day fun-filled and exciting. Hiking, boating, biking, swimming, river tubbing, or boat cruising, you can experience a lot of thrilling activities to pump your adrenaline. The pleasant weather, delicious cuisines, stunning locations, shopping complexes, and adventure activities make this place a perfect destination for every tourist. Not only the places, but Austin is also a technologically advanced city and modern lifestyle. In this guide, we will explore some of the best travel destinations of Austin to make your trip the most memorable one.
Lady Bird Lake
A scenic reservoir located in the heart of Austin covers 416 acres of land and has become one of Austin's most famous tourist destinations. Zilker Park, located inside the area, allows Kayaking, paddle boarding, and boating options. The park also has picnic spots, a sports area, and other outdoor activities. Along the Lady Bird Lake shoreline, the Ann and Roy Butler Hike and Bike Trail offers a beautiful route for biking, running, or walking. Nature enthusiasts can see tall trees, different birds, colorful flowers, and a variety of unique plants. You can take Austin charter services to experience luxury and comfortable travel to Austin, visit the beautiful tourist destinations, and go back.
Zilker Metropolitan Park Attraction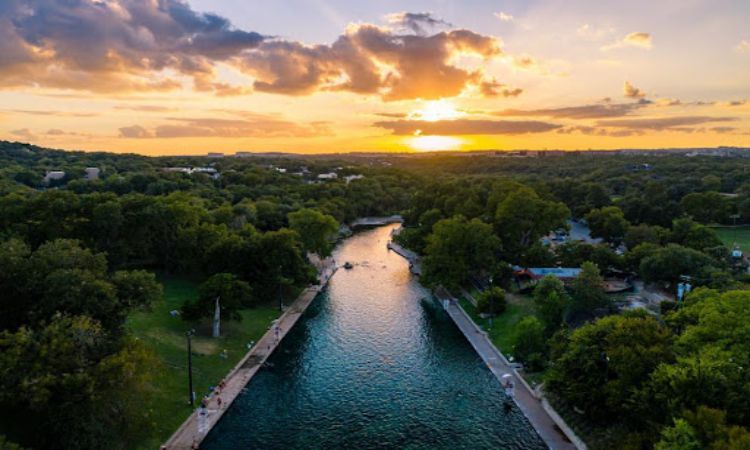 Zilker Park, which spans over 350 acres, offers a wide range of attractions and recreational activities. The park is like heaven for nature lovers to have a walk in the beauty of nature and witness a variety of trees, plants, and beautiful flowers. The park also contains a volleyball court, a disc golf course, and a biking area, which makes it a perfect place for every age. Zilker botanical garden is the most loved area of the park, which is filled with lush greenery and colorful plants and flower species. The park also has the Hartman Prehistoric Garden, which is designed around ancient dinosaur footprints discovered embedded in the rock. Austin Nature & Science Centre, Umlauf Sculpture Garden and Museum, McBeth Recreation Centre, and Barton Springs Pool are some of the other attractions of this park. The famed Austin City Limits (ACL) Music Festival is held in Zilker Park. This multi-day festival, held in October, presents a wide array of musical performances from a variety of genres.
Congress Avenue Bridge
The Congress Avenue Bridge is home to North America's largest urban bat colony. Approximately 1.5 million Mexican free-tailed bats lodge beneath the bridge from late spring to early autumn. These bats emerge each evening after dark, searching for insects, creating a magnificent natural show that no one can miss. With sunset as the background and millions of bats flying in the sky, the area has become one of the most popular tourist destinations to witness these unique creatures. It's a one-of-a-kind experience that highlights Austin's ecological diversity. Many companies offer boat tours on Ladybird Lake to witness the stream of bats as they go under and fly out from the bridge.
Mount Bonnell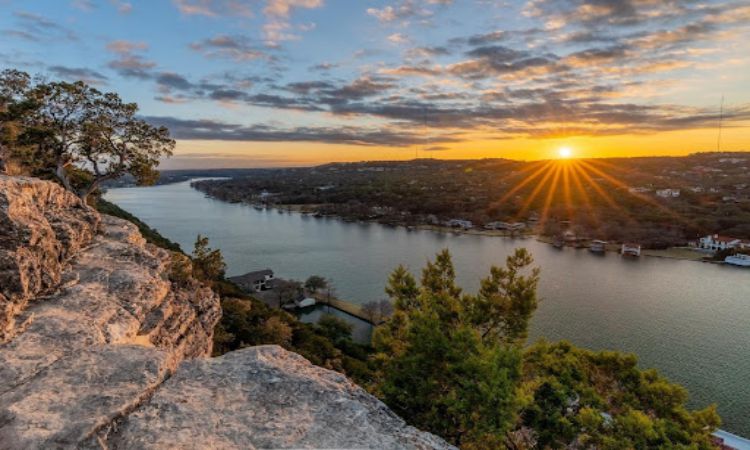 It rises 775 feet above sea level and provides panoramic views of the city, Colorado River, 360 Bridge, and neighboring Hill Country. The place is best to spend a day with friends and family, picnicking, hiking, and camping. Austin's skyline is visible from this area, and taking beautiful pictures of the view is everyone's favorite activity here. For photogenic people, the location provides stunning views and beautiful landscapes. The best thing is pets are also allowed here, making this place the top priority of people having pets. You can take your adorable pets for a walk-in nature and expose them to the beauty of this place. The mesmerizing sunset below the hillside can be bliss to your eyes. In short, visiting Mount Bonnell allows you to explore nature, take unforgettable photos, and enjoy Austin's natural beauty.
Umlauf Sculpture Garden and Museum
It is a hidden gem nestled in the heart of Austin that shows the American sculptures of Charles Umlauf. It is situated in Zilker's Metropolis Park, and the museum is surrounded by gardens and ponds that offer perfect surroundings to the museum. The location is perfect for both history buffs and nature lovers to witness both sides in a single place. The art and sculptures inside the museum are based on personal happenings of his life and the world. There are 40 sculptures in the outer garden that are made in the natural landscape, and around 200 sculptures and pieces of art inside the museum. Umlauf's work covers a wide range of styles and mediums, including metal, stone, and wood sculptures that must be loved by aesthetes who have love and respect for art and sculptures. You can even visit the museum's gift store to purchase a range of art publications, jewelry, sculptures, and unique gifts inspired by Umlauf's work.
University of Texas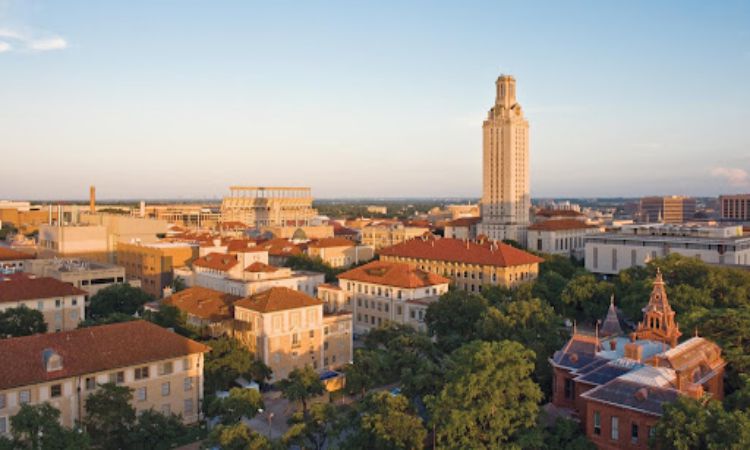 With a top-class university campus and education, the University of Texas in Austin is also a popular tourist destination. The Blanton Museum of Art is the art museum at the University of Texas, Austin, and it houses a broad collection of nearly 15000 pieces of artwork from all around the world. It includes a diverse spectrum of art styles and periods, such as European, American, Latin American, Modern, and contemporary art. The Harry Ransom Centre, a research library, has a sizable collection of manuscripts, works of art, and rare books.  The Texas Memorial Museum showcases a huge collection of things focused on natural and cultural history, including numerous dinosaur exhibitions, fossils, jewels, and minerals. The university also has the iconic clock tower building, stadiums, landmark buildings, and natural landscape.
Conclusion
Austin is a popular tourist destination with a wide range of attractions to suit different interests. From the natural beauty of Zilker Metropolitan Park to the cultural experiences found at the Umlauf Sculpture Garden and Museum, there is something for everyone in this vibrant city. If you are planning to visit Texas, Austin is a must-visit place. Austin charter services can make your travel easy, comfortable, and hassle-free. Reaching the destination and leaving from there will be under your control, thus avoiding the long queues at the airport and long-distance transportation costs. So, what are you waiting for? Pack your bags, book a private jet, and reach one of the most beautiful cities in Texas.