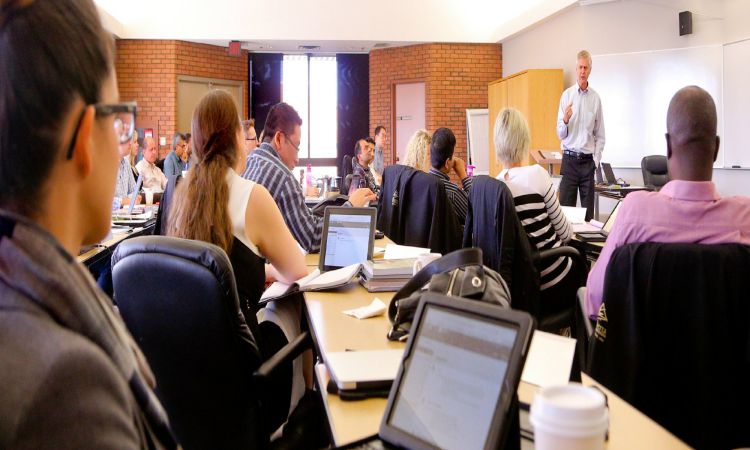 As professionals strive to ascend the corporate ladder, the need for advanced knowledge and skills becomes increasingly vital. One educational pathway that offers a golden ticket to leadership roles and entrepreneurial ventures is the Executive Master of Business Administration (EMBA).
This comprehensive guide aims to shed light on the various aspects of an EMBA program, offering insights and advice to those contemplating this formidable yet rewarding journey.
EMBAs; A Detailed Overview
An EMBA (Executive MBA) is a postgraduate academic course for experienced working professionals who want to enhance their strategic vision, leadership skills, and business acumen. These professionals are often managers and entrepreneurs in their mid-30s to late 40s, either just about to ascend to senior management roles or are already absorbed in those positions.
Unlike traditional MBAs, Values-centered EMBA programs don't focus much on the rudimentary aspects of business. They are instead more engaged in the nuances and intricacies of business management, offering a unique blend of classroom instruction, experiential learning, and peer networking.
The classroom experience is characterized by diverse professional experiences from the students, which leads to practical, relevant,  and highly insightful discussions. The networking opportunities provided by these programs enable students to build lasting relationships with like-minded professionals.
EMBA vs. Traditional MBA: Spotting the Differences
Students often find it difficult to choose between an EMBA and a traditional MBA. While they may appear similar at first glance, these programs cater to different career stages and offer distinct advantages.
The foremost distinguishing factor between an EMBA and an MBA lies in the target audience. EMBA programs are primarily designed for mid-to-late career professionals who have already acquired significant management or leadership experience. On the other hand, traditional MBA programs target early-to-mid-career professionals, often with a mix of management experience.
Another critical distinction is the format of the program. Traditional MBA programs often require full-time dedication, whereas EMBA programs are typically part-time, accommodating the demanding schedules of working professionals.
Although both MBA and EMBA programs cover core business administration topics, there's a significant difference in curriculum flexibility. MBA programs typically offer a diverse range of electives, concentrations, and specialties, allowing students to customize their learning experience.
In contrast, EMBA programs often adopt a lockstep model, featuring a more rigid curriculum which is particularly beneficial for EMBA students, who usually bring significant job-specific knowledge into the program.
EMBA Admission Prerequisites
The admission process for EMBA programs is often competitive, primarily due to its target demographic. These criteria often vary across different programs, so potential candidates must review multiple programs to find the best fit for their credentials.
With that said prospective EMBA students should pay close attention to the admission requirements, which include:
Career progression: Applicants typically have several years of professional experience
Standardized tests: Some programs may require a GMAT, GRE, or Executive Assessment score
Full-time job: EMBA candidates are expected to be working full-time during the program
Educational background: A bachelor's degree from an accredited institution is mandatory
The EMBA Curriculum; What to Expect
EMBA programs generally cover the same core topics as traditional MBA programs but from a more elevated perspective. The curriculum often encompasses a broad foundation in business fundamentals, including marketing, accounting, finance, and leadership, with a particular emphasis on data-driven decision-making and strategic planning.
Moreover, as pointed out earlier, some EMBA programs offer unique electives and immersive international study experiences, providing students with a firsthand understanding of global business challenges and rewards.
An integral part of the EMBA journey is its wealth of experiences, both inside and outside the classroom. The cohort-based structure of EMBA programs fosters a vibrant learning community, enhancing peer-to-peer learning and networking opportunities.
The program also provides students with leadership and career coaching, aiding them in crafting their leadership trajectories and honing their personal branding skills. Furthermore, EMBA students can benefit from the program's strong ties with the business community, expanding their professional networks and opening doors to diverse career opportunities.
Common EMBA Courses
Though each business school develops its own EMBA curriculum, some popular courses include:
Managing and Leading Organizations
Data Analytics for Executives
Business Competitiveness and the Macro Environment
Contemporary Legal, Regulatory, and Ethical Issues in Business
Business and Management Practices in Global Settings
Choosing an EMBA Program: What to Consider
Core Curriculum
The EMBA curriculum focuses on general leadership and management skills. While traditional MBA programs offer multiple specializations, EMBA programs usually do not have mandatory concentrations.
As most EMBA students already possess specialized skills from years of professional experience, the curriculum is designed to broaden and deepen their existing knowledge base.
Evaluating EMBA Programs
When considering EMBA programs, it's essential to evaluate their rigor because not every program offers the equivalent of a full-time MBA. As such, you must scrutinize whether it's worth the investment. Key factors to consider include:
The core and elective classes
Program format
Type of degree awarded.
Another significant factor is the competitiveness of EMBA programs. This can be gauged by looking at the admissions requirements, such as the need for standardized tests, work experience, management experience, and academic performance criteria
The Duration
Most EMBA programs run for approximately 18 months to two years. They typically adopt a cohort-based approach, where students progress through the curriculum together. This format not only fosters peer relationships but also facilitates collaborative learning.
The course schedules are meticulously planned, with classes often held on select days or weekends, to ensure minimal disruption to the student's professional commitments.
Reputation and Accreditation
With over 300 EMBA programs worldwide, it's essential to choose a program offered by a reputable and accredited institution with a proven track record of molding successful business leaders.
Location and Proximity
The physical location of the EMBA program is a crucial factor to consider. Institutions strategically choose locations in close proximity to business hubs and city centers. This not only allows for easy commuting for working professionals but also provides opportunities for experiential learning and networking.
Some institutions even offer their EMBA programs online to cater to the needs of professionals unable to attend in-person classes due to geographical constraints or other commitments.
Classroom Dynamics
The classroom experience in an EMBA program is unlike any other. The diversity in terms of industries, functional areas, and backgrounds represented by the students makes classroom discussions practical and relevant.
Moreover, the in-person classroom experience provides an avenue for students to build relationships with their peers, exchange professional advice, and share work challenges.
EMBA: Is It A Worthwhile Investment?
Signing up for an EMBA can be a resource-draining investment in terms of time, money, and energy.
Tuition fees for EMBA programs can be quite costly, easily running up to the hundreds of thousands, which most find perturbing. The good news is that plenty of institutions offer financial aid and scholarships. Some employers also provide tuition reimbursement schemes.
Despite the hefty EMBA costs, the ROI can be quite significant.
EMBA's Impact on Your Career Trajectory
Firstly, EMBA students interact with executives from diverse industries and backgrounds. This diversity challenges their problem-solving methods, leading to innovative solutions.
Moreover, the EMBA program offers leadership and career coaching. Students can formulate and execute their leadership trajectories. Through executive career coaching, students learn to articulate their personal brands, enhancing their leadership skills.
Lastly, the executive network of the student cohort and business partnerships yield a strong group of friendships and alliances across various industries. These relationships empower students to make a direct impact in their offices. Classroom learning is applied on the job, fostering the growth of organizations or teams.
Pros and Cons of an EMBA
Like any major academic endeavor, EMBA programs come with their share of benefits and drawbacks.
On the upside, EMBA students can:
Ability to apply newly learned concepts immediately at work.
Valuable exposure at a critical professional juncture.
Enhanced stature and value in the eyes of future employers, customers, and business partners.
Potential for faster and/or higher-level promotions.
Facilitates transition from a technical management role to a general management role.
However, potential downsides include:
Balancing academic commitments with demanding careers and personal responsibilities.
Limited formal recruiting for career changes.
High cost, requiring a careful assessment of potential personal value and motivations.
Potential obligation to remain with a sponsoring company for a specified period.
Winding Up: Is an EMBA Right for You?
Are you a seasoned professional seeking to refine your leadership skills, broaden your business knowledge, and expand your professional network? If so, an EMBA could be exactly what you need.
But the decision to pursue an EMBA hinges on your personal and professional goals, financial resources, and readiness to commit to an intensive learning journey.
Remember, signing up for an EMBA is not just about acquiring a prestigious credential on your CV— it is about embracing a transformative learning experience that can reshape your career trajectory.
So, equip yourself with the necessary info, evaluate your options, and make a well-guided choice aligned with your career aspirations and personal ambitions.
While you might find the journey challenging, you'll also find that the rewards are well worth the effort.