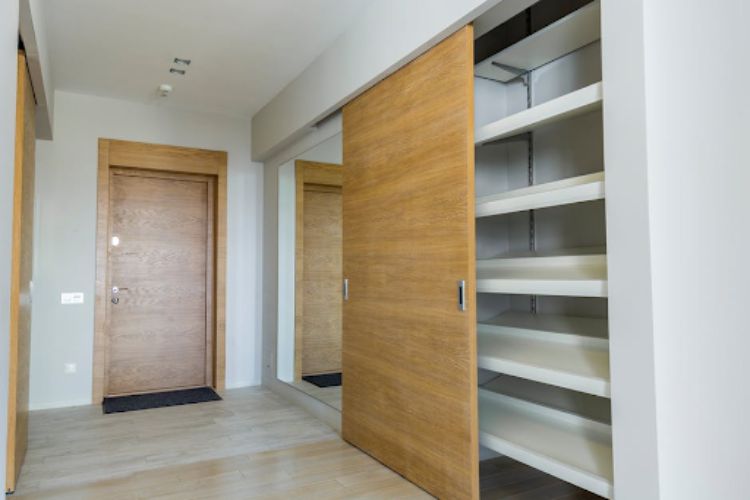 Barn doors are no longer just for the farm. They have become increasingly popular in modern homes, adding a touch of rustic charm while also providing functionality.
These stylish interior door designs have transformed how we think about doors and have become essential in many homes.
In this article, we will explore how you can use a modern barn door to transform your home into a stylish and functional space.
Living Room
The living room is often the heart of the home. This is where families gather to relax and spend quality time together.
Adding a modern barn door as a focal point in this space can bring a sense of coziness and warmth.
Consider using a rustic wooden door with black hardware for a classic barn aesthetic. Or you can opt for a sleeker design with white or metallic finishes for a more modern look.
Kitchen
The kitchen is another area where barn doors can make a big impact.
If you have an open-concept kitchen, using a barn door as a partition between the kitchen and living space can create separation while maintaining an open feel. You can also use a barn door to hide away cluttered pantry shelves or as a unique alternative to traditional cabinets.
When it comes to barn door handles, you have endless options. You can choose a sleek and modern handle to complement your kitchen's design or go for a more rustic look with a weathered handle.
Bathroom
Barn doors have also become a popular choice for bathroom doors.
Sliding barn doors are perfect for smaller spaces as they save room by not requiring any floor space to open and close. You can use frosted glass panels in your barn door to maintain privacy while still allowing natural light into the bathroom.
For a more unique touch, consider using a brightly colored or patterned door in an otherwise neutral bathroom. This will add a pop of color and personality to the space.
Bedroom
Barn doors are an excellent choice for bedroom doors as they can create a statement while also saving space.
If your bedroom has a walk-in closet, you can use a barn door to separate it from the rest of the room. This adds a touch of luxury and elegance to your bedroom while also being functional.
As for the design, you can choose a door with intricate patterns or even a mirrored one for added glamour.
Home Office
For those adapting to remote work, a home office has become a necessary part of a modern home. Using a modern barn door design to separate your workspace from the rest of the house can help maintain a healthy work-life balance.
For quick access to your workspace, consider a door with a spring hinge. This not only adds visual interest but also functional convenience. You can checkout this page with a spring hinge for more design inspirations.
Whether you choose a minimalist design or a door with a unique pattern to stimulate creativity, a barn door can add a refreshing touch to your home office design.
Embrace the Modern Barn Door Trend Today
Modern barn doors offer a stylish and versatile solution for transforming any home. With their unique designs and functionality, there is a perfect option for every space.
So why wait? Embrace the modern barn door trend and elevate your home's style today. 
Was this article helpful? For more guides and tips, make sure to check out the rest of our site.