The Amalfi Coast is a true gem of Italy, known for its picturesque towns, stunning natural beauty, and crystal-clear waters. For those looking to explore this breathtaking region in comfort and style, Sorrento Limo offers the perfect solution. Our Amalfi Coast private tours are designed to showcase the best of this incredible coastline, with luxury vehicles, knowledgeable drivers, and all-inclusive service.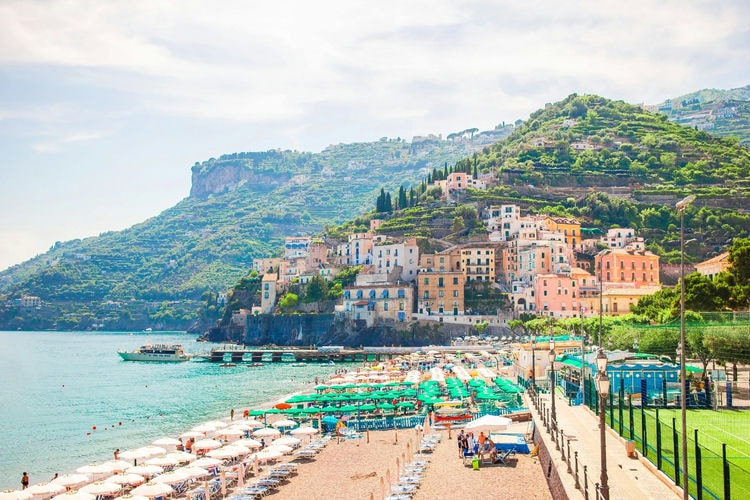 Experience the Best of Italy
At Sorrento Limo, we understand that the journey is just as important as the destination. That's why we offer luxury vehicles that are meticulously maintained to ensure your comfort and safety. Our fleet includes a range of options to suit your needs, from sedans to larger vehicles for groups of up to 16 people. Our drivers are professional, courteous, and English-speaking, with a deep knowledge of the Amalfi Coast region.
Ever wanted to explore the Italian coastline in a dazzling Mercedes or Volkswagen? With our premium service, now you can.
An All-Inclusive Tour
We believe that transparency is key when it comes to pricing, which is why our Amalfi Coast tour covers all the bases. That means you won't have to worry about any additional costs for tolls, parking fees, or fuel. Our drivers will take care of all the logistics, leaving you free to sit back, relax, and enjoy the jaw-dropping views of the coastline.
The duration of our tour is approximately 8 hours, giving you enough time to soak in the sights as well as the Italian sunshine.
Unforgettable Highlights
The Amalfi Coast is home to some of the most beautiful towns and attractions in Italy, and our tour is designed to showcase the best of them. One of the highlights of the tours is the visit to Positano, a charming town that's famous for its pastel-colored buildings and narrow, winding streets. You'll be under no pressure as you explore the town at your leisure, taking in the local atmosphere and browsing the local boutiques and shops.
Another highlight of the tours is the namesake town of Amalfi, a picturesque place that's home to the historical Amalfi Cathedral. This beautiful building dates back to the 9th century and features a mix of architectural styles, including Byzantine, Romanesque, and Gothic. You'll also have time to wander the town's quaint streets and enjoy a delicious meal at one of the many restaurants and cafes.
For those interested in history and culture, the town of Ravello is a must-visit destination. Here, visitors can explore the magnificent Villa Rufolo, which dates back to the 13th century and features beautiful gardens, fountains, and sweeping views of the coast. Additionally, the town is home to the famous Ravello Festival, an annual music festival that attracts performers and audiences from all over the world.
One of the most exhilarating sightseeing experiences in the Amalfi Coast is hiking the Path of the Gods, a trail that winds its way along the cliffs above the sea, offering views of the coastline and the surrounding mountains. Another popular activity is to take a drive along the famous Amalfi Drive, a winding road that snakes its way along the coast, passing through charming towns and offering surreal views at every turn.
Overall, the Amalfi Coast truly has something for everyone, whether you're looking to explore the history and culture of the region, or simply enjoy the natural scenery.
Flexibility and Customization
Here at Sorrento Limo, we understand that every traveler is different, which is why we offer flexibility and customizable options for all components of our Amalfi Coast tour. If there's a specific town or attraction that you'd like to visit, simply let us know and we'll do our best to accommodate your request. We can also adjust the tour schedule to fit your preferences, whether you prefer an early start or a later departure.
If you have children that need booster seats or require extra stops, we are happy to accommodate these needs as well.
Don't Miss Out
The Amalfi Coast is simply a destination that should not be missed, and with Sorrento Limo, you can explore this stunning region in comfort and style. Our all-inclusive tours, luxury vehicles, professional drivers, and flexibility make for an unforgettable experience.
Whether you're traveling solo, with a partner, or in a group, our Amalfi Coast tour is the perfect way to experience the best of this region. Discover the beauty of the Amalfi Coast with Sorrento Limo. We look forward to showing you everything this stunning coastline has to offer.
Booking Your Amalfi Coast Tour
Booking your Amalfi Coast tour with Sorrento Limo is easy. You can book online through our website, or you can give us a call and speak to one of our friendly and knowledgeable representatives. We'll work with you to create an itinerary that meets your needs and exceeds your expectations.
Safety Measures Taken
At Sorrento Limo, the safety and wellbeing of our guests are our top priority. That's why we've implemented a number of safety measures to ensure that our vehicles and drivers meet the highest standards of cleanliness and hygiene. Our vehicles are kept cleaned and sanitized, and our drivers keep the environment in the car comfortable at all times. We want you to feel safe and secure throughout your Amalfi Coast tour with Sorrento Limo.
Visit the Amalfi Coast
The Amalfi Coast is a true jewel of Italy, and there's no better way to experience it than with Sorrento Limo by your side. Our luxury vehicles, top-tier drivers, and customer-oriented service make for a visit you won't soon forget. Book your tour today and discover the beauty of the Amalfi Coast like never before.