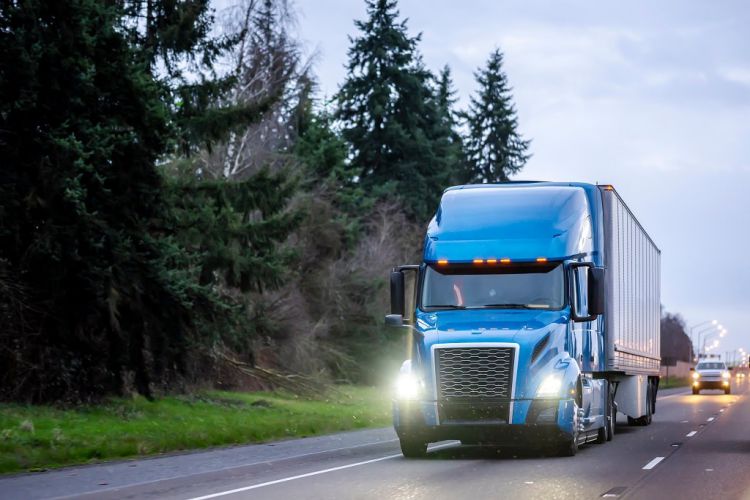 Dry van trucking is one of the most common types of transportation in the freight industry. It is a reliable, cost-effective, and versatile mode of transportation for all kinds of goods. From furniture to clothing, electronics to building materials, dry vans can haul almost anything. In this blog post, we will dive into the basics of dry van trucking and explore what makes it the preferred choice of transportation for shippers.
What is Dry Van Trucking?
Dry van trucking involves the use of a fully enclosed trailer to transport freight. The trailer is typically made of aluminum or steel and has no temperature control or ventilation system. The size of the trailer can vary depending on the type of vehicle, but most commonly, it measures 53 feet long and 8.5 feet wide. Dry vans are designed to keep cargo dry and protected from weather elements.
Dry van trucking explanation – this is a type of over-the-road (OTR) commercial freight transportation service that involves a driver and a large box-shaped trailer, also known as a "dry van." Dry van trucking is used to transport goods safely and securely across the country or within local areas, depending on the needs of the individual company. In contrast to flatbed trucking operations where shipping containers are loaded directly onto an open bed trailer, dry vans are fully enclosed and designed for securing cargo during transit.
The most important feature of dry vans in commercial freight transport services is their ability to protect their content from weather, dust, and grime. The exterior walls are made out of hard material such as aluminum or steel while the roof has rigid construction with overlapping panels for increased strength. Cargo doors come with multiple lock systems which can be key entry or electronic locks so only authorized personnel can access the contents inside it. Furthermore, some vans come equipped with air ride suspensions that reduce vibrations when goods are transported over long distances; this helps keep fragile items safe while they're being moved around.
Dry vans have become an essential part of modern logistics since they enable companies to ship goods quickly, efficiently, and securely all across the country—no matter what size business you have or what type of goods need transporting! From high-value electronics items like phones and computers to clothing/apparel industry deliveries; grocery staples like fruits & vegetables; pharmaceuticals you find in hospitals—all these various types of products require special care when moving them from one place to another—which makes dry van trucks indispensable for ensuring successful delivery!
Advantages of Dry Van Trucking
Dry van trucking has many advantages over other modes of transportation. For starters, it's the most affordable option for shippers. Since the trailers are enclosed, dry vans are a popular choice for high-value cargo that requires protection from the sun, wind, rain, and other weather elements. Another advantage is the flexibility of scheduling. Since dry van trucking does not have specific requirements for temperature control, load scheduling can be done at any time of the year.
Types of Dry Van Trailers
There are quite a few types of dry van trailers used in the industry, yet the most common are standard 53-footers. Standard trailers can be loaded from the rear, side, or top, allowing plenty of flexibility for shippers. Other types of dry vans include pup trailers (shorter than standard length) and straight trucks (the cargo area is attached to the cab). Dry vans can also be divided into compartments, allowing for different items to be loaded under different conditions, such as different temperatures or humidity levels.
Restrictions and Limitations
Although dry vans are versatile and can haul almost anything, there are some restrictions and limitations. The weight limit of a dry van trailer is 45,000 pounds, and the maximum allowable weight of the truck and the trailer is 80,000 pounds. Additionally, some goods, such as hazardous materials, cannot be transported in dry vans. A complete understanding of the limitations is essential when shipping freight using dry van trucking.
Working with a Dry Van Carrier
Choosing the right dry van carrier is crucial for successful shipping. You should work with experienced dry van carriers who have a good track record and are licensed and insured. Make sure to discuss your requirements and expectations with your carrier to minimize the risk of delays or other issues. Communication is key, so keep in touch with your carrier throughout the shipping process to ensure that everything runs smoothly and on schedule.
To wrap things up
Dry van trucking has many advantages and is a reliable transportation option for shippers. Understanding the basics of dry van trucking is essential when choosing the right mode of transportation for shipping. Working with an experienced dry van carrier can help you minimize risks and ensure that your freight is delivered safely, efficiently, and on time. Implementing these tips will go a long way to help you master dry van trucking and make informed decisions in the future.