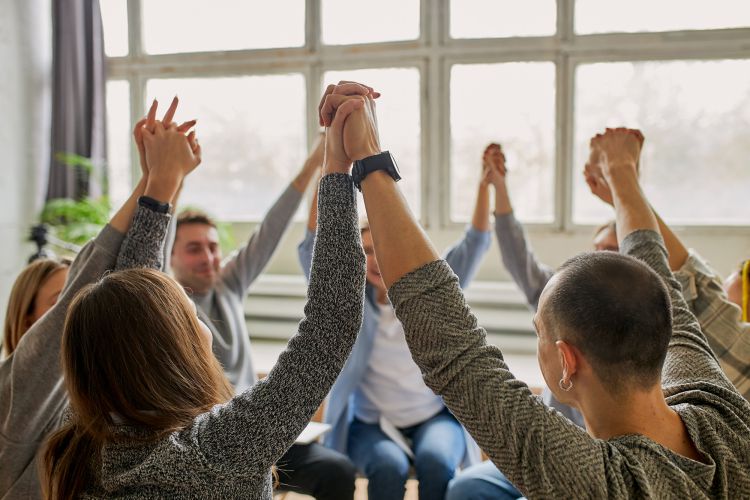 As we journey through life's twists and turns, there are some topics that, although tough, need to be unpacked and understood. Today, we're diving into one such subject: sobriety and addiction recovery.
You may have heard these terms thrown around in conversations, movies, or even within your circle. Or perhaps you or someone you know is wrestling with them firsthand. But what do they mean? And why should we all take a moment to grasp their essence truly?
Whether personally touched by this journey or just curious, understanding the world of sobriety and recovery can offer a fresh perspective on life's challenges and triumphs. So, grab your favorite drink, coffee, tea, juice, or plain water, settle in, and explore this together.
What's Sobriety And Addiction Recovery Anyway?
When discussing sobriety, we're referring to living free from addictive substances. It's not just about ditching the drink or the drug. It's about building a life where you don't need to turn to them.
Addiction recovery, on the other hand, is the ongoing process of overcoming addiction and all the challenges that come with it. Think of it as trekking up a mountain; the view gets clearer the higher you go, but you've got to keep walking. 
You can think of achieving sobriety as the first step in an addiction recovery plan. It involves staying away from the addictive substance and making significant changes to regain control and balance. Staying sober becomes your immediate goal, and recovery is your ultimate objective. 
Why The Journey Matters
Before we delve into the stages of addiction recovery, it's crucial to emphasize why understanding this journey is so important. Think about it: every adventure, whether a road trip, a movie plot, or a new relationship, has unique stages.
Similarly, the journey to sobriety isn't a one-size-fits-all straight line. It's filled with ups, downs, loops, and detours. By getting familiar with its phases, you're not just gaining knowledge but arming yourself with empathy and insight.
Whether you're navigating this path or supporting someone who is, every bit of understanding counts. With that in mind, let's break down the key milestones of this transformative journey. 
The Tough Start: Acute Withdrawal
Overview: The acute withdrawal phase is your body's initial reaction to the absence of the substance it's been accustomed to. This is when the physical and psychological dependencies become most evident, and the body begins its natural detoxification process.
What It Feels Like: Imagine waking up to the loudest alarm, but you can't find the off button. Your body and brain are in uproar, craving the familiar substance and reacting to its absence.
During this stage, your body reacts in different and often painful ways. You'll get an upset stomach and throw up several times as your body tries to rid itself of toxins. In alcohol and benzodiazepine withdrawals, your nervous system reacts with shakiness and even convulsive episodes. 
You'll find yourself sweating and running a fever as your body tries to recalibrate its temperature and functions. It's common to feel tired and drained at this stage, as your body uses all of its energy in detoxification.
Apart from physical symptoms, you'll also experience the psychological effects of withdrawal. You'll be moody and irritable; in some cases, intense cravings can even lead to seeing or hearing things. 
Duration: Acute withdrawal can range from a few days to several weeks, depending on the substance, how long you've been using it, and individual factors. 
Key Takeaway: This phase is intense, challenging, and sometimes medically dangerous. It's vital to consult with professionals in your area or seek help online at jacksonhouserehab.com. Remember, your body is resetting itself, and with time and the proper assistance, you'll move through it. 
Approaching acute withdrawal with knowledge, support, and medical guidance can significantly affect your journey, making the rough start a foundation for a brighter, sober future.
The Hangover Stage: Post Acute Withdrawal Syndrome (PAWS)
Overview: Once the immediate and intense symptoms of acute withdrawal subside, you might assume that the most challenging part is over. However, PAWS serves as a reminder that the brain and body are still healing. It's a collection of lingering symptoms lasting for weeks and even months after ceasing substance use.
What It Feels Like: Imagine the grogginess and unease after a bit of sleep, combined with the unpredictability of a roller coaster ride. You're better than the initial phase, yet things don't feel "normal." 
At this point, you'll feel constantly tired despite a good night's rest. Some may even have trouble sleeping or staying asleep. You'll have aches and pains all over and feel uncoordinated and, at times, clumsy. 
Besides being sluggish, you may also have trouble controlling your emotions, snapping at the slightest trigger. Processing information and making decisions can become challenging. You might feel anxious or even feel a sense of hopelessness about your situation.
Duration: While acute withdrawal can last for days or weeks, PAWS can persist for months and, in rare cases, longer. Its time largely depends on your substance use, addiction length, and individual factors.
Managing PAWS: Understand that PAWS is not a sign of failure or weakness but a normal part of recovery. Therapy can provide coping mechanisms to handle the psychological aspects of PAWS. Self-care practices, such as regular sleep, a balanced diet, and physical activity, can alleviate some symptoms. Reducing stress and avoiding triggers that might trigger cravings is crucial during this period. 
Staying connected is also essential in this phase. Engage with support groups and seek out close family who understand and support your recovery journey. 
Key Takeaway: PAWS can be a stealthy challenge, sneaking up on you when you least expect it. While it may seem disheartening to deal with the symptoms after quitting, remember that it's your body's way of healing and adjusting to a life without substance. With patience, support, and understanding, you can navigate PAWS and continue your journey to full recovery.
Newbie Days: Early Sobriety
Overview: Now that you're past the physical and psychological challenges of withdrawal, you're in the phase of early sobriety. This is a time of adjustment, learning, and setting foundations for a sustainable, sober life.
What It Feels Like: Imagine stepping into a world where colors seem brighter, noises are more distinct, and every emotion feels raw. It's as if you've taken off a pair of tinted glasses and are seeing everything in its unfiltered state. This is a time of rediscovery but also vulnerability.
After the withdrawal fatigue, you might start feeling energetic as your body recuperates. You may also notice changes in your hunger levels and cravings for certain foods. While you may have previously battled with insomnia, you can now enjoy better sleep.
You'll also experience emotional and cognitive adjustments. Feelings that were previously numbed by substances come to the fore. You also learn to deal with stressful and even joyful situations without turning to any substance. Early sobriety also involves rebuilding self-worth and confidence.
However, it's pretty common to encounter challenges during the early days of being sober. Friends may still invite you to drink or urge you to use drugs. You'll need to prepare yourself for these situations so you can continue forward in your recovery.
It can be helpful for you to build positive habits such as hobbies, physical activity, or other productive pursuits to maintain focus. Attending support groups, connecting with sober friends, or seeking mentorship from someone in long-term recovery can be pillars of strength.
Key Takeaway: Early sobriety is a mixed bag of rediscovery, challenges, and growth. Every day sober is an achievement. It's crucial to be patient with oneself, celebrate small victories, and lean on supportive communities or resources. This is the foundational phase where the bricks of long-term recovery are laid.
The Maintenance Mode: Staying On The Path 
Overview: You'll find yourself in maintenance mode after the initial phases of addiction recovery. But don't be fooled by the name—this phase requires continued effort, vigilance, and growth.
What It Feels Like: Imagine tending to a garden. The seeds have been sown, and the plants are growing. It's about ensuring they thrive, watering them regularly, and guarding against pests. Similarly, in maintenance mode, the foundations of sobriety have been laid, but they require nurturing.
Consistent eating, sleeping, and exercise routines can ensure your physical well-being and reduce the risk of relapse. Continuous checks on your mental well-being and seeking help, such as therapy or counseling when needed, are crucial.
To navigate this stage, you must stay informed about addiction and recovery. The more you understand, the better equipped you are to maintain sobriety. You should also seek opportunities for personal development to reinforce your commitment. As always, staying connected with friends and family and seeking support groups can strengthen your resolve to stay healthy and substance-free.
While everything seems uphill from here, remember never to let your guard down. Stay positive and avoid reverting to old habits. Find better coping with life situations and lean on your support system.
Key Takeaway: In the maintenance mode, every day celebrates how far you've come and a commitment to the journey ahead. With the tools, support, and knowledge you've gathered, you can thrive in this lasting phase of sobriety.
Expert Level: Advanced Recovery 
Overview: You must still reach the advanced recovery stage to get the journey's end. Instead, it signifies you've amassed a wealth of experience and resilience. With years of sobriety behind you, you've become adept at managing challenges and promoting continued growth in recovery.
What It Feels Like: Imagine mastering a musical instrument. While you can now play beautiful tunes effortlessly, you must practice regularly to maintain and refine your skills. Similarly, in advanced recovery, while many aspects of sobriety have become second nature, continuous attention and practice are paramount.
Growth and Deepening Insight
:
Self-Reflection

: Periodic introspection helps recognize personal growth areas, address unresolved issues, and celebrate milestones achieved.

Broadening Horizons

: With a solid recovery foundation, you might feel driven to explore areas outside direct addiction support, such as personal passions, hobbies, or other life goals.
Legacy and Leadership
:
Mentoring

: Having navigated the ups and downs of recovery, sharing your insights and experience with those in earlier stages can be rewarding and reinforcing.

Community Leadership

: Engaging in community initiatives, workshops, or even public speaking engagements can be a way to give back and amplify the message of recovery.
Challenges and Adaptability
:
Changing Life Circumstances

: As years go by, changes in health, family dynamics, or career can pose new challenges. Your extensive recovery toolkit can be your guide, but it's essential to remain adaptable.

Evolving Emotions and Mental Health

: Even in advanced recovery, emotions can evolve, and mental health issues can surface or resurface. Continuous vigilance and seeking support remain crucial.

Maintaining Motivation

: Keeping the spark alive and remembering the reasons for your sobriety can require conscious effort. Revisiting your journey, connecting with support groups, or setting new goals can rekindle motivation.
Key Takeaway: Advanced recovery is a testament to the hard work, commitment, and growth achieved over the years. While it's a stage of mastery, it also demands continued learning, adaptation, and giving back. It's about cherishing the journey, evolving, and possibly guiding others.
Embracing the expert level of recovery means embodying the essence of resilience and adaptability. It's a celebration of the mountains climbed and a commitment to the valleys and peaks yet to be traversed. With a heart full of gratitude and a mindset of continuous growth, the journey in advanced recovery shines bright.
Navigating the Journey of Recovery
Embarking on the path of sobriety is akin to traversing a vast landscape, each phase presenting its unique terrains and vistas. From the challenging ascents of acute withdrawal and early sobriety to the meandering paths of maintenance, every step molds resilience and deepens understanding.
Reaching the expert levels of advanced recovery offers a panoramic view, reflecting both the trials faced and the milestones achieved. It's not just about the absence of substance use but the presence of enriched experiences, deeper connections, and a heightened sense of self.
While each phase comes with challenges, they also bring growth opportunities, lessons, and moments of profound insight. As you navigate this journey, remember to cherish each moment, lean on your support systems, and celebrate the immense strength within you. Recovery isn't just a destination; it's a continuous journey of rediscovery, resilience, and rebirth.