Ostomy care has undergone remarkable advancements over the years, significantly enhancing the quality of life for individuals living with a stoma. Despite the spotlight often focusing on ostomy pouches and skin barriers, there's another element that plays an equally critical role in the routine care of an ostomate. This invaluable component is not always given due consideration when discussing stoma management, yet it significantly contributes to the comfort and well-being of those who have undergone ostomy surgery.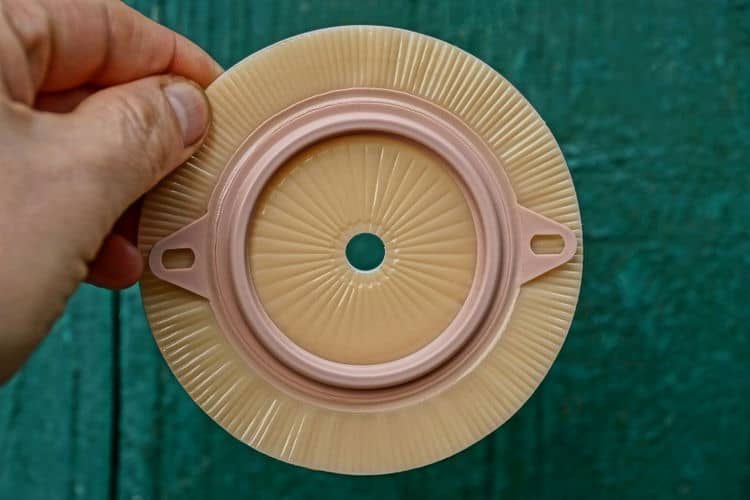 An ostomy is a surgically created opening in the body that allows waste to be bypassed from its normal route. Commonly necessitated by conditions like colorectal cancer, inflammatory bowel disease, or significant injuries, the procedure results in a stoma or an opening on the abdomen. The care routine for this stoma involves the use of an ostomy appliance – a system typically composed of a skin barrier and a pouch, and sometimes, an added flange or wafer. However, there's another fundamental item that we're going to explore today.
The Game-Changer in Ostomy Care
This is where we introduce the hero of our discussion – the colostomy barrier ring. This flexible, moldable accessory plays an essential role in securing the ostomy appliance and preventing leaks. By conforming to body contours and filling in creases around the stoma, it provides an additional layer of protection to the skin and ensures the security of the appliance.
Function and Benefits of the Barrier Ring
The principal function of the barrier ring is to create a secure, leak-proof seal between the skin and the ostomy appliance. By preventing leaks, it reduces the risk of skin irritation and infections, both of which can cause discomfort and disrupt the daily activities of an ostomate.
Moreover, the barrier ring provides vital protection to the peristomal skin, the skin surrounding the stoma. It forms a protective barrier against stoma output, which can be corrosive and lead to skin breakdown if it comes into contact with the skin.
Additionally, due to the ring's flexible and moldable nature, it can adapt to various body shapes and stoma sizes, making it an indispensable component in managing ostomy appliances for people with irregular body or stoma shapes.
Selecting the Right Barrier Ring
Choosing the right accessory for ostomy care is as important as selecting the appropriate treatment for a medical condition. When selecting a barrier ring, two primary considerations should be the size of the stoma and the body's contours around it. Barrier rings come in a variety of diameters, and choosing the right size helps achieve a secure seal.
The thickness of the ring also matters. Individuals with deeper skin creases or a more protruding stoma may find that a thicker ring provides a better fit. The ring's wear time is also crucial; some rings offer extended wear, providing a longer-lasting solution for those who need it.
Applying and Removing the Barrier Ring
Before applying the barrier ring, it's essential to clean the skin around the stoma thoroughly. This clean surface enables the ring to adhere properly, which is crucial for its function. Once cleaned, gently stretch the ring and place it around the stoma. If the ring's size doesn't fit perfectly, it can be adjusted by stretching or cutting to fit the shape.
Removing the barrier ring is just as straightforward. The ring can be gently peeled away from the skin. After removal, clean the skin area thoroughly before applying a new ring.
Understanding Barrier Ring Material Choices
Just like with any medical appliance, barrier rings come in a variety of materials to suit the diverse needs of users. Hydrocolloid is a popular choice for its skin-friendly properties and ability to absorb moisture. Moldable silicone rings, on the other hand, are known for their stretchability and excellent adaptability to the body's contours.
Understanding what each material offers can help guide the right selection. For instance, if you have sensitive skin or live in a humid climate, a hydrocolloid ring may be more suitable due to its moisture-absorbing properties. On the other hand, if your stoma shape or body contours are more irregular, a moldable silicone ring may provide a better seal.
Incorporating Barrier Rings Into Routine Care
Making the barrier ring a regular part of your ostomy care routine is not as daunting as it might seem. The ring should be applied after thorough cleaning and drying of the peristomal skin and before attaching the skin barrier and pouch. Regular replacement is crucial – a good rule of thumb is to replace the ring when changing the ostomy pouch, though this can vary depending on the individual's needs.
It's also important to monitor the skin for any changes, such as redness or irritation. This could be a sign that the ring is not working as it should or that it's time for a replacement.
Tips for Traveling with Ostomy and Barrier Rings
Traveling as an ostomate can seem challenging, but with a bit of planning, it doesn't have to be. Packing extra barrier rings is always a good idea, as you may need to change them more frequently due to increased activity or different climates. Keeping a few in your carry-on luggage ensures that you have access to them during the journey.
Additionally, if you're flying, it may be worth informing the TSA officer about your ostomy before the screening process. Most importantly, don't let ostomy management hold you back – with the right preparations, you can still enjoy your travel adventures fully.
Conclusion
Managing an ostomy can be a daunting task, especially in the beginning. However, as we have seen, tools like the colostomy barrier ring play an indispensable role in simplifying this process. From providing a secure, leak-proof seal to protecting the skin from potential irritation, this small Material choices, effective incorporation into routine care, and even planning for travel are all considerations that can help optimize the benefits of using a barrier ring. Above all, the key lies in understanding your unique needs accessory can have a significant impact on the quality of life for individuals with a stoma.
and adapting your ostomy care accordingly.
In the journey of ostomy care, remember that you're not alone. Healthcare professionals, support groups, and personal experiences shared by others can all serve as valuable resources. With the right tools and strategies, life with an ostomy can still be lived to the fullest. The barrier ring, though small in size, is substantial in its role – a true unsung hero in ostomy care.