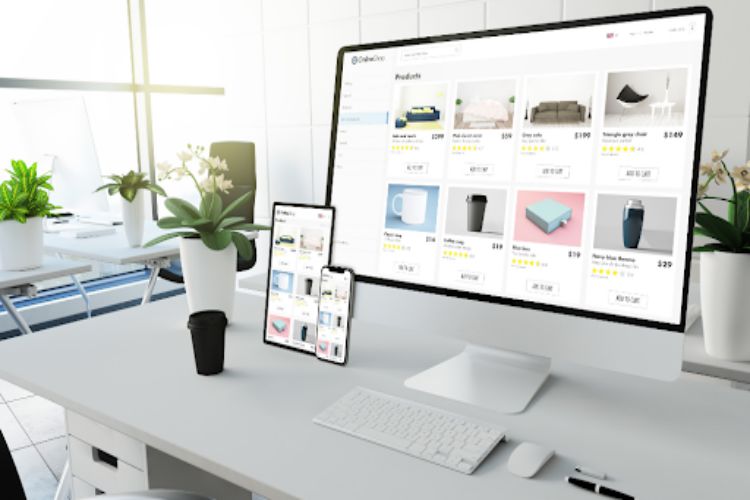 Are you looking to start your own online business? 
Doing this can benefit you greatly. Not only can it boost your online marketing, but also help you streamline your business. Keeping it running smoothly. Pick the wrong ecommerce software solutions and you can damage your business. But pick the right one and your business can flourish.
Sounds like a challenge? It can be. So let's make it easier for you. Here's a list of the best ecommerce software available:
Shopify
Shopify is one of the best ecommerce software solutions available today. It offers an easy-to-use, reliable, and secure platform for small and large businesses alike. The ecommerce platform allows businesses to design, market, and manage their online stores from any device.
Additionally, Shopify has an extensive app store with over 2200 apps to customize functionality for any business size. As a result, businesses can customize their ecommerce site to their needs with an easy-to-use interface. Plus, Shopify offers 24/7 customer support, as well as various plans for all sizes of businesses. 
GoDaddy
GoDaddy's ecommerce software allows customers to easily build, manage, and promote ecommerce websites. With secure shopping carts, customers can create a safe online store where they can securely purchase products and services. Additionally, a wide variety of tools and applications make it simple to add product descriptions, pricing, and images.
GoDaddy also provides a drag-and-drop e-commerce website builder that makes it easy to customize the look and feel of one's website. Customer service and a money-back guarantee make GoDaddy an ideal choice for business owners who want to set up an ecommerce store.
WooCommerce
It is an open-source ecommerce platform built on top of the popular WordPress e-commerce cms. It is fully featured, easy to use, and very secure. It also comes with a wide range of plugins and extensions that you can use to customize your store to fit your unique needs.
WooCommerce is also fully scalable, so it can grow with your business, no matter how big or small. The customer service you get from WooCommerce is also top-notch, with dedicated support staff standing by to help with technical questions.
PrestaShop 
It's a free, open-source website-building platform that makes it easy to create a professional online store with features like custom product pages and multiple payment options. The powerful and customizable back office tools help streamline business processes and simplify product management.
PrestaShop offers a range of advanced features, such as multi-language support, unified tax calculations, product reviews, and more. The built-in analytics tools allow store owners to track sales and customer activity with ease, giving them the insights they need to optimize their strategy and maximize their sales potential. 
ebay
It allows businesses to easily issue invoices, customize product pages, and perform other essential tasks to help them manage their online store. EBay also offers various payment processing options, so businesses can easily accept payments from a variety of different payment methods.
Ebay is quickly becoming one of the most reliable and powerful software solutions for businesses looking to start a successful online store. Additionally, with its scalability and affordability, eBay is the perfect platform to kickstart businesses' ecommerce aspirations.
Make the best out of your e-commerce website using Digital Shelf Analytics by visiting www.inriver.com.
Find Out the Best Ecommerce Software Solutions
The best ecommerce software solutions depend on your business needs. With so many software solutions available, it is important to research and compare the options available to ensure you find the one that fits your preferences. 
Did you find this article helpful? Check out the rest of our blog for more!