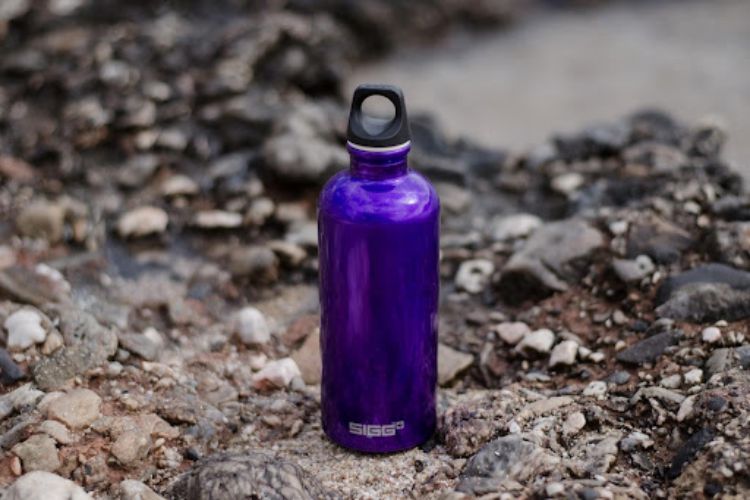 A water bottle is one item that most people pick and use without careful thought. If you are like most, all you are looking for is somewhere to put in your water and go about your day. However, when preparing for the outdoors, choosing a water bottle is important and can have potential life-saving implications, and as survivingtactics.com we want to ensure you get the best out of any gear you buy. 
Types of Water Bottles
Aluminum Bottles
Aluminum water bottles are not only 100% recyclable but are also safe to use, durable, and resistant to corrosion. They are also light and easy to move with. Nevertheless, aluminum bottles are usually lined with enamel, resin, or plastic. If the bottle is lined with plastic, ensure that the plastic used is BPA free. 
If you choose to go the aluminum way, the Sigg Traveller Water Bottle is BPA and phthalate free. It is leak-proof and is lined with plastic that is resistant to odors. 
Filtered Water Bottles
Filtered water bottles contain a water filtration system that removes any contaminants from your water. You can find such bottles made out of BPA-free plastic, stainless steel, and glass. Filtered bottles such as the BerkeyHome GO Berkey Kit work best when you do not know if you will have access to purified water.  
Titanium Bottles
Titanium water bottles are lightweight bottles made of the metal titanium, which is very light compared to other metals. It also does not leech and is resistant to extreme hot and cold. It does not rust and will therefore last you a lifetime. 
Titanium bottles are slim and can fit in many backpack sleeves. However, these bottles cost more, ranging between $79 and $149. 
Insulated Bottles
An insulated bottle is a bottle that retains the temperature of the water inside it. They are made of stainless steel, which is more durable than plastic or glass. Such bottles are resistant to heat and cold and will not break if they fall. 
Though they are more expensive, they last longer and give you value for your money. In addition, these environment-friendly bottles come in different colors and designs, and you can find what suits you. 
The Hydro Flask Standard Mouth Bottle is a BPA-free, double-wall vacuum flask that comes in 18, 21, and 24 oz. It is slim enough to meet in most holders and can keep a beverage cold for 24 hours and hot for 12.
Collapsible Bottles
Also known as a foldable bottle, a collapsible water bottle can be folded once you finish the water and place it back in your bag, making them ideal for hiking or excursions, especially in warm weather. One of the benefits of such bottles is that you can carry as many as you need. 
They come in various shapes and sizes and can hold different amounts of water. Most come with a spigot to remove or add water as needed. 
One of the best collapsible water bottles out there is the Nomader Collapsible Water Bottle. This shatterproof bottle is insulated and leakproof and comes with a carrying strap. It can also be folded small enough to fit into a fanny pack. 
If this one is above your means, you can go with the Tomnk 9-piece Collapsible Water Bottle. The number of bottles is ideal for a family, or each bottle can be placed in different areas or bags. 
Plastic bottles
Though the problem with plastic is evident, reusable plastic bottles are the to-go bottles for most people. Many bottles are now BPA-free. However, there are still some potential effects of using plastic bottles. Therefore, if you have other options, go for them. 
Glass Bottles
As an alternative to the plastic bottle, a glass bottle is a reusable, eco-friendly bottle that is easy to clean, keeping water fresh for longer. These bottles are made of borosilicate glass, which makes them durable and heat resistant. 
The Takeya Sure-Grip Glass Water Bottle is a great option to go with. It has a leakproof lid and foldable sprout. It can be easily cleaned and is odor-free and stain-free. 
How to choose the right bottle
Before buying a water bottle, you should determine:
The purpose

. While choosing your preferred bottle, the first thing you need to look at is what you will be using it for. Is it a hiking or camping bottle? The longer your stay in the woods, the more your bottle needs to change. 

Location

. When picking a bottle, think of where you will be taking it. Make sure the bottle can fit in your backpack or car holder. If you are carrying it around with your hands, make sure it has a handle or gripping mechanism. 

Material

. Water bottles come in different materials

Size

. How much water you should carry depends on the type of activities you will be doing. This will determine what kind of bottle you should get. 

Weight.

A lightweight bottle makes sense if you are going to carry it around for longer distances. If you are spending time in one place, carry a larger bottle.  

Price.

All things considered, the amount you are willing to spend on a water bottle will determine what you get. Some bottles are more expensive but are a long-term investment, while others may be cheap, but you will keep replacing them all the time. Whatever you go for, get one within your means. 
Ensure that you choose a long-lasting bottle that will meet your needs.