For many of us, one of the worst feelings is when our air conditioner stops working during a heatwave. So it goes without saying that staying on top of AC maintenance and knowing what to do when things go wrong can be an essential part of any homeowner's life!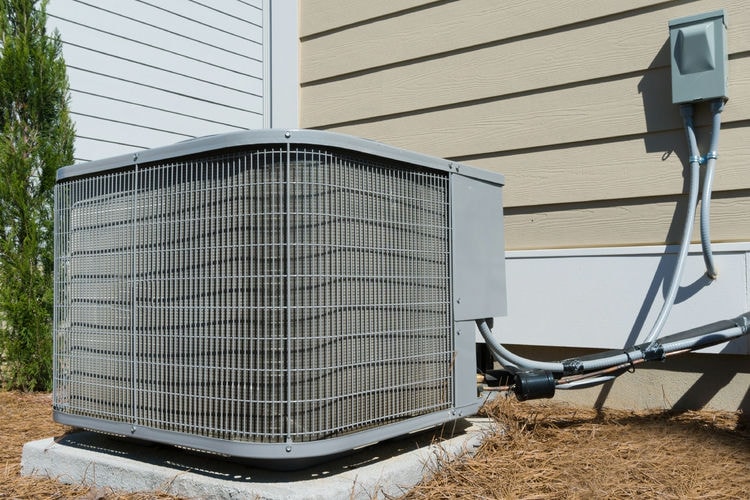 But with a wide range of environmental factors impacting your system, there are many common AC unit problems you may encounter – how do you know which ones are most common, why they're happening and what steps you should take next?
In this blog post, we'll explore the six most common AC problems and talk about their respective fixes. If you want to book an appointment with a qualified technician immediately, click here.
Common problems with AC and how to fix them
Here are some of the most common AC problems:
1. AC isn't cooling your home as much as it used to
Are you finding that your AC isn't cooling your home as much as it used to, or is the cooling uneven? Some reasons for this may be that the air filter on the unit may have become blocked due to dust, pet hair and other debris. This blocks the flow of air and reduces the amount of cooling power from the air conditioning system.
In addition, if your outdoor unit has dirt or debris blocking its access to fresh air, this can cause lower efficiency. If there's a leak in ducts or seals in windows or doors, cool air is also escaping from these gaps.
Solution: 
Solving these problems can bring relief – replace/clean air filters periodically, keep outdoor units clear of clutter and check for any leaks in ducting and seals.
2. The compressor is running, but the house is still warm
The most common reasons for this are low levels of refrigerant in the system, a malfunctioning thermostat, or a blocked air filter or air ducts causing inefficient airflow. Another possible reason is that your AC system is too small for your living space.
Solution: 
To identify and resolve the issue, it's best to contact an experienced HVAC contractor to inspect and diagnose the problem. They'll also ensure that all of your AC components are working properly and adjust them as necessary.
3. The AC is leaking water
The reasons for an AC leaking water can vary; these include clogged air filters, dripping condensers, clogged condensate lines, blocked drain openings and faulty evaporator coils.
Solution/Prevention: 
To prevent your AC from leaking water, conduct regular maintenance, such as cleaning the air filters and checking for any blockages in the condensate or drain lines.
Additionally, getting a professional HVAC contractor to inspect the system annually can help identify and fix any potential issues before they become serious.
4. The AC unit is making strange noises
While a professional technician will be able to better identify the cause of the noise, here are some common noises to narrow it down:
A rattling, scraping, or shuddering sound could indicate a problematic fan motor or belt
A loud humming noise could mean debris is blocking the blades on the fan motor.
Gurgling or bubbling noises are indicative of leaky seals around the compressor and air handler, which must be sealed off in order for your AC system to function properly.
Solution:
Call a licensed HVAC specialist who can diagnose the issue and troubleshoot the system. If components need replacement or repair, they have the experience necessary to do so.
5. Air conditioner won't turn on
If your air conditioner isn't turning on, this can be due to a number of reasons. It may be an electrical issue, such as a blown fuse or tripped circuit breaker. You may need to go to your home's electrical panel and reset the circuit breaker or replace the fuse.
Alternatively, it might be caused by a malfunctioning thermostat; try replacing the batteries first and then recalibrating it accordingly. Lastly, if none of these issues are present, you may have a more serious problem, like a malfunctioning control board or compressor failure.
Solution:
If these don't fix the problem, contact a professional to get your AC fixed.
6. Frozen AC coil
An air conditioner's frozen AC coil is a problem that requires attention. In most cases, the issue lies within inadequate airflow due to a blocked condenser or clogged filter, so clearing out these obstructions is the place to start when dealing with a frozen coil.
If this doesn't fix the issue, it could also be caused by a low refrigerant level; when this occurs, you'll need to contact an HVAC technician for assistance.
Solution/Prevention: 
If it turns out to be an old and clogged system or faulty equipment, then the best solution would be to replace the unit entirely.  Fortunately, regular maintenance and proper upkeep will ensure your AC is working as it should and avoid potentially costly repairs in the long term.
Common AC problems and their solutions – Conclusion
This was a list of several common problems with AC homeowners face. If your AC unit is having any of these problems, it's time to call a professional. Trying to fix the problem yourself could result in further damage and cost you more money in the long run.
A local professional will be able to quickly diagnose the problem and get your AC unit up and running again so you can stay cool all summer long.