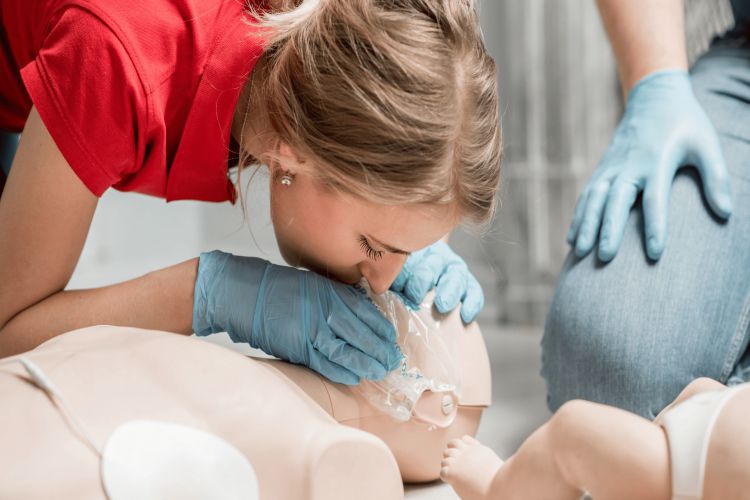 Imagine you're in a situation where someone is choking, and their life hangs in the balance. In these critical moments, knowing what to do can make all the difference. First aid for breathing obstruction is a skill everyone should possess because, quite literally, every second counts. Let's explore this essential knowledge about choking first aid that can save lives.
Recognizing The Issue
The first step in providing aid for someone with a breathing obstruction is recognising the situation. Choking occurs when an object, usually food, becomes lodged in the windpipe, blocking the flow of air. It's vital to be alert and aware of the signs, which can include:
– Difficulty breathing
– Inability to speak or cough
– Panicked gestures
– A bluish hue on the lips or skin.
Stay Calm and Act Quickly
When you encounter someone choking, it's essential to stay calm. Panic can hinder your ability to assist effectively. Remember that your quick response can make all the difference. Here's what to do:
Assess the Severity:

First, assess the severity of the situation. Is the person coughing forcefully, making a wheezing sound, or unable to breathe or speak at all? If the person is still coughing and making noise, encourage them to continue coughing. If their breathing is severely compromised, proceed to help.
Perform the Heimlich Maneuver:

The

Heimlich maneuver

is a well-known and effective technique for dislodging a foreign object from the airway. Position yourself behind the individual experiencing the issue, encircle their waist with your arms, and form a fist with one hand. Place it just above the navel and below the ribcage. Grab your fist with your other hand and use quick, upward thrusts to force the object out. Repeat this until the object is expelled.
Back Blows and Abdominal Thrusts:

If the Heimlich maneuver doesn't work, or if the person is pregnant or too large for you to reach around, perform back blows and abdominal thrusts. For back blows, stand slightly to the side and deliver firm blows between the shoulder blades. For abdominal thrusts, stand behind the person, make a fist, and place it above the navel. Use quick, upward thrusts.
Call for Help:

If the choking person becomes unconscious, call 911 immediately. Begin CPR if you're trained to do so, but always continue efforts to clear the airway as well.
Infants and Choking
Infants require special attention when it comes to choking emergencies. The techniques used for adults and children are not suitable for infants. Here's what to do:
Back Blows:

For infants under one year of age, place them face-down on your forearm, with their head lower than their body. Give gentle back blows with the heel of your hand between the shoulder blades.
Chest Thrusts:

After giving back blows, turn the infant face up and perform chest thrusts. Position two fingers on the breastbone, just beneath the level of the nipples, and apply pressure to a depth of approximately 1.5 inches.
Call for Help:

If the infant doesn't respond and becomes unresponsive, call 911 and initiate CPR.
Preventing Choking Incidents
Prevention is always better than cure. Reducing the risk of choking incidents can save lives. Here are some steps to prevent it:
Cut Food into Small Pieces:

Ensure that food is cut into small, manageable pieces, especially for children and the elderly.
Supervise Meals:

Always supervise young children while they eat and discourage eating on the run.
Chew Thoroughly:

Encourage everyone to chew food slowly and thoroughly. Rushing through a meal can increase the risk of choking.
Avoid Small Objects:

Keep small objects, like toys with small parts, out of reach of infants and toddlers to prevent accidental ingestion.
Conclusion
When it comes to choking first aid for breathing obstruction, every second counts. Recognising the signs, staying calm, and taking immediate action can save lives. Whether it's the Heimlich maneuver, back blows, or chest thrusts, these techniques are essential skills that everyone should know. Remember, being prepared and acting quickly can make all the difference in a choking emergency, so don't hesitate to learn and share this life-saving knowledge.