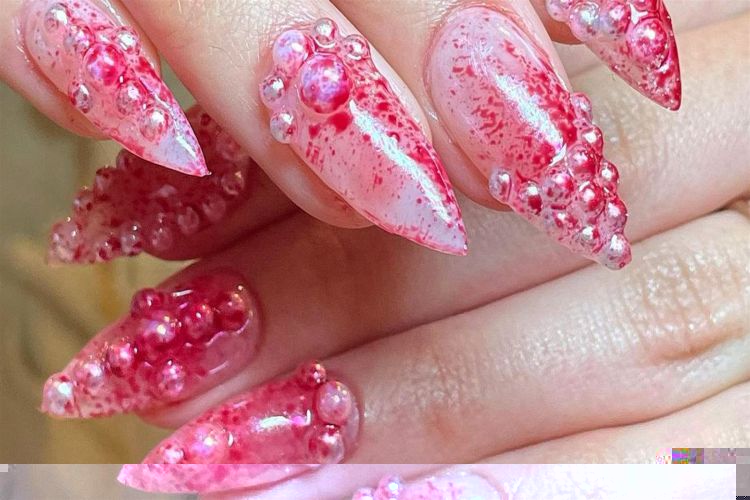 When it comes to nail art, the possibilities are endless. From classic and elegant to creative and avant-garde, your nails can be your canvas for self-expression. One nail trend that has been making waves in beauty and fashion is using pearls to adorn your nails. This article will explore the versatile world of pearl nails and how you can incorporate them into your style for any occasion.
1. The Timeless Elegance of Pearly Nails
Pearly nails have a timeless and classic appeal that never goes out of style. Pearls, with their lustrous and opalescent sheen, have long been associated with sophistication and luxury. This makes them an excellent choice for formal occasions like weddings, galas, or romantic dinner dates.
For a classic look, consider a pearly French manicure. The subtle combination of pearly white polish with a hint of pink or nude on the tips creates a delicate and refined appearance. This elegant style complements a wide range of outfits, from a simple black dress to a bridal gown.
2. A Touch of Glamour for Special Events
When you want to add a touch of glamour to your look, nail pearls can be the perfect choice. They bring an air of sophistication to your overall appearance and make you feel like a Hollywood star walking down the red carpet.
For a special event, try a full set of pearl-encrusted nails. You can opt for various designs, such as a shimmering ombre effect with pearls scattered on the tips or a bold, full-coverage pearl design. These stunning nail designs will undoubtedly make a statement and turn heads at any gala, awards ceremony, or high-profile gathering.
3. Sophistication Meets Simplicity: Pearl Accents
Not every occasion calls for an extravagant nail design. Sometimes, simplicity is the key to making a subtle yet stylish statement. Pearl accents offer the perfect balance between sophistication and minimalism. These designs incorporate pearls into your nails in a subtle and understated way.
For a more understated look, try adding a single pearl to one nail on each hand. This accent nail can be on your ring finger, giving it a touch of elegance without being too overpowering. You can also use pearls to create delicate patterns or lines on a neutral background, creating a stylish, minimalist look that works for everyday wear or semi-formal events.
4. Creative Expressions with Pearl-adorned Nails
Pearly nails are not just about the classic and elegant. They can also be a canvas for your creative expressions. Nail artists have been pushing the boundaries of nail art, using pearls in innovative ways to create unique and eye-catching designs.
Consider a pearl-studded gradient, where the pearls are arranged in a captivating pattern that transitions from one colour to another. This style adds a pop of creativity to your nails and can be a fantastic choice for art exhibitions, fashion events, or a night out on the town.
5. Personalise Your Nails
The beauty of pearl-adorned nails is that they are highly customisable. You can choose the size, colour, and arrangement of pearls to match your style and the occasion. If you have a favourite colour or a specific theme, they can easily be adapted to suit your preferences.
For a wedding, you can select pearls that match your bridal theme. Whether classic white or a particular shade to complement your bridesmaids' dresses, pearly nails can be tailored to create a cohesive and elegant look for your big day.
In conclusion, pearl nails offer a wide range of possibilities, from classic elegance to creative expression. By choosing the right pearl nail design and caring for them properly, you can enjoy the beauty and sophistication of pearl-adorned nails in your everyday life and on special occasions. So, whether you're preparing for a glamorous event or just looking to add a touch of everyday glamour, consider incorporating pearly nails into your nail art repertoire. It's a trend here to stay and for a good reason.