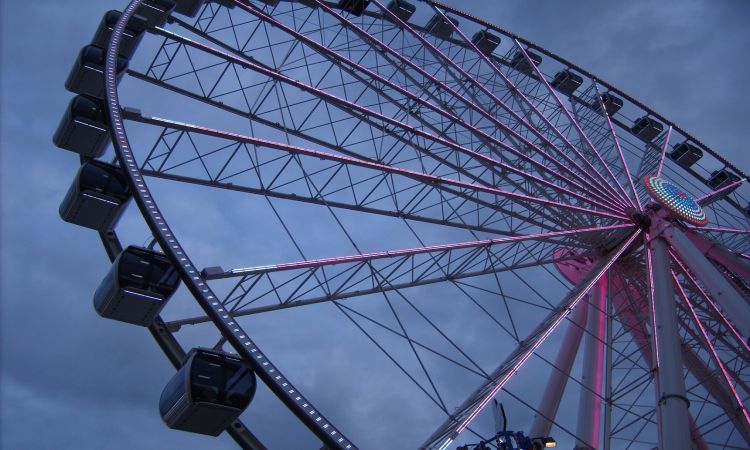 Step into a world where towering mountains meet endless entertainment and unforgettable family memories are waiting to be made. Welcome to Pigeon Forge, a charming town snuggled up in the breathtaking Smoky Mountains of Tennessee, offering a delightful fusion of natural beauty and exhilarating activities for all ages. From the pulse-racing thrills of Dollywood to the fascinating wonders of the Titanic Museum, Pigeon Forge is a utopia for family fun and adventure.
Join us as we explore the wealth of attractions and experiences that mark Pigeon Forge as an extraordinary hotspot for families seeking a vacation they'll remember for a lifetime.
Visit Dollywood:
Dollywood is undeniably the jewel in the crown of Pigeon Forge's attractions. This unique amusement park, based on the country music legend Dolly Parton, combines music, food, thrill rides, and Appalachian culture.
From heart-racing roller coasters to laid-back carousel rides, Dollywood offers an array of rides to suit every family member. Younger kids will love the Dollywood Express, a coal-fired steam train that provides a scenic tour of the park.
If your family is fond of live music and theatre, catch one of the many shows performed daily. To top it all, enjoy authentic Tennessee cuisine in the park's numerous eateries.
Experience Enthralling Dinner Shows:
One of the highlights of any expedition to Pigeon Forge is attending one of the city's famous dinner shows, such as the  Hatfield & McCoy Dinner Feud. These captivating performances combine delicious food with high-quality entertainment for an evening your family will never forget.
Diners can expect to be dazzled by a range of acts, including singing and dancing, comedy, jaw-dropping stunts, and more, all while enjoying a mouthwatering meal. The dinner show is appropriate for all ages, and the memories you make here can truly be the highlight of your excursion.
Try Great Smoky Mountains National Park Outdoor Activities:
The Great Smoky Mountains National Park is the country's most visited national park. The park proposes a variety of family-friendly activities, including hiking, wildlife observation, and picnicking, on its hundreds of miles of trails.
Enjoy a leisurely hike along the paved, comparatively flat Laurel Falls Trail, which leads to a beautiful waterfall. And if you're fortunate, you may also see wild animals in the park, such as black bears, elk, and numerous bird species. Don't neglect to visit the Sugarlands Visitor Center, where educational exhibits on the region's history and wildlife can be found.
Visit The Island in Pigeon Forge:
For a one-stop destination offering shopping, dining, and entertainment, visit The Island in Pigeon Forge. The Island features several retail and specialty shops, a variety of restaurants and eateries, rides and games, live music, and even a dancing fountain show.
A must-try attraction is the Great Smoky Mountain Wheel, a Ferris wheel that's 200 feet tall and presents stunning panoramic sights of Pigeon Forge and the Smoky Mountains. In comparison, the younger kids on the trip will love the Island Ropes Course and Arcade City.
Round off your day with a delightful meal at one of the many family-friendly restaurants, ranging from pizza joints to classic Southern barbecues.
White Water Rafting on Pigeon River:
One of the most thrilling activities for families with older children is white water rafting down the mighty Pigeon River. The river, gracefully weaving through the spectacular Smoky Mountains, sets the stage for an unforgettable water adventure. Locals offer guided tours for varying skill levels, ensuring a safe yet exciting experience.
The upper section of the river serves up a heart-thumping ride with class III and IV rapids, perfect for thrill-seekers. Conversely, the lower area is a calmer affair, offering a serene environment for a leisurely paddle, bird watching, and soaking up the awe-inspiring landscape.
Rev Your Engines at The Track:
For families who love a rush of adrenaline, The Track is an absolute must-visit. This expansive family recreation center boasts a range of exciting activities for all ages. Challenge each other to a go-kart race on multi-level tracks, navigate through playful obstacles on the mini-golf courses, or enjoy a friendly battle on the bumper boats.
Additionally, the Kids Country area provides rides specially designed for younger children.
For those who prefer indoor activities, there's an arcade full of video games, perfect for unwinding after a day of outdoor excitement.
Check Out the Old Mill: A Taste of History:
The Old Mill, a historical gem located in the heart of Pigeon Forge, stands as a testament to the city's rich past. As one of the oldest operating gristmills in the U.S., It offers a captivating insight into early American industry. A guided tour of the mill will reveal how it has remained a pillar of the community for nearly two centuries.
The surrounding area is even home to several unique shops offering everything from handmade pottery to old-fashioned candies, perfect for souvenir hunting.
Enjoy Winter Fun All Year Round at Pigeon Forge Snow:
Embrace the joy of winter any time of the year at Pigeon Forge Snow! The indoor park maintains a temperature of 60-70 degrees, providing a comfortable environment to play in real snow regardless of the weather outside.
The main attraction is the snowy hill designed for tubing—safe and fun for all family members. There's also a SnowPlay area where kids can build snowmen or have snowball fights.
Explore the Hollywood Wax Museum:
Experience the glitz and glamour of Tinseltown in the heart of Pigeon Forge at the Hollywood Wax Museum. This captivating attraction offers a unique prospect to get uptight and personal with lifelike wax replicas of your favorite Hollywood stars and pop culture icons. The craftsmanship is so realistic that you might find yourself doing a double-take!
The interactive exhibits are a delightful part of the experience, such as stepping into famous movie scenes, singing a duet with pop idols, or even donning a superhero costume for a memorable photo. The museum also offers fun props to add an extra layer of entertainment.
Ripley's Aquarium of the Smokies:
Embark on an underwater journey at Ripley's Aquarium of the Smokies, a standout attraction nestled in the idyllic heart of Gatlinburg, only a short distance from Pigeon Forge. As you navigate through the spectacular underwater tunnels, observe fascinating marine life, including sharks, stingrays, and a rainbow of tropical fish.
The aquarium is famed for its Penguin Playhouse, where kids, and the young spirit, can watch these captivating creatures frolic in their icy domain. Don't miss the touch pool, an interactive highlight offers the unique opportunity to feel the gentle glide of a stingray.
Conclusion
Pigeon Forge offers an abundance of family-friendly activities, both indoors and outdoors. Whether your family prefers the thrill of roller coasters, the awe of natural beauty, or the intrigue of interactive museums, Pigeon Forge has something for everyone. Plan your visit today and create family memories that will last a lifetime.