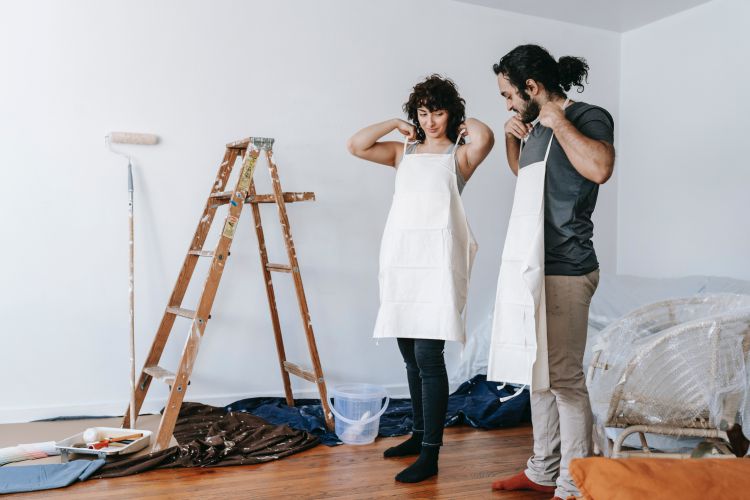 Families come in all sorts of shapes and sizes, and as the years roll by, they keep changing. As each family member grows and develops, their tastes and personalities do too. In the old days, it was fine to live together in simple spaces, but as time moved on, we started craving a cozier and more stylish place. Our interests evolve, and we want to add some pizzazz to our surroundings.
Sure, it's not always a breeze to uproot and move to a new place or buy a bigger one. But the good news is, you can jazz up and improve your current home to keep up with these changes. It's like giving your old space a fresh coat of personality! 
In this article, we will discuss 10 ways to upgrade your home for your growing family. Let's begin!
1. Expand Your Space 
One of the ways you can accommodate your growing family is by expanding the living space. You can come up with a rough idea about the kind of expansion you want and then discuss it thoroughly with your family to get their feedback as well. Whether you want to add a new room, extend the TV lounge area, or create a new and innovative open-design kitchen, it is always a good idea to team up with a group of professionals like the Home Concepts Custom Remodeling Company. You will thus be able to get customized results for your unique needs and turn the ideas into reality with aesthetically pleasing solutions.
2. Create a Nursery
Sometimes, it can get a bit cramped with all the little ones in your master bedroom. That's when it's a smart move to give them their own space — a cozy nursery. Make it extra special by choosing unique colors and custom wallpapers. Fill it with their favorite toys like teddy bears, dolls, colorful storybooks, and art supplies. Your kids will not only feel more comfortable but also happier and healthier.
3. Maximize Storage
Ever found yourself drowning in laundry or surrounded by clothes after a shopping spree? During your home remodel, consider adding more shelves, cabinets, and built-in closets. Don't forget about under-stair storage solutions — they're perfect for keeping all your essentials handy without cluttering up your attic.
4. Open Concept Living
Open up your living space by knocking down a few walls. An ideal way to do this is by blending the living room with an open kitchen. You can have a sleek TV setup, a stylish bookshelf, and a decorative slab for potted plants or ornaments. Add some beautiful artwork or family photos on the walls and warm, soft lighting to create a cozy atmosphere for cooking, dining, and socializing.
5. Childproof Your Home
Your home should be safe for kids, especially when they start toddling around. It's hard to keep an eye on them every second, so take precautions. Install safety gates, secure cabinets, and outlets, and keep sharp objects out of reach. Even if you don't have little ones running around, it's a good idea to be childproof in case guests bring toddlers. 
In a 2022 report by SafeHome.org, 4 out of 10 parents felt child injuries could be prevented with childproofing. Without safety measures, their exploration can lead to harm.
6. Upgrade the Kitchen
The kitchen is the heart of family gatherings and events. Whether you're a cooking enthusiast or just love eating good food, having a modern, welcoming kitchen is crucial. During your remodel, update appliances and consider adding a family-friendly island where everyone can cook, clean, dine, and enjoy together.
7. Home Office Space
In today's ever-changing world, working from home has become the new normal for many of us. With a growing family, it's crucial to have a dedicated home office space that's quiet, organized, and comfortable. Imagine having a spot where you can tackle your tasks efficiently and without distractions, all while being there for your loved ones when they need you.
But it's not just about productivity; it's also about keeping things in order. With a well-structured workspace, you can keep your work materials neatly organized. No more frantic searches for that important document – it is right where you need it. Plus, a swivel chair with good lumbar support and a well-lit desk make sure you're comfortable throughout your workday. 
8. Revamp the Bathroom
Your bathroom can also be transformed to meet your growing family's needs. Double vanities with extra shelves for toiletries, personal items, and undergarments can be a game-changer. Swap out a bathtub for a spacious shower to free up more room for other necessities.
And it is not just about accommodating family; bathroom remodels offer the highest returns for increasing home resale value, according to data recorded by Zillow. Minor cosmetic changes can yield a $1.71 increase in value for every $1 spent. This includes tasks such as painting, cabinet refinishing, mirror replacement, or hardware upgrades.
9. Outdoor Play Area
Don't let your outdoor space go to waste. Transform your garden into a play area with swing sets and playhouses. Keep safety in mind and create a secure play zone. You can also turn it into a cozy seating area with a barbecue oven, perfect for picnics and get-togethers.
10. Energy Efficiency
As environmental awareness grows, consider eco-friendly and energy-saving solutions. Switch to LED lights instead of extravagant lighting and install a smart thermostat to manage your home's temperature and ambiance. 
LEDs are renowned for their exceptional energy efficiency. LEDs use a great deal less power than conventional incandescent lamps, sometimes as much as 90% less, according to the Department of Energy. Moreover, their longevity is equally impressive, with up to 25 times longer LED bulbs' lifespan. This means that not only do LEDs help reduce energy consumption, but they also decrease the frequency of bulb replacements, being a cost-effective option and environment-friendly lighting choice.
Conclusion 
In the ever-evolving journey of family life, your home is the backdrop to countless memories. As you adapt to the changing dynamics and needs of your loved ones, these home improvements offer a practical way to enhance your living space. 
Whether it's creating a haven for your kids, maximizing storage, embracing open living, ensuring safety, or making energy-efficient choices, your home can evolve with you. So, set off on your remodeling journey with enthusiasm, knowing that each change brings you closer to a more comfortable, efficient, and enjoyable living environment for your family to cherish.