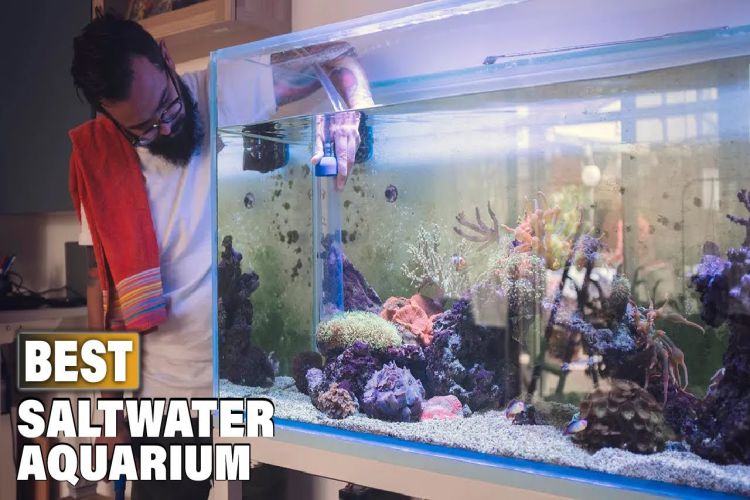 In the world of aquatic wonders, where every ripple tells a story and vibrant colors dance beneath the surface, your fish deserve nothing less than the best saltwater fish tanks of 2023. As we plunge into the depths of this year's top choices, Let's embark on a journey where innovation meets underwater elegance.
Let's explore the aquatic realms these tanks offer, where the whisper of the ocean meets the artistry of aquarium design. Whether you're a seasoned aquarist or just dipping your toes into this captivating hobby, join us in discovering the perfect aquatic haven for your underwater companions!
Red Sea Max C Series
The Red Sea Max C Series stands out as one of the best options for saltwater aquarium enthusiasts. With its sleek design and advanced filtration system, it provides an excellent environment for your marine life. Its customizable features allow you to recreate the perfect ecosystem for your fish, corals, and invertebrates.
Innovative Marine Nuvo Fusion
For those seeking a compact yet efficient saltwater fish tank, the Innovative Marine Nuvo Fusion is a stellar choice. It's a perfect home for Clownfish and other colorful marine companions alike.
The tank's all-in-one design simplifies maintenance and provides a beautiful display for your underwater world. That's why it is perfect for beginners and experienced hobbyists alike.
Waterbox Aquariums Peninsula Mini
If you're looking for a saltwater fish tank that doubles as a stunning piece of furniture, the Waterbox Aquariums Peninsula Mini is an outstanding option. With its panoramic views and rimless design, it provides a unique perspective of your aquatic world. This tank is a work of art that also serves as a comfortable home for your marine life.
Fluval Evo Saltwater Aquarium Kit
The Fluval Evo Saltwater Aquarium Kit offers a complete package for saltwater enthusiasts. With its 13.5-gallon capacity, it's an excellent choice for small to medium-sized marine setups. The kit includes powerful LED lighting, a three-stage filtration system, and a sleek design that will enhance any room. 
Fluval Sea EVO XII
The Fluval Sea EVO XII is another great choice for those with limited space. This 13.5-gallon tank features high-output LED lighting and a three-stage filtration system, making it an ideal choice for beginners. Its compact size and contemporary design make it an attractive addition to any room.
Coralife Fish Tank LED BioCube Aquarium Kit
If you want a tank that's both stylish and practical, the BioCube should be your first choice. It looks modern and comes with fancy LED lights that make your fish feel at home.
The filter works really well, so your water stays clear. You can even adjust the filter to fit your needs. Plus, this tank comes in different sizes, so it's good for both newbies and pros. 
Elevate Your Aquarium Experience with the Best Saltwater Fish Tanks
The world of saltwater fish tanks is constantly evolving and improving. As we look at the best saltwater fish tanks in 2023, it's clear that there are some truly exceptional options for creating a beautiful and thriving aquatic environment.
So why wait? Ensure your fish thrive in a comfortable and visually stunning environment by choosing one of these top saltwater fish tanks. Start planning and researching now, and make your dream saltwater fish tank a reality!
Curiosity sparked? Our blog is brimming with captivating content. Dive in and satisfy your thirst for knowledge today!