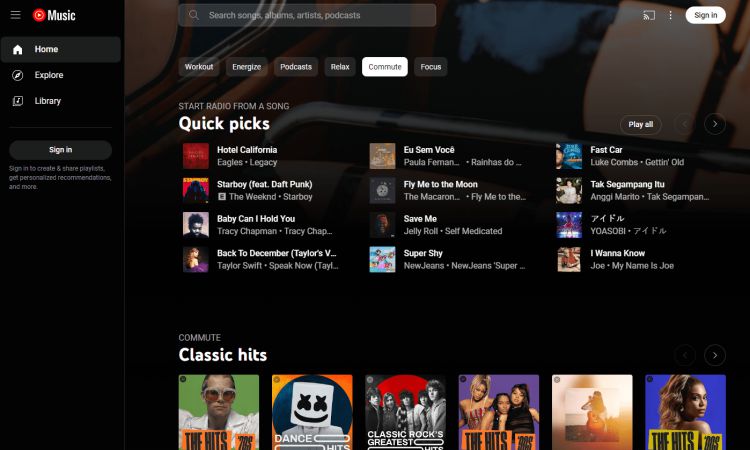 Music is a language that everyone understands, stirring up emotions, taking people to different places, and leaving lasting memories. Thanks to the internet, discovering and enjoying music is more convenient than ever.
UKF is an example of a music platform that offers a variety of music to suit different tastes and moods. However, did you know that the overwhelming part is choosing the right music site that matches your musical preferences?
To assist you in this musical adventure, here are some helpful tips to steer you toward the perfect music site for your preferences.
1. Understand Your Music Taste and Goals
Before looking for the perfect music site, take some time to figure out what kind of music you like—classical, rock, pop, electronic, or hip-hop. Do you enjoy discovering new artists or exploring a library of classics? Knowing your preferences will help narrow down your choices.
2. Research and Read Reviews
Check out different music platforms and read reviews from experts and regular users. Learn about features, user experience, sound quality, music collection, and overall satisfaction. Real-life reviews give a good idea of what a platform offers.
3. Consider Music Library Size and Diversity
It would be best to look for platforms with diverse music collections covering various genres. This definitely ensures you have access to a broad range of music that suits your tastes and moods.
4. Think About Sound Quality
Remember that you should choose a platform that definitely offers high-quality audio streaming or downloads. Seek also for support for high-resolution audio formats. This enhances your listening experience.
5. Check Device Compatibility
Make sure the music platform works well with your devices and operating systems—whether you use a smartphone, tablet, computer, or smart speaker. Compatibility ensures a smooth and convenient user experience.
6. Explore Subscription Plans and Prices
Check the subscription plans and pricing options. See if they have free options, trial periods, or different subscription levels that match your budget. Compare features to make an informed decision.
7. Look for Customization and Personalization
A good music site allows you to personalize your music experience—curated playlists, personalized recommendations based on your listening history, and the ability to like or dislike songs. This will add a better touch to your experience when listening to your favorite songs whenever and wherever you are.
8. Consider Offline Listening
You should also see if the music site allows you to download songs for offline listening. This is useful when you're in places with no internet connection.
9. Evaluate User Interface and Ease of Use
A user-friendly interface makes your experience better. Look for a well-designed layout, easy navigation, and clear organization of music.
10. Verify Legal Compliance
What you should keep in mind is to ensure the music site is legal and follows licensing agreements. Supporting authorized platforms helps the music industry and artists.
11. Look for Community and Social Features
Engage with a music community—comment, share, follow others, and join groups related to your musical interests. Being part of a music-loving community can enhance your site experience.
12. Try Multiple Platforms Before Committing
Experiment with different music sites before committing to a subscription. Many platforms offer free trials or limited-access versions, allowing you to test them out and find the one that resonates with you.
A Path to Your Perfect Music Platform
When finding the perfect music site, you should first understand your music preferences. You also need to research platforms, consider factors like music collection and quality, compatibility, pricing, and features, and explore the user experience through trials.
You'll find the ideal music site when you follow these tips. Remember that your music taste is important!