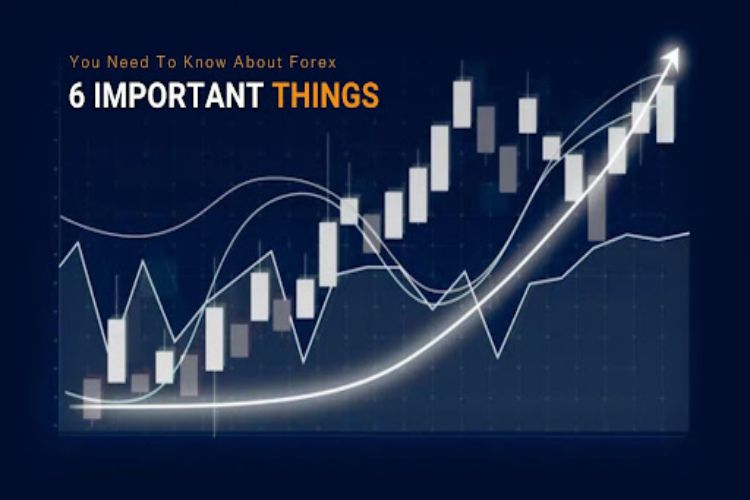 If you're interested in entering the world of forex trading, it's crucial to have a solid understanding of the key elements involved. This blog post aims to provide you with the fundamental knowledge required to trade the forex market effectively. Whether you're a complete novice or simply need a refresher, we'll cover the essentials—from explaining what forex is to exploring how you can profit in this market. So, if you're ready to start your Forex trading journey, keep reading to equip yourself with the necessary information to get started today!
1. You Will Need A Good Forex Broker:
Choosing a reliable forex broker is essential when starting your journey in forex trading. With numerous brokers available, it can be challenging to make the right choice. However, not all brokers offer the same level of service. Therefore, you should explore different options and choose a broker that provides you with the necessary platform, like MetaTrader 4 and 5, as well as essential tools like indicators, economic calendars, and trading calculators to ensure a seamless trading experience. They should also offer valuable guidance and support, especially for beginners. When selecting a broker, make sure they are regulated by a reputed organization, and they must offer solid trading conditions such as low spreads and fast trade execution.
Additionally, consider your trading style and preferences when choosing a broker. Some brokers specialize in specific types of traders, such as scalpers or swing traders. Understanding your trading needs will help you find a broker that aligns with your goals.
By conducting thorough research and selecting a reputable forex broker that suits your trading style, You can establish a strong base for your forex trading career. Remember, a good broker can greatly enhance your trading experience and increase your chances of success.
2. You Need To Understand What Currency Pairs You're Trading:
Understanding the various currency pairs is crucial in forex trading. The major currency pairs, like EUR/USD, USD/JPY, GBP/USD, and USD/CHF, are the most commonly traded pairs with tight spreads. However, there are also minor and exotic currency pairs that offer trading opportunities.
Recognizing that each currency pair has unique characteristics and volatility levels is important. Before trading a specific pair, it's essential to comprehend the associated risks. One way to gain familiarity with currency pairs is by practicing trading them on a demo account. This gives you real trading experience without the risk of losing real money. By studying and gaining experience with different currency pairs, you can develop insights into their behavior and make informed trading decisions.
3. You Need To Know The Different Types Of Orders:
These orders help you execute buy or sell transactions in the market. Let's explore some commonly used order types:
Market Order: This is used to buy or sell a currency pair at the current market price. It ensures immediate execution, as it seeks the best available price at the time of placing the order.
Limit Order: A limit order allows you to set a specific price for buying or selling a currency pair. The order will only be executed if the premium of your order reaches or surpasses that price.
Stop-Loss Order: This order is designed to limit potential losses by automatically closing a trade when the market starts to move in the opposite direction. You should clearly know the number of pips you wish to earn and the number you can lose on a trading day. For this, you can use a pip calculator. It

helps protect

your account from excessive losses if the market moves against your position.
These are just a few examples of the different order types available on trading platforms. Understanding how each order works and when to use them effectively is important. You can better control your trades and manage risk more effectively by utilizing the appropriate order types. Therefore, before placing any trades, take the time to familiarise yourself with the various order types and their functionalities. 
4. You Need To Be Aware Of The Risks Involved:
The forex market is highly volatile and can experience rapid price movements, which may lead to potential losses. Only trade with money you can afford to lose, and always implement risk management strategies such as stop-loss orders. Additionally, be aware that the Forex market operates 24 hours a day, which means you should consider the potential risks associated with overnight movements. Some traders prefer to limit their risk exposure by trading during specific hours. By recognizing and managing these risks, you can approach Forex trading with a cautious mindset and take steps to protect your capital.
5. You Need To Have A Trading Plan:
A well-defined trading plan is crucial when engaging in Forex trading. This plan acts as a roadmap, outlining your investment objectives, risk tolerance, and the strategies you'll employ to execute trades. Without a plan, it's easy to succumb to impulsive decisions that can result in financial losses. A trading plan should strike a balance between adaptability to market fluctuations and the discipline to prevent emotional trading. Moreover, it's always a good idea to execute your trading plan on a virtual or a demo account, and based on the performance there, you can tweak your plan to make it even more effective. With an effective trading plan, you can certainly make profitable trades, and to have a clear idea about the profits you've made, use a profit calculator that lets you calculate profits in the currency you use for day-to-day transactions. 
6. You Need To Be Patient:
Exercising patience is a key attribute in forex trading. It's essential to understand that success in this field requires time and perseverance. Just like Rome wasn't built in a day, building a prosperous trading career takes time. Learning the intricacies of the market and developing a robust trading strategy cannot be rushed. It's important to manage your expectations and avoid seeking overnight riches. Instead, maintain patience, adhere to your disciplined approach, and stay committed to your trading plan. Following these principles increases your chances of succeeding in the Forex market. Additionally, you can take the help of abundant online courses and educational resources that offer comprehensive guidance on forex trading. By dedicating time and effort to learning and improving, you can harness the potential of this dynamic market.
Final Thoughts
It's important to become familiar with some fundamental concepts before getting started with Forex trading. Although the Forex market may appear complex initially, but becomes easier once you understand the basics. You'll gain the confidence and skills to make informed trading decisions by dedicating time to learning and gaining knowledge. So don't hesitate any longer—begin your forex education today and equip yourself with the tools for a rewarding trading journey. Remember, the more you learn, the better prepared you'll be to navigate this exciting market.