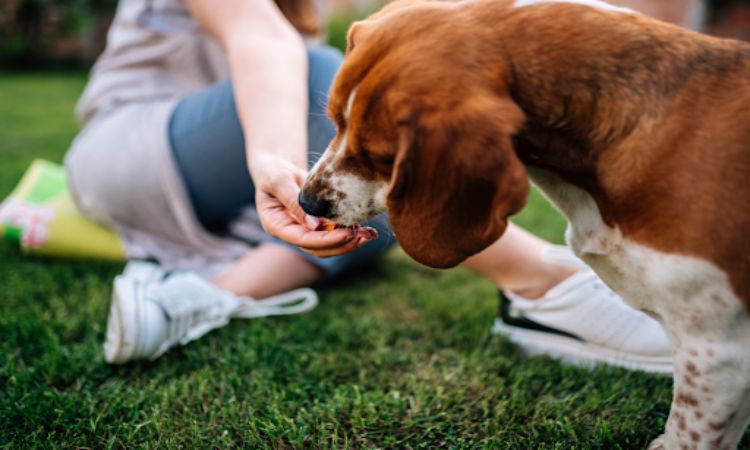 Dogs may be man's best friend, but when it comes to food, they shouldn't be sharing yours.
Your puppy may be adorable, but they have mouths like a sailor, i.e., they'll eat just about anything. As cute as it is, if they gobble down the wrong foods, they could get very sick or become seriously ill.
That's right, while some foods are perfectly safe for dogs to eat, many can lead to veterinary problems (or worse, even death). The surprisingly long list of foods that dogs can't eat makes it important to research pet food carefully.
Let's take a look at a few of the forbidden foods to help you do just that and ensure that your dog stays healthy and does not like your dinner.
Keep your pup safe and healthy with these foods dogs can't eat. Read on!
Grapes
Grapes are a common type of fruit in many households, but they are not necessarily safe for canine consumption. Dogs definitely should not eat grapes, as they can cause severe and potentially deadly health problems.
Grapes can cause kidney failure in dogs and should be kept far away from our furry friends. In addition, any fruits which may have been sprayed with pesticides or household cleaners should be kept away from dogs as these can be very toxic. Overall, it is important to be very careful when feeding your pup, as even common fruits can be potentially fatal.
You can find more details here about how to care for your dogs, and make sure to schedule an appointment for preventative services or even treating sickness.
Sugar and Salt-Laden Treats
In general, foods that are very salty or very sweet should be avoided when feeding your dog. Foods high in sodium and sugar can be dangerous for your pup, as too much can lead to obesity and serious gut and liver issues.
Sugary, processed things like candy, soda, and many sweet treats should be kept far away from pups. Remember, it's important only to give your dog treats specifically made for pets.
Human snacks can also contain high levels of sugar, trans fats, and unhealthy sugars and salts like MSG and nutritional yeast, which can be dangerous for your dog.
Foods With High Levels of Cholesterol
Dogs cannot eat foods that are high in cholesterol as they can lead to significant levels of fat intake in their diet. This includes things like egg yolks, red meat, processed meat, processed cheese, butter, whole milk, organ meats, fatty fish, and fried foods.
Excessive amounts of high-cholesterol foods can cause severe health problems in dogs, including pancreatitis, obesity, and even heart disease. While some fats are necessary and can even have beneficial effects, too much fat from high-cholesterol foods can be a real danger to your pup's health, so it's best to avoid them when feeding your pup.
Foods Containing Xylitol
Dogs should never be given any dangerous foods containing xylitol. It is highly toxic to them. Products like baked goods, sugar-free gum and candies, and several over-the-counter medications all include the artificial sweetener xylitol.
Dogs are particularly sensitive to xylitol, and even small amounts can result in a sharp drop in blood sugar levels, while greater doses might result in liver failure. Other foods on the list of foods dogs should not eat include chocolate, onions, garlic, grapes and raisins, avocado, macadamia nuts, and citrus fruits.
All of these foods can be toxic if ingested and can create a variety of symptoms ranging from irreversible organ damage to digestive upset and even death.
Chocolate
Dogs are known as man's best friend, but certain foods should not be given to them. Chocolate is one of the foods dogs cannot eat due to its high content of caffeine and theobromine.
Both substances are toxic to dogs and can cause vomiting, diarrhea, seizures, and cardiac arrest. Dark chocolate is particularly dangerous for dogs, as it contains higher levels of these substances than other variations. Chocolate-covered candies, cookies, and baked goods may also contain other ingredients that are unsafe for dogs.
For this reason, foods containing chocolate should always be kept away from dogs. In addition, it is a good idea to limit other sugary and fatty snacks as these can cause weight gain and other health problems.
Onions
Dogs should never be fed foods that contain onions. Onions, in any form, are dangerous for dogs because of their high sulfur content, which can damage red blood cells and cause anemia.
Onions can take the form of raw, cooked, dehydrated, or powdered onions and are commonly found in soups, sauces, gravies, condiments, and even treats. Even small amounts can be dangerous, so it's best to keep your four-legged friend away from all foods containing onions.
Symptoms of onion poisoning include lethargy, loss of appetite, pale gums, weakness, rapid breathing, and anemia. If onion poisoning is suspected, it's important to contact your veterinarian as soon as possible.
Garlic
When it comes to feeding your dog, you must be aware of what not to feed them. Garlic is one of the many foods that could be poison to your pup.
Garlic, in all forms, including raw, cooked, and even in powder form, can affect your dog's red blood cells, leading to anemia and death. While a few garlic treats may not be fatal, it's best to stay away from garlic altogether if you are feeding your dog.
Other foods that can be dangerous and should be avoided are chocolate, alcohol, grape/raisins, onions/shallots, and sugar-filled treats. Overall, it's always best to feed your pup healthy and dog-friendly treats and check with your veterinarian if in doubt.
Know About These Foods Dogs Can't Eat
Conclusively, it is best to stick to the general rule that dogs should not eat people's food as much as possible and should be fed only pet-safe foods.
When in doubt, it is better to avoid any foods dogs can't eat. If you need more information on foods that dogs shouldn't eat, be sure to contact your veterinarian.
Did you find this article helpful? Check out the rest of our blogs!