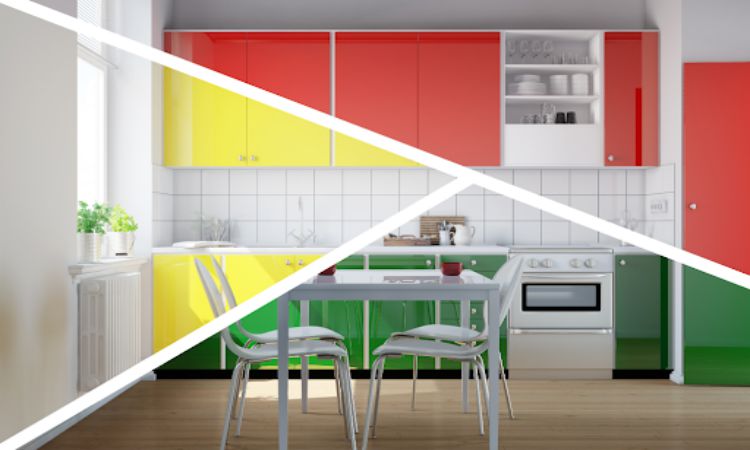 People spend amazing amounts of money every year on making their homes more beautiful. In 2023, there is enough demand for remodeling services in the United States alone to generate about $111 billion! On top of that, experts are expecting shifting demographics to lead to even more demand for remodeling in the future.
This year, many people are wondering what the best colors for kitchen cabinets are. Almost nothing about your kitchen will affect the first impression it gives as much as the colors that you choose for it. In fact, changing the color of your kitchen can change its appearance completely even if you keep everything else the same.
The good news is that there are some powerful principles that can help you choose the right colors for your kitchen remodel. There are also some exciting trends in 2023 that you might want to follow as you make your own remodeling choices. So what are the best colors for kitchen cabinets in 2023?
Read on to learn all about the most important things to keep in mind as you transform your kitchen!
Understanding the Best Kitchen Cabinet Colors
Although there are principles that can guide your decision, it is vital to understand that there is no one best color for your kitchen remodel. Instead, the colors that make sense for one kitchen might be different from the ones that make sense for your kitchen.
For that reason, you should be careful about copying the choices that other people make with their kitchens. Unless your kitchen is identical to theirs, it might not make sense to copy their color choices. In fact, even if your kitchen is identical to someone else's, you might still want to make different color choices based on the rest of your home.
Painting Kitchen Cabinets to Match Your Home
As you are deciding what color to make your kitchen cabinets, you should pay close attention to the rest of your home. If the rest of your home has a certain color palette, there is a good chance you will want to choose kitchen cabinet colors that harmonize with it.
In particular, you will want to make sure that your kitchen cabinet colors work with the adjacent rooms of your home. That means paying special attention to the dining room and any other rooms that people might see on their way to the kitchen.
Using Your Kitchen Renovation for Contrast
In many cases, it makes sense to design your kitchen to blend in with the rest of your home. On the other hand, some people prefer the various rooms of their homes to each have a special flavor. Choosing kitchen cabinet colors that contrast with the rest of your home can make it feel like your kitchen is in its own space.
It can also create a dramatic effect when people step into the kitchen. If you want to draw a lot of extra attention to your kitchen, then giving it colors that stand out from the rest of your home can enhance whatever splash it is already making.
Considering Different Types of Kitchen Cabinets
The right colors for your kitchen cabinets will depend partially on the design of your cabinets themselves. In particular, the texture of your cabinets can have a huge effect on how different colors look on them.
For example, if your cabinets present smooth faces, then they will tend to make your kitchen look flatter. Depending on what you are going for, you might want to balance out that flatness with colors that catch the eye.
On the other hand, if your cabinets provide a lot of layers of texture, you might want to soften them with muted or lighter colors.
There are also some practical considerations to keep in mind when it comes to your kitchen cabinets. If some of them are located close to the floor, you might want to avoid lighter colors. Cabinets that are close to the floor will be more likely to get dirty, and lighter colors will allow any dirt present to show up more easily.
Learning From Popular Kitchen Cabinet Color Trends
You can use these principles to help you assess some of the popular kitchen cabinet trends in 2023. This year, people are focusing on muted colors more than in the past.
In years past, many more people were choosing bright colors like yellow and light blue for their kitchen cabinets. However, the trend this year is to focus on darker colors that call less attention to themselves.
This includes options like dark blue, dark gray, and dark green. You can even paint your kitchen cabinets black or use earthy tones.
Other people feel that it is better not to paint kitchen cabinets at all. Many people are deciding to use natural wood for their kitchen cabinets in 2023. Whatever color you decide on, you will want to find the best kitchen cabinetry you can.
Choose the Best Colors for Kitchen Cabinets in Your Home
Finding the best colors for kitchen cabinets this year can be vital if you want to enjoy your remodeling choices for a long time to come. The more you understand how to choose kitchen cabinet colors that work with the rest of your home, the easier it will be for you to decide what is right for you. Fitting your kitchen remodel in with your whole home can add an extra layer of enjoyment to the process.
To learn more about the latest information in remodeling, business, and more, take a look at our other articles!