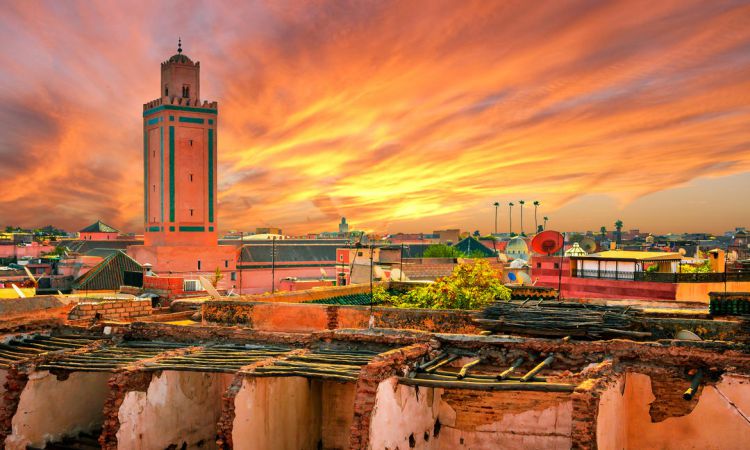 Marrakesh is the ideal destination for anyone with a thirst for travel. Are you eager to go?
If you're considering visiting this colorful city, you're not alone. It is so famous that over 10.9 million tourists visited the city in 2022 alone. And that's no surprise when you learn what makes it so special.
The rich tradition and stunning architecture of this lovely city are unmistakable. It is a feast for the senses and a thrill for tourists.
Ready to start planning your trip to beautiful Marrakech? We've got all the information you need to know.
Explore the Old Medina
Marrakech's Old Medina is the city's most loved and important district. It is home to the city's finest treasures, from ancient monuments and stunning palaces to lively bazaars and colorful souks. A must-see while in town, the square explodes with music and dancing.
Also, the loads of street food, make it an unforgettable experience for anyone who visits. Travelers who visit Old Medina will discover an infinite array of things to explore. From shopping to learning about the region's history and architecture.
As well as occupying a seat at one of the many juice stalls, there's something for everyone in Marrakech's Old Medina. If you are planning to stay or live in this beautiful city, there are a lot of apartments for sale in Marrakech where you can have a happy life.
Spend a Night at Djemaa El Fna Square
Marrakesh is a colorful and vibrant city and a great place to explore for a few days. Visitors must learn the beauty of this exciting and unique Islamic city to understand what makes it so special. One of the highlights of a trip to Marrakech is an evening spent at the Djemaa El Fna square.
As the sun sets, the square becomes alive with storytellers, mystics, musicians, dancers, and Indian snake charmers. It is a great way to immerse oneself in the culture and energy of Marrakech.
The sights and sounds of the square provide an unforgettable experience that visitors should not miss. With its vibrant atmosphere, Djemaa El Fna Square is a wonderful way to end a day exploring this fascinating city.
Wander Through Majorelle Garden
Majorelle Garden in beautiful Marrakech is a must-see. It is a lush green oasis of exotic plants, trees, and flowers. Also, colorful pergolas, a serene lotus pond, a Berber Museum, and countless Instagramable moments come together to create something very special.
What makes this city so special is that it is like no other, it is unique and captivating. It is the perfect place to wander, admire the artisanal architecture, and get lost in interesting conversations about local Moroccan culture. Take time to lie in the hammocks or relax in the sun, exploring every tail, pathway, and corner of the garden.
It is a peaceful escape for those looking to escape the hustle. Here, art, design, and culture come together to create an unforgettable experience that will last a lifetime.
Exploring the Local Cuisine of Marrakech
Long known for its vivacious and intriguing food, Marrakech. Located in the heart of Morocco, this historic city is home to an exciting range of small restaurants and food stalls. They serve some of the best local dishes in the world.
Those interested in learning more about Moroccan cuisine can take a walking tour of the city's top eateries, night markets, and street food. Popular dishes include couscous, tajine, kefta (meatball sandwiches), and zaaluk (eggplant salad).
Many local cafes also serve a variety of brewed mint teas and sweet pastries, providing a traditional touch to the city's eating experiences. Marrakech is an ideal destination for anyone looking to discover the real flavors and tastes of Morocco.
Visit the Koutoubia Mosque and Minaret
Marrakech is one of the most beautiful cities in Morocco. It is home to the Koutoubia Mosque and Minaret, which dominates the skyline and is impossible to overlook. Built in the 12th century, this iconic symbol of the city's rich culture and history is one of the most impressive structures in Marrakech.
The mosque, one of the world's greatest places of worship, is a must-see when in the city and is about 200 feet tall. The Koutoubia Mosque and Minaret are beautiful and visiting this site will leave a lasting impression on all visitors. It offers a unique glimpse into the history and culture of this vibrant city and is the perfect way to experience the beauty of Marrakech.
Relax in Menara Garden and Pool
One of the most stunning cities in the world, Marrakech, offers a variety of interesting sights to see. Among them, Menara Garden and Pool is an absolute must-see. Located on the western side of the city, this lush garden paradise was built in the 12th century by the Almohads.
It offers gorgeous views of the surrounding landscape. Visitors can walk around the pool edged with orange trees and stroll through orderly rows of columns. As well as take in some of the cypress trees in Morocco.
Relax and unwind in the calming atmosphere of Menara Garden and Pool, only adding to the city's beauty and charm. From the vibrant souqs to the stunning architecture, there is something for everyone in this amazing city. If you are looking to enjoy the breathtaking scenery, Marrakech offers the perfect destination for any traveler.
Meeting the Warm People of Marrakech
Marrakech is a special city and one of the best features for me is the people. From the shop owners to the hoteliers and the restaurateurs. As well as the street-side entertainers, the people are warm and friendly despite it being such a busy and tourist-filled location.
They are always ready with a kind smile, a helping hand, or a funny anecdote. Most of them invite you into their homes, sharing delicious dishes and discovering the true beauty and soul of the city.
Know the Beautiful Marrakech City of Morocco
Marrakech is an amazing city full of culture and character. Exploring the Old Medina, spending the night at Djemaa El Fna Square, and wandering through Majorelle Garden.
Also, exploring the local cuisine of Marrakech and visiting the Koutoubia Mosque and Minaret. Additionally, relaxing in Menara Garden and Pool is the must-see on any traveler's list.
Take the plunge and meet the warm people who live in beautiful Marrakech that you won't regret. Book your Marrakech trip today!
Did you find our article useful? Then make sure you check out some of our other posts on our site!