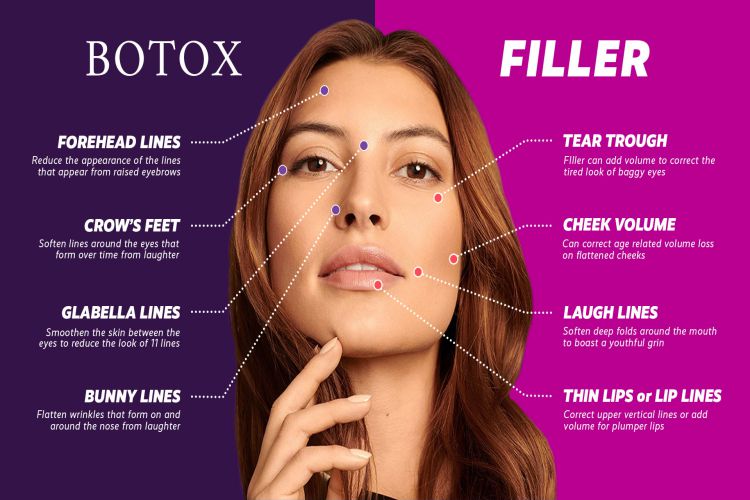 Choosing between Botox and dermal fillers is a common dilemma in the world of cosmetic enhancements. Both treatments aim to address signs of aging, but they work differently. In this article, you will delve into the distinctions between Botox & dermal fillers, helping you achieve desired results.
Understanding Botox
Botox, short for Botulinum Toxin, is a widely used cosmetic procedure that helps to decrease the look of wrinkles and fine lines on the face.. It's derived from the bacterium Clostridium botulinum and works by temporarily relaxing or paralyzing muscles. This muscle relaxation is key to its effectiveness in smoothing out facial lines.
Understanding Dermal Fillers
Dermal fillers are a popular cosmetic treatment designed to add volume and fullness to the face, effectively reducing the appearance of wrinkles, lines, and hollow areas. Unlike Botox, which works by relaxing muscles, dermal fillers fill the targeted areas with substances such as hyaluronic acid, collagen, or poly-L-lactic acid.
Differences Between Botox and Dermal Fillers
Mode of Action
Botox & dermal fillers differ in how they address facial concerns. Botox, derived from Clostridium botulinum, temporarily relaxes or paralyzes muscles. This reduction in muscle activity smoothens wrinkles caused by repetitive facial movements. 
On the other hand, dermal fillers, composed of substances like hyaluronic acid, add volume to the skin by filling in lines and hollow areas, creating a plumper appearance.
Duration of Results
The longevity of results sets Botox & dermal fillers apart. Botox's effects typically last three to six months as muscle activity gradually returns. In contrast, dermal fillers offer varying durations based on the type of filler and treated area, often lasting from six months to two years. This distinction is essential for individuals seeking either a temporary solution or longer-lasting results.
Ideal Candidates for Each Treatment
The choice between Botox & dermal fillers often depends on individual concerns and goals. Botox is particularly effective in treating dynamic wrinkles formed by repetitive facial movements. 
Commonly addressed areas include crow's feet, forehead lines, and frown lines between the eyebrows. Its mechanism of temporarily relaxing muscles makes it ideal for softening these expression-related wrinkles.
In contrast, dermal fillers are adept at addressing static wrinkles and adding volume to specific facial areas. They are commonly used to plump up areas that have lost volume over time, such as the cheeks, lips, and nasolabial folds. Dermal fillers are versatile in enhancing facial features and providing a more youthful appearance by filling in hollow spaces and smoothing lines.
Long-Term Cost Consideration
When deciding between Botox and dermal fillers, considering the long-term cost is crucial. Individuals seeking more enduring solutions may find that dermal fillers, despite having a higher upfront cost, could be more cost-effective in the long run due to less frequent touch-ups. 
However, preferences, budget considerations, and desired outcomes should all play a role in deciding the most suitable cosmetic approach.
Have Informed Decisions Based On Your Needs
In conclusion, whether you're considering Botox or dermal fillers, knowing the differences in targeted areas, applications, and long-term costs is key to making informed decisions. Your unique needs, preferences, and desired outcomes should guide your choice in these cosmetic interventions. 
Consulting with a qualified professional like cosmetic injectables Gold Coast ensures a personalized approach, helping you achieve the desired rejuvenation.