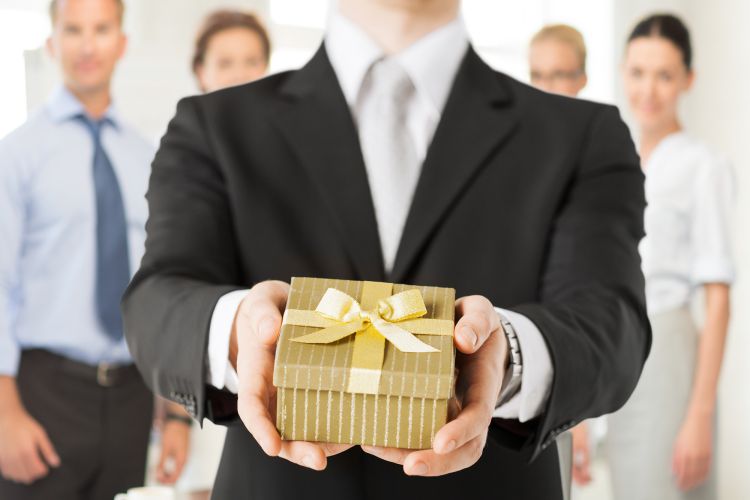 Companies offer corporate giveaways to clients, potential customers, or employees. These gifts foster goodwill, promote brand awareness, and build business relationships. Corporate giveaways vary widely, from food items to experiential treats, all designed to enhance partnerships and bolster brand recall. 
In this article, you'll learn the various corporate giveaways you can offer and discover their benefits for the givers and recipients. You'll also find tips on choosing effective giveaways and measuring the success of these campaigns.
Food-Related Giveaways
1. Cupcakes
Corporate branded cupcakes adorned with your logo or a bespoke message make a delightful and memorable gift. These delicious treats don't just appeal to the taste buds but also serve as a visual reminder of your brand's aesthetic and creativity.
2. Cookies
Individually wrapped cookies, imprinted with your branding or message, are both personal and portable. They offer recipients a taste of your company's lasting impression of warmth and generosity.
3. Chocolates
Branded chocolates or elegant chocolate boxes resonate with a touch of luxury. Each piece is a sensory experience that associates your brand with quality and indulgence. Before giving away chocolates, note if your recipients have food restrictions on dairy or nuts.
4. Coffee and Tea
Gift certificates to local coffee shops or tea houses signify a gift of relaxation and pleasure. They suggest you value the recipient's comfort and leisure. You could also go the extra mile by personally curating promotional packages or bundles of luxury tea or coffee, including a customized mug.
5. Gourmet Food Items
Gift baskets with premium food items showcase your company's generosity and intent to foster strong, positive relationships with recipients. These exquisite giveaways reflect the richness of the relationship you aim to build or maintain with potential business partners.
Non-Food-Related Giveaways
1. Branded Merchandise
Placing your logo on commonly used objects can boost public visibility. Items like pens, mugs, and notebooks are everyday essentials that remain visible and accessible, making them effective choices. Other examples you can give as corporate giveaways include umbrellas, customized T-shirts, and, more recently, phone socket grips.
2. Gift Certificates to Local Businesses
Certificates to restaurants, retailers, or spas highlight your support to quality experiences. Providing gift certificates to local establishments demonstrates your confidence in their services and serves as an endorsement to recipients.
3. Donations to Charity in the Recipient's Name
Donations in the recipient's name reflect generosity and demonstrate your company's commitment to social responsibility by supporting meaningful causes. Choose an organization close to you or your clients with whom you wish to build a relationship. That way, the donation becomes more worthwhile.
4. Event Tickets
Tickets to concerts or sporting events can transform a typical evening into an unforgettable experience, connecting positive emotions to your brand. Consider giving away tickets to see local musical artists or sports teams to show support for the community.
5. Experiences
From cooking classes to wine tastings, unique experiences create lasting memories, intimately tying your brand to moments of joy and discovery. Other activities that would be great as corporate giveaways include art workshops and a trip abroad, a luxurious option for standout corporate gestures.
The Benefits Of Corporate Giveaways
Corporate giveaways work wonders in strengthening your brand image and awareness. When clients and customers receive a gift bearing your logo or message, it ingrains your brand in their memory. Each use or glance at the giveaway is a gentle reminder of your company and the value it brings.
Giveaways also amplify customer and client loyalty. Receiving a thoughtful gift cultivates a positive perception of your brand, fostering a deeper connection. This connection often translates into increased business engagement and loyalty. Employees also benefit from giveaways—the right gifts boost their morale, encouraging a positive and productive work environment.
Tips For Choosing Effective Corporate Giveaways
Start by understanding the specific interests and preferences of your target audience to tailor your giveaways effectively. Choose items aligned with your brand, highlighting your brand's identity and values. Always prioritize quality, as exceptional giveaways can significantly elevate your brand's perception.
Incorporate a personal touch; it could be as simple as a handwritten note that transforms a generic gift into an intimate gesture. After distributing the gifts, it's beneficial to follow up with recipients. Obtain feedback to evaluate the impact and reception of your corporate giveaways.
Measuring The Success Of Corporate Giveaway Campaigns
Measuring increased web traffic and enhanced social media engagement reveals the effectiveness of corporate giveaways. It's about noting the spikes in visits, likes, shares, and comments following a giveaway. These metrics tangibly demonstrate your company's reputation, brand visibility, and engagement.
Utilize surveys to collect detailed feedback, enabling you to understand the recipients' views on the value and appropriateness of your giveaways. Coupled with tracking redemption rates for gift certificates and coupons, you get a holistic view of your campaign's effectiveness and areas for improvement.
Conclusion
Corporate giveaways are a dynamic tool in nurturing and enhancing business relationships. They boost brand awareness, increase customer loyalty, and uplift employee morale. Thoughtful selection and personalization of these gifts can significantly influence the recipients' perception and engagement with your brand. 
Revisiting the benefits and types of giveaways emphasizes their pivotal role in business development. Feel free to explore and integrate corporate giveaways into your strategy, elevating your relationships and positioning your brand favorably in clients, customers, and employees' minds.