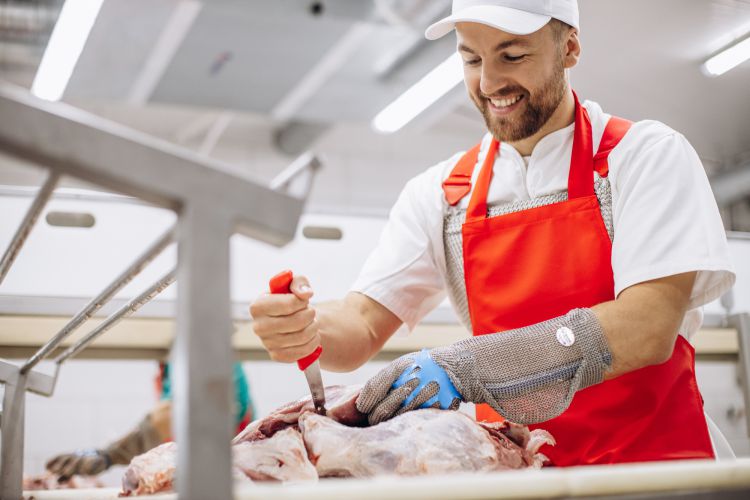 In the contemporary era, ethical considerations and animal welfare have risen, underscoring the importance of ensuring humane practices during animal slaughter. Irrespective of cultural, religious, or economic motivations, it is now widely acknowledged that treating animals with care and minimizing their suffering throughout slaughter is an ethical obligation that societies must uphold.  
Various methods and guidelines have been established to achieve this goal while respecting diverse cultural and religious practices. An essential example of addressing animal rights can be seen in how various belief systems, such as Islam, advocate for the humane treatment of animals. 
Balancing Cultural Sensitivity And Animal Welfare 
Within the broader framework of animal welfare, there is a growing recognition of the need to balance cultural and religious practices with the ethical treatment of animals. Acknowledging and respecting diverse perspectives ensures that animal slaughter practices align with ethical standards and cultural values. A pertinent example of this dynamic balance can be found in considerations related to Islam animal rights. 
Guidelines For Humane Slaughter 
This section delves into the core principles that underpin humane animal slaughter practices. By examining key aspects such as pre-slaughter preparation, swift methods, pain minimization, and the role of qualified personnel, you'll explore how these guidelines collectively contribute to a more compassionate approach to the process of animal slaughter.
Pre-Slaughter Preparation 
This preparation is fundamental to ethical animal slaughter. A serene environment, gentle handling, and comfortable holding areas minimize stress, promoting animal welfare and enhancing meat quality. By reducing stress hormones and recognizing the link between animal well-being and meat excellence, this phase embodies compassion and responsibility, reflecting values extending from the animals to the final products consumers enjoy. 
Swift And Efficient Methods 
Adopting swift and efficient methods for animal slaughter underscores the commitment to minimizing distress and upholding ethical standards. Employing well-maintained, sharp tools ensures a quick and humane process. Swift actions significantly reduce the duration of stress and discomfort for the animal, promoting a more compassionate outcome that aligns with the values of humane treatment and responsible practices. 
Mitigating distress during animal slaughter involves a thoughtful approach to prevent animals from experiencing fear and unease. One pivotal strategy is the separation of animals awaiting slaughter from the actual process. This separation serves as a crucial element in promoting their emotional well-being, ensuring that they are spared from witnessing the fate of their peers. By keeping the two stages distinct, we acknowledge the innate sensitivity of animals and strive to minimize their anxiety, contributing to a more compassionate and considerate approach to animal slaughter. 
The principle of pain minimization in animal slaughter is rooted in compassion and ethical responsibility. Techniques such as stunning play a pivotal role by rendering animals unconscious before the slaughter, effectively reducing pain and stress. The careful selection of stunning methods is paramount, ensuring not only their effectiveness but also their alignment with the well-being of the animals. This thoughtful approach underscores the commitment to humane practices and ethical considerations, recognizing that minimizing pain during slaughter is an integral aspect of treating animals with the respect and dignity they deserve. 
The involvement of skilled personnel is a cornerstone of ensuring ethical and humane animal slaughter. Trained individuals, well-versed in animal anatomy and the intricacies of appropriate methods, play a crucial role in orchestrating a swift and painless process. Their expertise ensures the animal's well-being and upholds the values of respect and responsibility throughout the slaughter process. By entrusting this task to knowledgeable professionals, we reinforce the commitment to minimizing suffering and maintaining ethical standards, ultimately contributing to a more compassionate and considerate approach to animal slaughter. 
Embracing these guidelines aligns with ethical standards and upholds the dignity and well-being of the animals involved. 
Respecting Cultural Diversity 
A key aspect of merciful animal slaughter practices involves acknowledging and respecting cultural diversity. Communities around the world hold various traditions and practices related to animal slaughter. Ensuring ethical treatment while accommodating these differences requires collaborative efforts among animal welfare advocates, religious leaders, and policymakers. 
Regulations And Oversight 
Government agencies and regulatory bodies are pivotal in overseeing and enforcing humane animal slaughter practices. Through stringent guidelines and regular inspections, these entities ensure slaughterhouses adhere to ethical standards and treat animals dignifiedly. 
Empowering Consumer Choices 
As a conscientious consumer, you greatly influence market demand for ethically produced meat products. By supporting suppliers and producers committed to the ethical treatment of animals, you contribute to a market that values humane practices. Educating yourself about certifications and labels related to animal welfare empowers you to make informed choices that align with your values. 
Conclusion 
A delicate balance must be struck between ethics, culture, religion, and regulation in the quest for humane animal slaughter practices. Upholding compassion and minimizing animal suffering benefits not only the animals themselves but also the collective conscience of society. Collaborative efforts informed consumer decisions, and stringent regulations could collectively shape a future where animals are treated with respect and dignity, even in their final moments. Remember that your choices hold sway and can mold a more compassionate and considerate world for everyone involved.