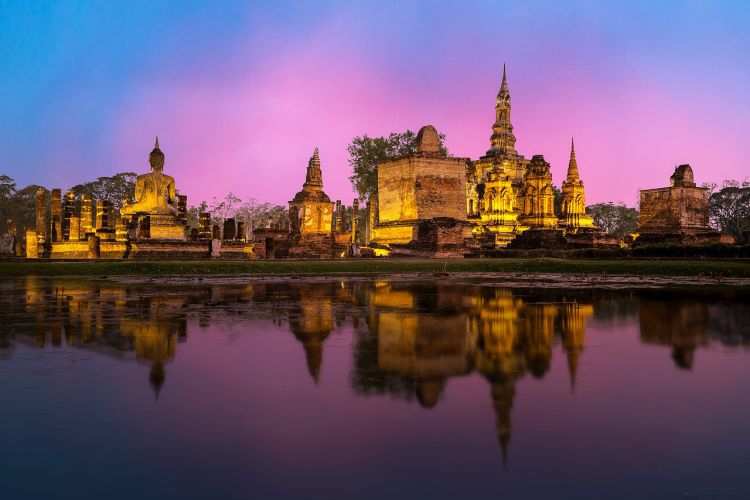 With its breathtaking beauty, rich culture, and the allure of its idyllic beaches, Thailand has become a beloved destination for tailor-made honeymoon holidays. But transforming your trip into a luxury romantic holiday must be personalized, reflecting your interests and desires. This blog post guides you to the critical considerations for a dreamy Thai honeymoon.
Understanding Tailor-Made Holidays
A tailor-made holiday is a trip designed around your preferences, allowing you to explore at your pace, choose your accommodation, and decide on your activities. The beauty of tailor-made honeymoon holidays is that they offer an intimate and personalized experience, turning your journey into a unique story of romance and adventure.
Essential Factors in Planning a Tailor-Made Honeymoon Holiday
Identifying Your Interests and Expectations
Your interests and expectations form the cornerstone of your honeymoon. From the thrill of adventure to the serenity of relaxation, cultural exploration, or culinary experiences, understanding what you seek is the first step in crafting your luxury romantic holiday.
Choosing the Ideal Locations in Thailand
Choosing the ideal locations for a tailor-made honeymoon in Thailand depends on your interests and expectations. If you're looking for tranquil beaches and luxury resorts, consider islands like Phuket and Koh Samui. 
These destinations offer stunning ocean views and opportunities for water activities such as snorkeling, diving, or sailing. For culture enthusiasts, the ancient city of Chiang Mai, with its hundreds of Buddhist temples and rich history, is a must-visit. 
The vibrant city of Bangkok is perfect for couples seeking a blend of modern luxury, bustling markets, and historical landmarks. For nature lovers, the national parks in the northern regions offer beautiful trekking experiences and encounters with Thailand's diverse wildlife. 
Each location has its unique charm and experiences to provide, so your decision should align with what you envision for your honeymoon. Consulting with a travel agent specializing in Thailand can offer additional insights to guide your decision-making process.
Selecting the Right Time to Travel
Selecting the right time to travel for your tailor-made honeymoon in Thailand largely depends on your preferred activities and chosen locations. The country experiences three seasons: cool (November to February), hot (March to June), and rainy (July to October). 
The cool season, with less rainfall and moderate temperatures, is ideal for beach holidays and outdoor activities. However, the hot season could be a good choice if you plan to explore the northern regions. In contrast, the rainy season offers lush landscapes and fewer tourists. 
Always check the weather forecasts closer to your travel date.
Accommodation Selection
Choosing the perfect accommodation for your tailor-made honeymoon holidays in Thailand involves considering location, amenities, privacy, and ambiance. For luxury romantic holidays, opt for accommodations that offer special services for honeymooners, such as private dining, couples' spa treatments, or room upgrades. 
Whether it's a beachfront villa in Phuket, a riverside hotel in Bangkok, or a luxury resort in Chiang Mai, your chosen accommodation should enhance your honeymoon experience and align with your personal preferences and budget. Consulting with a travel agent specializing in Thai honeymoons can provide valuable insights and recommendations.
Crafting Your Itinerary
Crafting a tailor-made honeymoon in Thailand requires a balance of relaxation and activities. Schedule your visit to these sites by identifying key attractions in your chosen locations. 
Include unique Thai experiences such as cooking classes, temple visits, and a traditional Thai massage. Consider a romantic dinner cruise on the Chao Phraya River in Bangkok or island hopping in the Andaman Sea if you're in Phuket. 
Always allocate ample time for relaxation, whether lounging on a beach or enjoying your resort's amenities. Remember, your honeymoon is not just about sightseeing; it's about spending quality time together. 
Build your itinerary around experiences that you both will enjoy and remember. Remember travel times when planning your activities, and try not to cram too many things into a single day. Finally, consult with a local travel agent or do thorough research online to ensure you don't miss out on hidden gems.
Budget Planning
A tailor-made honeymoon in Thailand can cater to various budgets without compromising the experience. Understand the costs associated with your choices and plan your budget accordingly. Consider costs for accommodation, activities, meals, and transport.
Travel Logistics
Ensure you have the necessary travel documentation and visas. Consider investing in travel insurance for peace of mind. Familiarise yourself with internal transport options in Thailand to help you move around comfortably.
Conclusion
A tailor-made honeymoon holiday in Thailand can be a truly unforgettable luxury romantic holiday. Understanding your interests, choosing the right location, planning your itinerary, and managing your budget are all critical aspects of this process. 
With careful planning, you can experience the honeymoon of your dreams in the enchanting landscapes of Thailand. So, why wait? Embark on the adventure of a lifetime and let the Land of Smiles captivate your hearts.