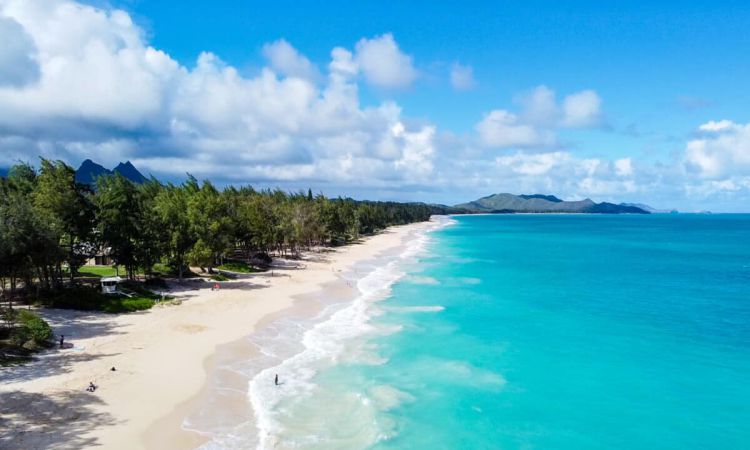 Planning a getaway to Hawaii? Chances are, you've got your sights set on the island of Oahu. This island is home to the gateway of Hawaii, Honolulu, as well as some incredible hikes, activities, and, of course, beaches. If beaches are one of your top priorities on your upcoming vacation, then do it right, and spend your time at any of these top five in Oahu:
1. Waikiki Beach
One of the most infamous beaches in the world is Waikiki Beach. It's stunning, with white-sand beaches, and great surfing opportunities, and is right next to some of the top-tier resorts in Hawaii. It's become a true landmark thanks to the sheer number of celebrities that have visited in the past, including Bing Crosby and Frank Sinatra.
Most critically, however, is that Waikiki Beach is where Duke Kahanamoku learned and developed surfing as we know it today. Kahanamoku was a five-time Olympian, a Hollywood actor, and the father of modern surfing. He even taught future generations the art of surfing here, and as a result, this beach has taken on a cult-like status.
It's also where all the hubbub of the city is. If you want access to this amazing beach, then book a stay at a top Waikiki beach resort. Not only will you have the stunning beach close by, but you'll also be in the heart of one of Hawaii's largest cities.
2. Sunset Beach
Sunset Beach is home to golden sands and teal waters. It's a true delight for tourists and artists alike. Not only is this a great place for swimming and snorkeling, but it's also a top destination for surfers in the winter. Do keep in mind that those large waves in winter do mean that it's no longer suitable for swimming, and only the most experienced surfers should attempt it.
3. Waimanalo Bay Beach
This is the longest beach in Oahu. It stretches for almost five miles and touches the now-closed air force base. Its location to that base has made this beach a top choice for military families on vacation, both in the past and to the present day. Keep in mind that the waters here tend to be rougher, so it's only for more experienced swimmers and tours.
4. Kailua Beach Park
This beach has been named one of the best beaches in the United States. Here you'll find almost three miles of pale sand and crystal waters that refract sunlight beautifully. The reason for its popularity is due to how calm the waters are, making it ideal for those looking to swim, snorkel, or even learn how to surf. The park itself has other fun things to do, like volleyball, picnic, eating out, and even shopping at the local Kalapawai market.
5. Lanikai Beach
Just one mile away from Kailua Beach Park is Lanikai Beach. This picturesque beach is famous for its year-round calm waters, making it a great option for those who want to swim safely during winter. You will enjoy great swimming and relaxing and find two small islands just off the coast that you can reach by kayaking. Do that, and you'll see many wonderful birds, as those islands are natural bird sanctuaries.