Termites are a fascinating insect straight out of the African savanna. They subsist on wood, creating awe-inspiring networks within the grains of trees and mounds. Unfortunately, they also cause $2 billion in damages every year in the US.
If you spot a termite, it means there is likely a whole colony eating up your home. Before you call the exterminator, though, you might want to do a double-take. There is another insect that looks strikingly similar: a flying ant.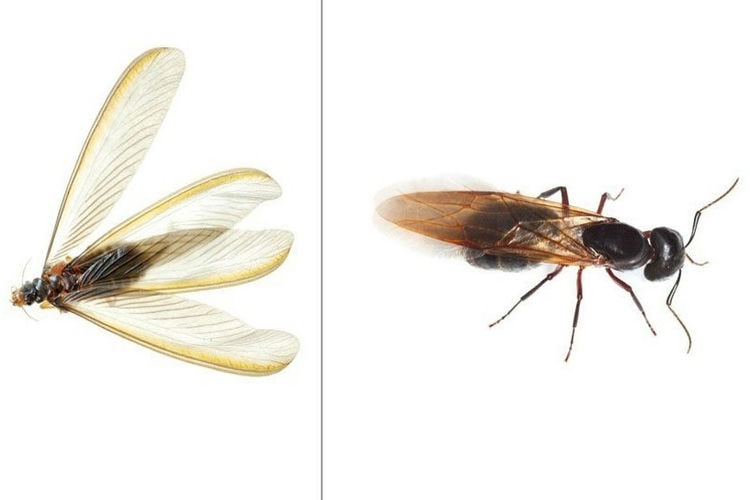 Flying ants vs termites: what's the difference? Not only do they look alike, they share some similar habits. Both require entirely different strategies to tackle them.
Keep reading as we compare and contrast these two species.
Flying Ants vs Termites: What's the Difference?
Make no mistake, termites and flying ants (known as carpenter ants) are pests. Both require some degree of extermination. That said, it's critical to distinguish one from the other.
If you can, capture one for examination. A magnifying glass should be sufficient to get an up-close view. Use the following qualities to identify them.
What Do Termites Look Like?
There are several species of termites. Regardless, they all have the following basic qualities:
Circular heads
Straight antennas
Shapeless and broad bodies
Four wings of the same size
Tan or yellow body
What Do Flying Ants Look Like? 
Flying ants (Carpenter ants) look more or less like any other ant. If you're not sure, be on the lookout for these things:
Pinched heads
Bent antennas
Three distinct bulbous segments
Black bodies
Different wing lengths
Termite Behavior
Termites both consume and live in wood structures. These can be house supports, old sheds, or anything with natural wood material. They create extensive, deep, elaborate labyrinths similar to ants.
Termites can consume other types of plant matter with cellulose fiber. For example, home fabrics, books, and cotton. A termite infestation can easily last for decades, unlike ants.
How to Deal with Them
Call a termite exterminator immediately if you identify the above signs. Termites can cause irreparable damage to any home with wooden structural supports. Eliminating them completely is essential to avoid costly repairs and renovations.
Flying Ant Behavior
Flying ants can also live in wooden structures, similar to termites. However, a key difference is that they prefer moist areas. You are likely to find them near sinks, bathtubs, and water leaks.
Flying ants have a diet more akin to their ground-dwelling companions. Food scraps, nectar, seeds, and other insects make up their food sources. Further, their colonies have much shorter lifespans.
How to Deal With Them
Like any other pest, it's important to exterminate them. Luckily, though, you likely don't need to undergo extreme repairs after the fact. Damage from carpenter ants is typically less severe.
Like with normal ant colonies, over-the-counter poison should do the trick. More extreme infestations may require an exterminator.
Call an Exterminator Today
Flying ants vs termites: what's the difference? Termites live in and consume wood, and constitute a serious threat to your home's structural integrity. Flying ants, on the other hand, are more like normal ants–requiring less extreme measures.
Follow our blog for more helpful articles to keep yourself in the loop.