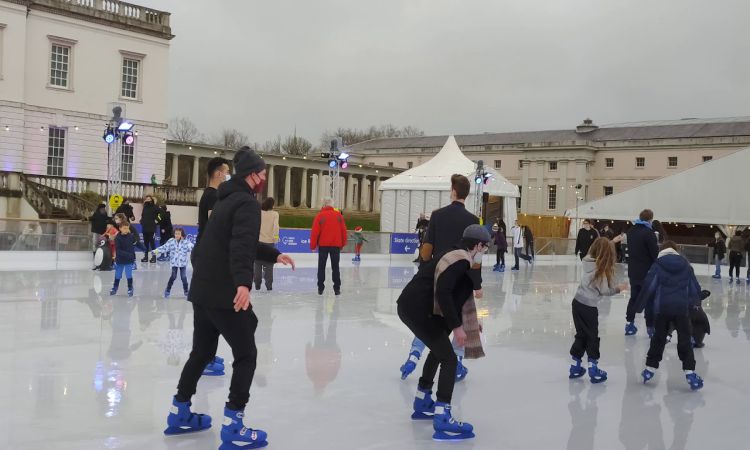 As the popularity of ice skating grew, innovators began to ponder an alternative to natural ice, paving the way for synthetic ice. Think of synthetic ice as an innovative invention that mimics the feel of real ice but is not actually frozen.
It's made from polymer materials tailored to create a smooth surface. These panels can be pieced together to construct a skating rink, much like putting together a jigsaw puzzle. The best part? It doesn't require chilly temperatures.
What Is Synthetic Ice?
Synthetic ice is a solid polymer material designed for ice skating. These synthetic panels are crafted from high-density polyethylene or ultra-high-molecular-weight polyethylene. Skaters can glide on the surface using regular ice skates, even though there is no actual ice involved. The panels are infused with lubricants that decrease friction and simulate the feel of gliding on natural ice.
How Synthetic Ice Differs From Natural Ice
While synthetic ice aims to replicate the real deal, there are a few distinctions. Firstly, skating on synthetic ice calls for a bit more effort. This is because friction is somewhat higher compared to natural ice. But on the flip side, this extra exertion can be excellent for building strength and stamina. Secondly, synthetic ice doesn't require cold temperatures or hefty energy consumption for maintenance, making it a more eco-friendly alternative.
Benefits Of Synthetic Ice
Synthetic ice has revolutionized the world of ice skating with a plethora of benefits.
One of the most alluring perks of synthetic ice is the freedom to skate 365 days a year, regardless of the season. No longer are ice skating enthusiasts confined to the icy embrace of winter. Whether you're in a hot tropical climate or a cold snowy region, synthetic ice rinks are not affected by weather conditions. This liberating feature has been a boon for athletes seeking uninterrupted training and for recreational skaters craving year-round enjoyment.
Reduced Water Consumption
Real ice rinks are notoriously thirsty, guzzling copious amounts of water to maintain their icy sheen. On the other hand, synthetic ice eliminates the need for water altogether. This is a huge win, especially in regions where water is a precious commodity.
Conventional ice rinks also consume a large amount of energy, demanding massive amounts of electricity to keep the ice frozen. In stark contrast, synthetic ice rinks are champions of energy efficiency. By saying goodbye to refrigeration systems, they curtail energy consumption and, in turn, shrink the carbon footprint of ice skating.
The elimination of refrigeration and water costs results in substantial savings for synthetic ice rink owners. Moreover, modern synthetic ice panels boast remarkable durability, further driving down maintenance expenses. For entrepreneurs and organizations, this cost-effectiveness has made the dream of owning an ice rink more accessible than ever before.
Accessibility And Convenience
Synthetic ice has thrown open the gates to ice skating for countless individuals. Pop-up synthetic rinks in shopping malls, community centers, and even backyards have become the norm. These rinks have played a pivotal role in introducing the joy of ice skating to people who might not have had access to traditional ice rinks. For burgeoning athletes in warmer climates, this is particularly advantageous.
Customization And Flexibility Of Rink Sizes
Free from the limitations of refrigeration systems, synthetic ice panels offer great flexibility in rink design. From compact rinks suitable for family gatherings to large arenas for competitions, the possibilities are extensive. This modularity is highly beneficial for event organizers and trainers alike, who can tailor rink sizes to suit varying needs and spaces.
Through its eco-friendly nature, cost-effectiveness, and accessibility, synthetic ice offers an attractive alternative to traditional ice rinks.
The Impact On Training And Performance
Synthetic ice has significantly expanded training opportunities and enhanced performance in ice skating.
Expansion Of Training Opportunities
With synthetic ice in the picture, training opportunities have skyrocketed. Athletes can now train all year long without worrying about the season or weather conditions. This is particularly beneficial for those in regions where natural ice is a rarity.
Additionally, synthetic ice rinks can be installed in a variety of locations, including gyms, community centers, and even homes. This means less time traveling to traditional ice rinks and more time honing skills and perfecting techniques.
Inclusivity For Beginners And Professionals
Synthetic ice has proved to be a highly inclusive innovation, accommodating skaters of all skill levels. For novices, it's a less daunting gateway into the world of ice skating. Many synthetic rinks offer coaching programs for beginners, making the sport more accessible.
For the seasoned pros, synthetic ice is a training haven. The slight increase in friction compared to natural ice can be exploited to enhance muscle strength and endurance, giving professionals an edge in competitions.
Adaptation Of Training Techniques For Synthetic Surfaces
Training on synthetic ice isn't just about lacing up and gliding; it involves adapting techniques to suit the surface. Coaches and athletes have been devising innovative drills that exploit the unique properties of synthetic ice.
For instance, practicing tight turns and quick stops on synthetic ice can improve control and precision. Moreover, because synthetic ice is more forgiving during falls, it's an excellent medium for practicing daring spins and jumps without the fear of severe injuries.
By offering an adaptable training surface and fostering inclusivity, synthetic ice has enriched the training experience for skaters. It has opened new horizons in training techniques and created a safer environment for practice.
Conclusion
Synthetic ice is undeniably a game-changer. Its emergence has breathed new life into the ice skating industry, ushering in a myriad of possibilities. For athletes, it's a boundless training playground. For business owners, it's a cost-effective investment. For communities, it's a conduit for recreation and physical fitness.
Essentially, synthetic ice has broken down barriers and built bridges, connecting more people to the enchanting world of ice skating than ever before.