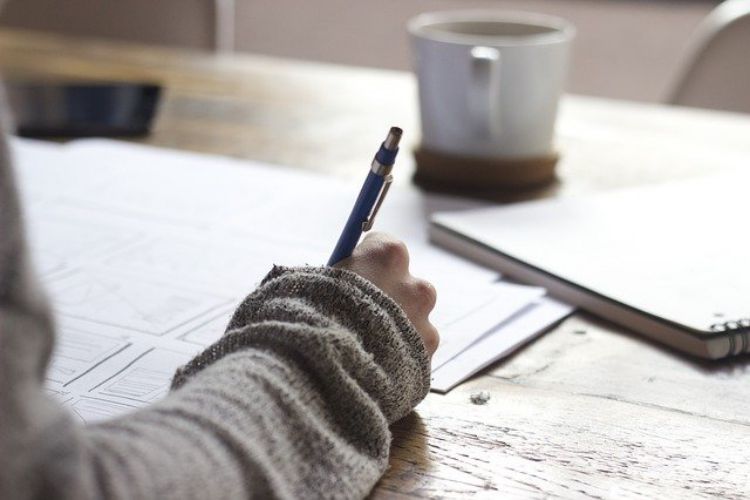 You've always loved writing, so you're thinking about pursuing it seriously? There is a lot of mystery around writing as a career. You're probably asking questions like, what do I need to start a career as a writer? What field of writing is the best for me? What does it take to earn a living from writing? Well, you've come to the right place for answers.
Writing is fun, but it can also be a lucrative profession. However, becoming a professional writer is a continuous journey with lots of preparation and obstacles. Our comprehensive guide will tell you all you need to know to turn your passion for writing into a full-time career.  
6 Practical Steps to Get Into Writing as a Career 
Whether you want to become a top-earning screenwriter, essay writer, or the next best-selling author, this guide will tell you exactly how to get started.
1. Choose your writing niche
Too many choices can result in career paralysis. The most effective strategy is to narrow your options into either fiction or nonfiction writing and then think about a narrower specialty, also called the niche. For example, you can pursue writing in journalism, industry-specific, academic, fiction, technical, or UX. By selecting a niche, you can channel all your effort into developing the right knowledge and skill set that will eventually earn you more money.
2. Establish a solid writing routine
Almost all aspiring writers have to overcome the hurdle of maintaining a solid writing routine. However, writing as a career is a craft that requires more than just talent. So, you need to continuously practice your technical writing skills and build your core skills to advance your career as a writer. Developing a solid writing routine requires identifying your writing goals, making writing a priority, and setting specific writing times. Still, you'll find many reasons to quit along the way, but stay determined no matter what.
3. Fill the gaps in your education
Do you need a writing degree to get into writing as a career? No. The necessity of academic credentials to establish a writing career depends on our niche. Still, even if your writing niche doesn't require specialized knowledge of the subject, formal education can accelerate your writing career in the early days. The best way to learn more about writing is by reading books, taking an online course, joining writing communities, taking short-term professional programs, and becoming an apprentice.
4. Seek opportunities to publish your work and boost your portfolio
Once you're confident that you've produced work that you're proud of, start looking for publishing opportunities. There are many online publications that accept work from budding writers. Publishing is a chance to build your portfolio and gain experience on how to tailor your work to specific outlets. You can also consider self-publishing on a personal website. Once you choose writing as a career choice, your website becomes your calling card and portfolio. It will allow you to build a professional career as a full-time writer by showcasing your ability to agents, editors, and publishers.
5. Apply for writing grants and find paid writing opportunities
Building a profitable full-time writing career can take time, which is why a writing grant can help you finish the big and long projects on your hands. Some grants specify how the money is used, such as conferences and writers' retreats, while others have no stipulations on spending. Also, you can apply for freelance and contract-based writing jobs on the side to supplement your income as you progressively transition to a full-time writing career.
6. Get help from professional writers and editors
To improve your craft and acquire industry knowledge as a beginner, collaborate with a custom paper writing service that can revise your work or help you craft an original piece from scratch. Online writing services link students with expert writers and editors who can spot plot holes, examine your manuscript for inconsistencies, improve your text quality, develop original ideas, or write plagiarism-free papers based on your instructions. 
CustomWritings is an all-in-one academic writing service with years of experience in the market. They deal with most disciplines at all academic levels and find the best-matching writer for every student.
What It Takes to Sustain a Full-Time Writing Career
Getting into writing as a career is not easy. It requires a great deal of self-discipline and dedication since you work for yourself and can easily get distracted. Also, you will need to constantly prove yourself and promote your content to stay alive in the algorithms. Success doesn't happen magically, it's a result of lots of dedication and hard work.
Still, if you decide to start a writing career, then own it and commit to it. Set targets and believe that you'll be your only cheerleader sometimes, so pursue projects that pick your interest. Write every day and consider each opportunity, even the ones that seem beneath you, the ones that require travel to new destinations, or the ones you don't think you can handle.
Types of Professional Writer Careers
As a beginner, you can't be all things to all people. Although you can write in more than one niche, keep in mind that it's easier to start a career as a writer in a specialized field. Here are a few popular choices that can help you define your dream writing career option.  
Technical writer.

If you can simplify jargon into readable and understandable content, technical writing might be the choice for you.

Fictional writer.

Do you have a story idea? You can decide to write a short story, novel, or novella.

Web content writer.

Content writing as a career involves writing custom content for blogs, websites, and social media for individuals and companies.  

Grant writer

. A grant writer finds sources, researches them, and writes proposals to seek funding for NGOs, foundations, and corporations.

Non-fiction writer.

The category includes articles, academic writing, nature writing, autobiographies, profiles, travel writing, and reviews among others.

Screenwriter.

It involves producing scripts for movies, TV programs, and cartoons.

Journalist.

A successful writing career as a journalist requires excellent writing skills and objectivity to give neutral and accurate stories.

Songwriter.

This is an appropriate choice for people who love poetry.

Comic book writer.

This is an excellent option for visionary and artistic freelance writers that can create plots, stories, and characters for comic books.

Video game writer

. Like comic writing, video game writing requires teamwork with animators, voice actors, developers, and graphic designers to develop scripts, characters, and plots.

Copywriter.

This involves creative writing of publicity and advertising copies to invoke specific action, including emails, brochures, billboards, and catalogs.
Dreamers Talk About Writing, Writers Write!
Getting into professional writing isn't easy, but there are infinite career paths to choose from as a writer. If you're passionate about impacting people using words, start now. Hopefully, our comprehensive guide has told you everything you need to know to get things going and make writing a financially viable career option.