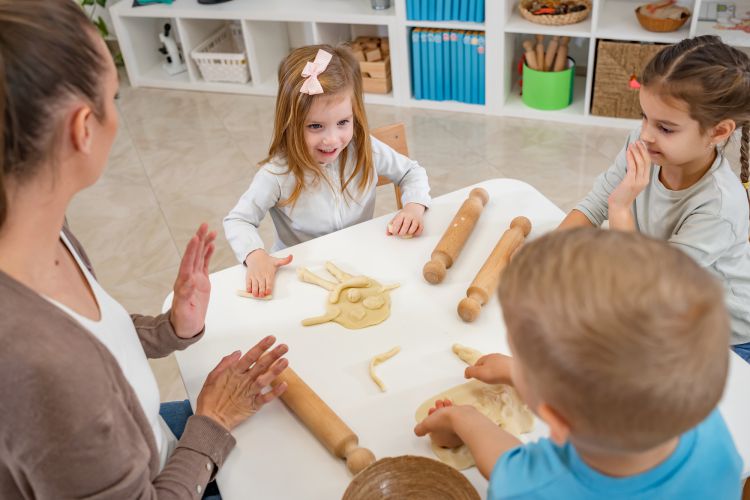 Engaging your child during playtime does more than just keep their busy hands and minds busy. It opens a fun, interactive learning world, turning everyday games into lessons that stick. With creativity and an understanding of play-based learning, you can thread education into your child's playtime.
Look no further if you're pondering how to impart meaningful lessons while playing with your child. Check out these helpful 'how-tos'.
1. Ask Them Questions While Playing
Even simple questions can transform playtime into a learning experience, sparking curiosity and encouraging critical thinking. "What colours are the blocks you're building with?" or "Can you sort the toy cars by size?" These queries encourage your child to observe, compare, and reason, boosting cognitive development. 
This importance of play-based learning makes it a central element in preschool education. Ask questions during playtime—it fosters curiosity and sets your child up for a love of learning that lasts.
2. Experiment With Different Sensory Toys
Sensory toys help stimulate children's senses and encourage exploration. A squishy stress ball, for instance, could engage their sense of touch while enhancing fine motor skills.
They may also foster creativity and enhance a child's understanding of the world around them. So, introduce sand, play dough or a noise-making toy during playtime—watch as your child discovers, learns, and grows.
3. Bring Out The Paint And Crayons
Unleashing your child's creativity with art supplies is a brilliant way to engage them in play-based learning. A blank canvas, be it paper or a clay model, encourages self-expression and nurtures creative thinking. Give your child a palette of paint or a box of crayons. Then watch them fill a blank canvas with their colourful dreams.
Engage with them using questions or suggestions like, "Can you draw a big yellow sun?" or "Let's create a tree with lots of green leaves." As you guide their art session, they learn about shapes, colours, and sizes. Art also enhances fine motor skills and boosts self-confidence. So, let those tiny fingers paint, draw, and create. Each stroke of colour is a step towards their holistic development.
4. Role Play With Dolls And Characters
When your child steps into the shoes of their favourite character or assumes a role during play, it paves the way for immersive learning. Role-playing can aid language development, social skills, and emotional intelligence. 
Encourage your child to enact a doctor's visit, a shopping trip, or a school day. Play along and use this time to teach new words, empathy, and the importance of sharing. When your child plays roles—be it a superhero or a tea-serving toy—they're picking up important life skills.
5. Play Outside
Stepping outside is the easiest way to turn playtime into an enriching experience. An afternoon at the local park, a beach day, or a backyard picnic introduces your child to the natural world.
Teach them about different plants, animals, and the weather. Let them feel the grass, listen to the birds, or dig in the sand. Each time your child plays outside, they also learn about nature—it's a science class under the sky.
6. Introduce Board Games
Board games aren't just fun. They teach lessons—be it in a simple colour-matching game or complex strategy game—on patience, problem-solving, and teamwork. They also enhance memory, improve focus, and bolster critical thinking.
During playtime, consider introducing an exciting game of 'Snakes and Ladders' or 'Memory Match'. Then let the learning begin.
7. Make Basic Cooking Fun And Educational
Inviting your child into the kitchen can turn a routine task into a delightful learning experience. Baking cookies? Use this chance to teach them about shapes, numbers, and basic fractions. Preparing dinner? Teach them about different vegetables and their nutritional benefits. Cooking together teaches more than teamwork. It gives your child important life skills.
8. Turn Up The Music
Music adds a vibrant rhythm to playtime, transforming it into a joyous learning adventure. Dance parties foster physical coordination, while sing-along sessions improve language skills. Explore different musical instruments with your child—can they tell the difference between the sound of a piano and a guitar? Do they enjoy the rhythm of the drums? 
With every beat and melody, your child is turning into pattern recognition and auditory skills. Don't hold back. Turn up the music and let the beats guide your child's play-based learning journey.
9. Take Turns Reading Aloud
A story can take your child on magical adventures while also enhancing their language skills. Reading together boosts their vocabulary, improves comprehension, and nurtures a love for books.
Additionally, you could introduce specific topics. For example, books about starting school can help prepare your child for this new chapter in their life. So, tuck into bed with their favourite educational storybook and watch as words weave valuable lessons, one page at a time.
Play And Learn Together
In short, turning play into learning isn't about formal education. It's about making learning a fun and engaging part of playtime. It's about understanding the importance of play-based learning. Your child's playtime is a treasure chest of opportunities—take advantage of it.
As a parent, you mustn't rush the learning process. Let it unfold naturally as your child explores, experiments, and discovers. Make the most of their curiosity by turning each play session into a journey of discovery using these techniques. If you have further concerns, don't hesitate to ask and coordinate with your child's preschool teacher for guidance.