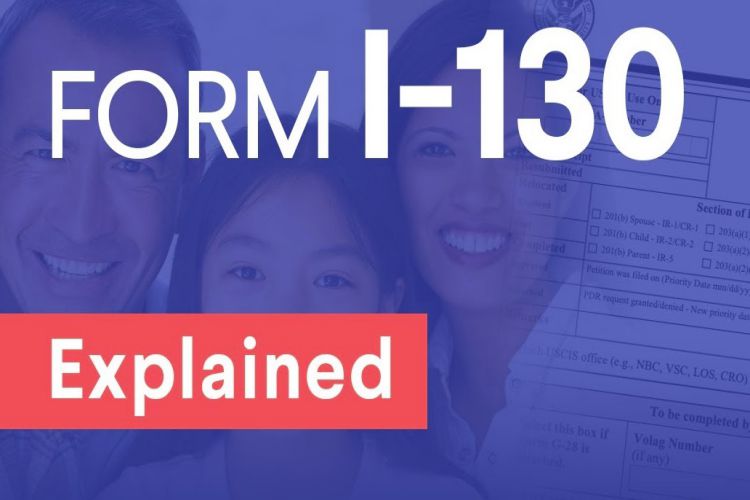 Introduction – Who Can Apply for Form I-130?
Citizens and LPRs of the United States can fill out Petitions for Alien Relative Form I-130 to apply for a green card on behalf of a suitable relative who wants to reside permanently there. When you apply for an immigrant visa for a family member or friend, you take on the position of a sponsor or petitioner.
The USCIS must approve your Form I-130 petition before your relative may be granted immigration status in the United States. However, for USCIS to grant your petition, you will need relationship proof with the beneficiary's immediate relative eligible for the benefit.
Citizens may file petitions for their children, whether married or unmarried, spouses, siblings, or parents, but LPRs can only apply to their spouses and unmarried children.
After approval, a member of your family may immediately apply for an immigrant visa. Form I-485, Application to Register Permanent Residence or Adjust Status, must be submitted for immediate relatives already living in the United States and wishing to become legal permanent residents.
Adjustment of status will make it possible for your loved ones to continue living in the United States while waiting for USCIS approval of their petition.
Can Form I-130 be submitted online? You can, yes. It is better than doing it physically. Here are the details.
How is it helpful to have an Online Account with USCIS?
An online account with USCIS will allow you to submit documents digitally and check in on the status of your application at any time from any device. Online filing minimizes the chance of mistakes like forgetting to sign the form or sending in incomplete pages of Form I-130. Moreover, your application progress can be saved to return to it later. You can pay filing fees safely and simply.
But you can't complete Form I-130 online if you need a fee reduction or have an unusual request. Instead, you must send a hard copy of Form I-130. United States Citizenship and Immigration Services immediately provide you confirmation that they have received the application. In addition to this, the USCIS might call for your biometric appointment earlier.
With an online account, you can:
Provide evidence when asked for it

View all of the letters of a legal process sent to you.

Communicate with USCIS service centers

Find out about your past cases
Which Supporting Documents Must Be Submitted With the I-130 Online Application?
Requirement 1 – Proof of citizenship in the United States, lawful permanent residence in the United States, or national status in the United States (a copy of a permanent resident card), citizenship certificate, birth certificate and valid passport.
Requirement 2 – Documentation that justifies a familial connection with a spouse, parent, child, brother or sister. This requires the birth certificates of the beneficiaries as well as a copy of your marriage certificate.
Requirement 3 – You must prove that you and your partner are genuinely married. In this scenario, you will need to present evidence of either joint ownership or shared tenancy of the property, in addition to affidavits from individuals present at your wedding ceremony.
Other Requirements
A legal name change proof

Two passport-size photographs

Adoption evidence, if any
Is the USCIS's online Immigration System more efficient?
Your request will still undergo the long government review procedure after you submit it online, just as it would if you sent it in the mail. Additionally, the USCIS will delay I-130 mail-in applications to the date of receipt, which could delay the processing of your online petition.
The USCIS will ask you for the necessary documents you must provide online. For example, a marriage certificate should be included as proof when filing online for an immigrant visa to bring a partner to the United States.
Your child's birth certificate or the formal records for an adopted child may also be needed.
Form I-797C, Notice of Action by USCIS, tells a petitioner that they have been rejected, moved, given an interview, or received a receipt. Form I-797C gives you important information about your case, which you should answer because your application could be delayed if you don't.
Form I-797C doesn't give you any specific immigrant benefits; it just shows that you've requested a benefit.
Important Takeaways
The good news is that a lot of material is available on how to file USCIS form i130. You must cut through the fluff and out-of-date data to find what matters.
Most importantly, we advise individuals and couples to be completely honest with one another about their situation. Find out what you can about the interview questions to be well-prepared and quick to answer any questions. The waiting time may seem long, but it is short when you consider everything you'll get once the wait is over.