The heating, ventilation, and air conditioning (HVAC) industry is rapidly growing, with an increasing demand for qualified technicians. For homes, workplaces, schools, hospitals, and other structures to maintain acceptable interior climates, HVAC systems are crucial. As the need for energy-efficient and eco-friendly HVAC solutions rises, the demand for skilled professionals in this field is expected to skyrocket.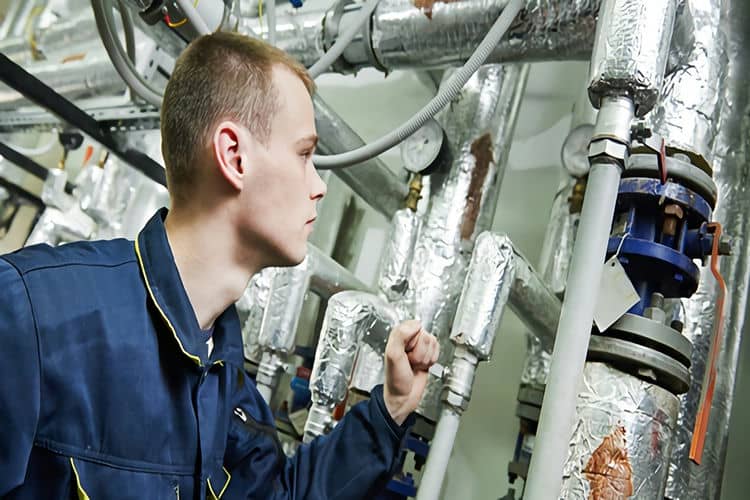 To join the HVAC industry as a technician or installer requires specialized training from a reputable school. Such training provides students with theoretical knowledge and practical skills necessary to work on various types of heating and cooling systems. This article will explore the benefits of pursuing a career in the HVAC industry and discuss what to look for in a reputable school that offers relevant courses and hands-on experience. Additionally, it will highlight different areas of specialization within the HVAC field and provide job outlook information for prospective students.
The Growing Demand for HVAC Technicians
The demand for HVAC technicians is increasing due to the growing need for heating and cooling systems in residential, commercial, and industrial settings. As the population continues to grow, so does the need for infrastructure that supports their daily lives. Heating and cooling systems are no longer considered a luxury but rather a necessity, leading to an increase in job prospects within the HVAC industry.
The Bureau of Labor Statistics (BLS) projects that employment in the HVAC sector will increase by 4% between 2019 and 2029, which is roughly in line with the average growth rate for all occupations. This growth can be attributed to various factors such as new construction projects and retrofitting existing buildings with energy-efficient systems. Additionally, ongoing maintenance and repairs will continue to be necessary, ensuring steady job opportunities for skilled HVAC technicians.
The Benefits of a Career in the HVAC Industry
Prospects for a career in heating, ventilation, and air conditioning (HVAC) are promising due to the growing demand for skilled technicians in both residential and commercial settings. As buildings become more energy-efficient and environmentally friendly, the need for HVAC professionals who can install, maintain, and repair these systems is on the rise. Additionally, as older systems require replacement or retrofitting with newer technologies, HVAC technicians will be essential in ensuring that these upgrades are done correctly.
A career in the HVAC industry also offers job satisfaction and a potentially lucrative earning potential. Many technicians find fulfillment in being able to provide comfort to customers by ensuring their homes or businesses have properly functioning heating and cooling systems. Furthermore, as the demand for skilled technicians increases, so does their earning potential. In fact, according to the Bureau of Labor Statistics (BLS), HVAC technicians earn a median annual salary of $50,590 with top earners making over $76,000 per year. With continued growth projected in this field for years to come, pursuing training from a reputable school can lead to a rewarding career with long-term stability.
What to Look for in a Reputable HVAC School
One important factor to consider when pursuing a career as an HVAC technician is finding an institution that provides comprehensive education and hands-on experience. A reputable HVAC school should meet accreditation requirements set by the relevant governing bodies in the industry. Accreditation ensures that the institution meets specific educational standards, including curriculum content, faculty qualifications, and student support services. It also guarantees that the credits earned at the institution can be transferred to other institutions or recognized by employers when seeking employment.
Another crucial consideration when choosing a reputable HVAC school is tuition costs. The cost of tuition varies from one institution to another, with some charging exorbitant fees while others offer affordable rates. Prospective students should evaluate their financial capabilities before enrolling in any program and compare tuition costs among various institutions. Additionally, it is essential to research financial aid options such as scholarships, grants, and loans that may be available to help offset tuition expenses. By considering these factors when selecting a reputable HVAC school, prospective students can make informed decisions about their education while minimizing financial burden during their training period.
The Importance of Hands-On Experience in HVAC Training
Achieving competency in HVAC requires practical skills, which is why hands-on experience is crucial in complementing theoretical knowledge. While classroom instruction and textbook learning provide a strong foundation, they cannot replace the value of actually working with HVAC systems and equipment. Simulation training can be helpful in providing a controlled environment for students to practice their skills, but it does not fully replicate the challenges that technicians encounter on real job sites.
Apprenticeships are an effective way to gain hands-on experience because they offer opportunities to work alongside experienced professionals in real-world settings. This type of training allows students to observe and participate in actual installations, repairs, and maintenance tasks under supervision. Effective apprenticeship programs also incorporate classroom instruction and mentorship into the curriculum to ensure that students receive a well-rounded education. By combining both theoretical knowledge and practical experience, individuals can develop the necessary skills to succeed as HVAC technicians in the field.
Course Curriculum and Specializations in HVAC Programs
The course curriculum in HVAC programs typically includes theoretical and practical instruction in topics such as refrigeration, electrical systems, air conditioning, heating systems, and ventilation. These courses are designed to equip students with the technical knowledge and practical skills necessary to succeed in the HVAC industry. Theoretical instruction covers topics such as thermodynamics, fluid mechanics, and principles of electricity. Practical instruction includes hands-on training in diagnosing problems with HVAC systems, installing components such as compressors and motors, testing system performance using specialized equipment, and maintaining equipment to ensure optimal efficiency.
In addition to these core topics, many HVAC programs offer specializations that allow students to focus on specific aspects of the industry. Examples include commercial refrigeration systems or industrial air conditioning systems. These specializations give students a deeper understanding of particular areas within the field while also improving their marketability for specialized jobs. Overall, a robust curriculum that balances theoretical knowledge with practical experience is crucial for aspiring HVAC professionals looking to start successful careers in this rapidly-evolving industry.
Job Opportunities and Future Outlook in the HVAC Industry
The HVAC industry is experiencing significant growth, with the Bureau of Labor Statistics projecting a 13% job growth rate for HVAC technicians from 2018 to 2028. This growth has resulted in an increased demand for skilled professionals with specialized knowledge and experience in heating, ventilation, air conditioning, and refrigeration systems. As more buildings are constructed and existing structures require upgrades to meet energy efficiency standards, the need for HVAC technicians will continue to rise.
Along with the growing demand comes attractive salary potential in HVAC careers. According to the Bureau of Labor Statistics, the median annual wage for HVAC technicians was $48,730 as of May 2020. The highest-paid technicians earned more than $76,230 annually. Additionally, those who specialize in areas such as solar panels or commercial refrigeration can earn even higher salaries. With promising job prospects and high earning potential, joining the HVAC industry through training at a reputable school can provide opportunities for long-term career success.
Frequently Asked Questions
What is the minimum age requirement to enroll in an HVAC training program?
The minimum age requirement for enrollment in an HVAC training program varies based on the institution. However, most programs require individuals to be at least 18 years old or have a high school diploma/GED as a prerequisite for eligibility.
Can I work part-time while attending an HVAC school?
Attending an HVAC school while working part-time can be challenging but manageable with effective time management and balancing of responsibilities. However, it is important to ensure that the workload does not affect academic performance or hinder the learning process.
Are there any scholarships or financial aid available for HVAC training?
Financial assistance options for HVAC training may include scholarships, grants, loans, and work-study programs. Eligibility criteria vary depending on the source of funding and may be based on factors such as financial need, academic performance, or demographic characteristics.
How long does it typically take to complete an HVAC training program?
The average duration for an HVAC training program is typically between six months and two years, depending on the level of certification sought. The curriculum coverage includes topics such as electrical systems, refrigeration, heating and cooling systems, and safety procedures.
Are there any physical requirements for working in the HVAC industry?
Physical limitations may pose challenges for individuals interested in working in the HVAC industry. However, job accommodations such as lifts and ergonomic tools can assist those with disabilities. Employers are required to provide reasonable accommodations under the Americans with Disabilities Act.