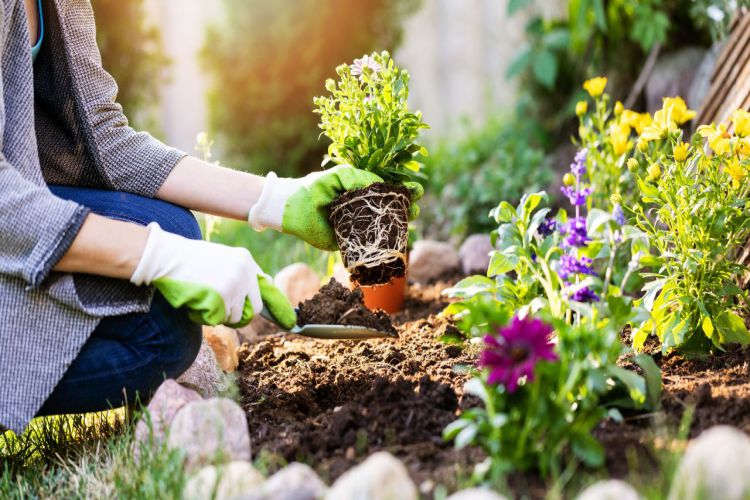 Gardening is a highly beneficial activity that many individuals use to relieve stress while creating a food source or livening up their yard. Unfortunately, gardens require a great deal of effort which many gardeners struggle to find time for. 
Luckily, many low-maintenance plants can be incorporated into your garden, so there is no need to give up the hobby. 
Keep reading to find out which plants you should choose if you're a busy gardener.
Yarrow
Yarrows are late-blooming flowers that require full sunlight and 1-2 feet of root space. These flowers are most known for their anti-inflammatory properties and ability to aid in digestion when eaten.
Yarrows are low maintenance because they are tolerant to drought, meaning that if you forget to water them or have a dry summer, they will likely survive.
Hostas
Hostas are foliage plants that typically grow about two feet high. These plants do well in partial sun and full shade making them the perfect addition to the dark spots in your garden.
Hostas can survive the hottest days of summer and are also drought resistant.
Bearded Iris
The bearded Iris (Siberian iris) is a beautiful flower that comes in a wide range of colors, such as white, blue, purple, yellow, and pink.
The bearded iris is typically considered a very low-maintenance and self-sustainable plant because it can be placed in a location with or without sun. This plant also does well in moist soil, so you don't have to worry about overwatering.
Catmint
Catmint is a close relative to catnip and has some of the same effects on cats. Catmint, however, is a much prettier version of the plant because the majority of its stems are taken over by violet-colored blossoms.
Catmint grows best in medium moisture soil and full sun to part shade.
Thyme
Thyme is a flowering herb that serves many purposes other than looking beautiful. This plant is a culinary staple that can be cooked with, or turned into various hygiene products, cleaning agents, and aromatherapy oils. 
Like sage, this herb grows rapidly and creates a colorful ground cover without much effort. Thyme is also commonly used as a companion plant for cannibis, fruits, and vegetables since it's a natural pest deterrent. Thyme does best in full sun and medium moist soil.
Daylily
The daylily is a bright yellow, orange, pink, or sometimes purple flower. This flower has a lifespan of three years but you are sure to see it for many years after since it is highly invasive and spreads like wildfire. Because of the flower's invasiveness, it is technically a weed but not many gardeners mind when it takes over their yard. 
The daylily is one of the most low-maintenance plants out there since they thrive in most locations, soil types, and weather conditions. 
Coneflower
The coneflower looks similar to a daisy and is another drought-tolerant plant. These plants grow about four feet tall and produce vibrant red, purple, pink, yellow, and white petals.
Coneflowers are often found in parks and open woodlands because they grow easily and are not easily disturbed by human or animal traffic.
These flowers thrive in full sun and medium moist soil but will also grow in most environments.
Radishes
Radishes mature within 21-30 days and have a two-year life cycle. These vegetables are often eaten raw in salads or roasted and eaten as a side to a meal.
Radishes are easy to maintain because they tolerate cold temperatures and are root vegetables, which makes it harder for pests to get their teeth in. 
Moist soil and light shade are best for radishes. If these vegetables receive too much sun, their growth will focus on the leaves instead of the root.
Sage
Sage is quite similar to catmint, but the aroma is more attractive to humans than to cats. These flowers are natural cleaning agents, and pesticides, and are used spiritually to clear people and places of negative energy.
Sage does well in medium moisture soil or well-drained soil and full sun.
This plant grows like a weed and can quickly take over your garden. Many gardeners have a love-hate relationship with it. If you want a large spread of vibrant flowers, sage is the way to go, but if you want a flower that stays in its respective location, you may want to look elsewhere.
Hot Peppers
Hot peppers are one of the most low-maintenance vegetables because they can be harvested at any time, and pests do not generally like their spiciness.
As hot peppers mature, they will change color from green to yellow, to orange, then red, and the longer you wait to harvest, the hotter they will be.
These peppers do best in full sun and moist soil.