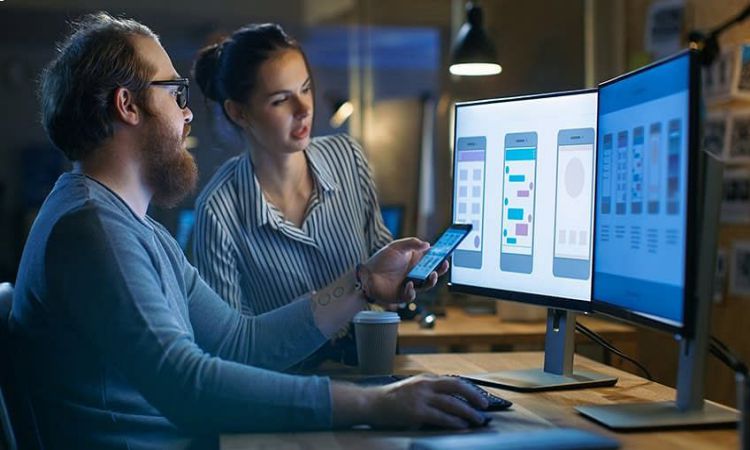 Machine learning has revolutionized the way we interact with technology. From voice assistants to personalized recommendations, machine learning has become an integral part of our daily lives. But what goes into developing a machine learning app? What are the challenges that developers face, and how do they overcome them?
Machine learning app development is a complex process that requires a deep understanding of algorithms, data structures, and programming languages. With the rapid growth of this field, new challenges have emerged that developers need to address in order to create effective and efficient apps.
In this article, we will explore the challenges that developers face when creating machine learning or investing in AI app development services and the solutions that they have come up with. From data quality to algorithm selection, we will take a closer look at the key factors that determine the success of a machine learning app. This post will offer insightful information into the area of machine learning app development, whether you are a developer or simply interested in the subject.
What Is Machine Learning?
A branch of artificial intelligence known as "machine learning" uses statistical models and algorithms to help computer systems learn from data and become better at completing tasks without explicit programming. This technology has become increasingly popular in recent years due to the vast amounts of data being generated by businesses and the need to extract valuable insights from that data.
The demand for artificial intelligence development companies is getting higher because businesses are realizing the potential of machine learning and AI to transform their operations and gain a competitive advantage. These companies can help businesses develop custom machine learning models and AI solutions that are tailored to their specific needs and goals.
Some of the benefits of machine learning and AI development for businesses include:
1. Improved efficiency:
Automating routine operations and procedures using machine learning algorithms frees up staff time for more creative and sophisticated work.
2. Enhanced decision-making:
By analyzing large amounts of data, machine learning models can provide insights that help businesses make better decisions and identify new opportunities for growth.
3. Personalization:
Machine learning can help businesses deliver personalized experiences to customers, such as personalized recommendations, targeted ads, and customized product offerings.
4. Fraud detection:
Machine learning can be used to detect fraudulent activity, such as credit card fraud or insurance fraud, by analyzing patterns in data.
5. Predictive maintenance:
Machine learning algorithms can forecast when equipment is likely to fail by examining data from sensors and other sources. This enables organizations to plan maintenance before a breakdown takes place.
Overall, the demand for artificial intelligence development company services is increasing as businesses seek to leverage the power of machine learning and AI to drive innovation, improve efficiency, and gain a competitive advantage in their respective industries.
Machine Learning App Development: Challenges And Solutions
Data Quality
One of the biggest challenges in AI & ML app development is data quality. The accuracy and consistency of data are essential for creating effective algorithms. To overcome this challenge, developers need to ensure they have access to high-quality data sources and implement data-cleaning techniques to remove any errors or inconsistencies.
Model Selection
Choosing the right machine learning model to use for a specific task is another challenge that developers face. With so many options available, it can be overwhelming to determine which model will work best. This requires a deep understanding of the problem and the data at hand, as well as knowledge of the strengths and weaknesses of each model.
Algorithm Optimization
Optimizing algorithms is essential for creating efficient and effective AI and ML apps. This requires a thorough understanding of the underlying math and statistics, as well as the ability to fine-tune parameters to achieve the desired outcomes.
Integration with Existing Systems
Integrating AI and ML apps with existing systems can be a challenge due to compatibility issues and the need for seamless data transfer. Developers need to ensure that their apps can integrate with a variety of platforms and systems and that the data exchange is secure and efficient.
User Interface Design
Creating a user-friendly interface for AI and ML apps can be challenging, as these apps often deal with complex data and algorithms. Developers need to strike a balance between functionality and simplicity, ensuring that users can easily interact with the app and understand the results it produces.
Testing and Validation
Testing and validating AI and ML apps is crucial to ensure that they are accurate and reliable. This requires extensive testing on a variety of data sets and scenarios, as well as the ability to identify and correct any errors or discrepancies.
Continuous Learning and Improvement
AI and ML apps require continuous learning and improvement to stay relevant and effective. This involves monitoring and analyzing user feedback, as well as updating algorithms and models to adapt to changing data and trends. Developers need to be agile and adaptable to ensure that their apps remain competitive in a rapidly evolving field.
How Businesses Can Benefit From Machine Learning Development Service?
Increased Efficiency
Machine learning development services can help businesses automate repetitive tasks and processes, freeing up valuable time and resources. This can lead to increased efficiency, productivity, and profitability.
Improved Customer Experience
With the help of machine learning algorithms, businesses can personalize their interactions with customers, providing tailored recommendations, and improving the overall customer experience. This can lead to increased customer loyalty and retention.
Better Decision Making
Large amounts of data can be analyzed by machine learning algorithms, which can then produce insights that can aid businesses in making better decisions. This can lead to improved operational efficiency, reduced costs, and increased revenue.
Enhanced Security
Machine learning algorithms can help businesses detect and prevent potential security threats, such as fraud or cyberattacks. This can help protect sensitive data and maintain the trust of customers.
Competitive Advantage
By leveraging machine learning development services, businesses can gain a competitive advantage by improving their products, services, and operations. This can help them stay ahead of the curve and stand out in a crowded marketplace.
Cost Savings
Machine learning algorithms can help businesses identify inefficiencies and areas where costs can be reduced. This can lead to significant cost savings over time and help businesses operate more efficiently.
Scalability
Machine learning algorithms can easily scale to accommodate growing business needs and increasing amounts of data. This can help businesses stay agile and adaptable in a rapidly changing market.
Conclusion
In conclusion, developing machine learning apps comes with its own set of challenges. However, with the right approach and the use of advanced technologies, these challenges can be overcome. You just need to connect with the leading mobile app development company in USA, as the experts understand the importance of staying ahead of the curve when it comes to emerging technologies. The team of experts is equipped with the knowledge and skills necessary to develop high-quality machine-learning apps that meet the needs of their clients.
Author Bio
Scarlett works with the editorial team of A3logics, a leading company offering IT Consulting Services. Exploring the latest technologies, reading about them, and writing her views have always been her passion. She seeks new opportunities to express her opinions, explore technological advancements, and document the details. You can always find her enjoying books or articles about varied topics or jotting down her ideas in a notebook.