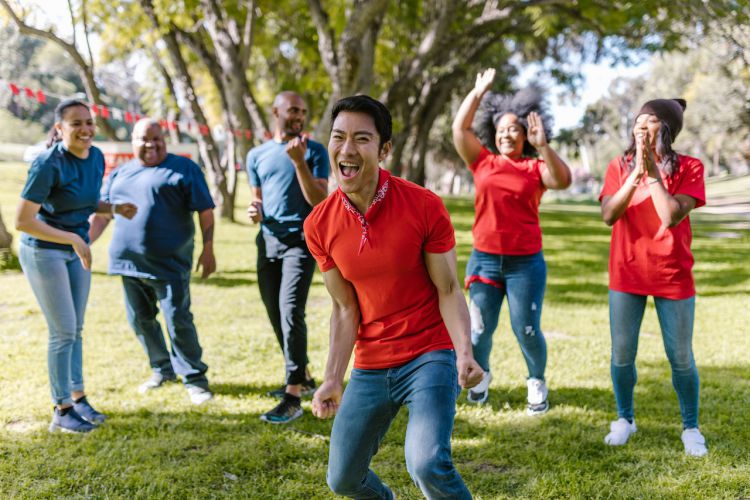 Have you ever wondered what it takes to build a team that works seamlessly together? Where does each member understand their role, communicate effectively, and trust their teammates to have their back? There's an unconventional but highly effective setting where these skills are put to the test—paintball.
In this article, you will learn that paintball isn't just about colorful splatters and tactical maneuvers; it's a dynamic team-building activity that can unlock your team's potential.
Understanding Your Team's Strengths and Weaknesses
Before stepping onto the paintball field, take a moment to understand the strengths and weaknesses of each team member. Who's the strategist, the sharpshooter, or the agile runner? Knowing these attributes ensures a strategic distribution of roles for optimal team performance.
Effective Communication is Key
Effective communication can differentiate between a victorious moment and defeat on the paintball field. Develop a system of clear and concise signals or codes to convey crucial information without giving away your team's strategy to the opposition.
Building Trust Through Collaboration
Trust is the glue that holds a team together, and paintball provides the perfect platform to build and reinforce it. Through collaboration on the field, where split-second decisions matter, trust in your teammates becomes non-negotiable. The more you rely on each other, the stronger your bond becomes.
Developing Adaptability in Dynamic Environments
Paintball scenarios are dynamic, ever-changing landscapes that demand adaptability. Whether you're facing a surprise attack or adjusting to a shifting opponent strategy, the ability to adapt is a skill that translates seamlessly to any team environment.
Embracing Constructive Feedback
Getting caught up in the action is easy in the heat of a paintball match. However, taking a moment to debrief after each game is crucial. Embrace constructive feedback, discussing what worked well and what could be improved. This practice fosters an environment of continuous improvement within the team.
Encouraging Leadership from Every Corner
Leadership isn't confined to a single individual; it can emerge from any corner of the team. Paintball encourages the development of leadership skills in unexpected places. Whether it's someone taking charge of a specific strategy or a teammate rallying the group in the face of adversity, recognizing and encouraging these leadership moments is vital.
Fostering a Positive Team Culture
Positive team culture is the secret sauce that turns a group of individuals into a high-performing team. In paintball, maintaining a positive attitude, celebrating small victories, and supporting each other during setbacks contribute to a culture that fuels success.
Instilling a Sense of Camaraderie
Paintball isn't just a game; it's a shared experience that fosters camaraderie. Encourage team members to bond off the field, strengthening the personal connections that contribute to a united and supportive team.
Enhancing Decision-Making Under Pressure
Decisions must be made quickly and under pressure in the paintball match. Use the paintball experience to hone your team's ability to make sound decisions in challenging situations, a skill that can be invaluable in any collaborative endeavor.
Celebrating Victories and Learning from Defeats
The final whistle blows, the paintball guns are holstered, and the adrenaline subsides. Win or lose, take the time to celebrate your victories and learn from your defeats. Reflect on what went well and what could be improved, and carry these insights back to your everyday team activities.
Strengthen Your Teamwork Through Paintball!
Beyond the tactical lessons and camaraderie forged on the paintball field, an undeniable element of fun and thrill accompanies the experience. The shared laughter, adrenaline-pumping moments, and unexpected twists create an atmosphere transcending conventional team-building activities. 
It's not just about mastering team dynamics; it's about doing so in a way that leaves your team with lasting memories and a shared sense of accomplishment. Experience the thrill of mastering team dynamics as you play paintball in Melbourne. Unleash the excitement and forge unforgettable bonds on the battlefield!