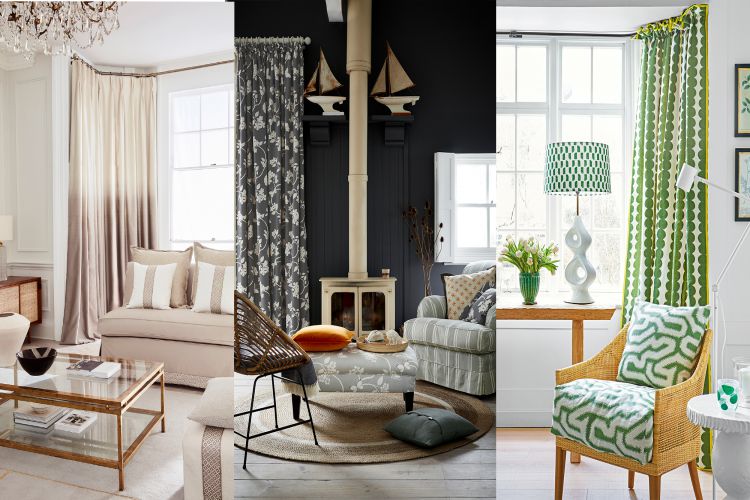 More than just practical window coverings, curtains are an essential component of interior design that has the power to change a room completely. Properly selecting and arranging curtains can improve visual appeal, regulate light, offer seclusion, and even aid energy conservation. 
Choosing and styling curtains is a crucial part of creating a calming and cozy ambiance in your house, and many possibilities are available.
Choosing the Right Curtains
Selecting the correct curtains requires careful consideration of several variables that can greatly impact a space's appearance and usability. Here's a useful breakdown of the main points to remember:
1. Fabric
Choosing the right fabric is essential. Thick materials, such as velvet or brocade, provide warmth and light blocking, which makes them perfect for sleeping quarters. Lighter materials, like linen or sheers, let light through and give rooms like living rooms and kitchens a feeling of openness.
2. Color and Pattern
Think about the room's general color palette and design. While patterned curtains can give depth to a monochrome area, solid-colored curtains work well with patterned rooms. Whites, grays, and beiges are versatile neutral tones, while focal points can be created by using vivid colors or detailed patterns.
3. Length and Width
While curtains that just touch the floor give a fitted appearance, those that puddle on the floor can create an opulent, exquisite image. Ensure the curtains are wide enough to cover the window adequately when closed, allowing for fullness and effective light management.
4. Lining and Functionality
Think about the curtain lining. For bedrooms, blackout lining works wonders in reducing light and fostering privacy. By insulating the space, thermal lining can assist in controlling indoor temperature and conserve energy.
Styling Curtains
More than just hanging curtains, styling them is an art form that can dramatically improve a space's usability and visual appeal. This is an in-depth look at several styling methods:
1. Hanging Techniques
The final appearance can be greatly influenced by how the curtains hang. A room appears taller, and its windows appear larger when the curtains are hung higher and broader than the windows. You can improve the look by choosing sleek tracks or adding ornamental rods and rings.
2. Layering
Depth and adaptability are added when sheers or blinds are layered over drapes. Heavy drapes or shades can be added for seclusion and insulation at night, while sheer curtains can reduce harsh sunlight throughout the day.
3. Accessorizing
Decorative hardware such as tassels or tiebacks can give your curtains a stylish look. Try with some different tie back designs, and for an added decorative touch, consider including a pelmet or valance.
4. Mixing Textures
Visual interest can be produced by combining various fabric textures. Deepness and dimension can be added by combining smooth, silky curtains with textured or coarser materials in the space.
5. Consistency in Style
Make sure the design of the curtains you choose complements the room's overall motif. While more elaborate designs may be appropriate for historic areas, sleek, minimalist curtains may work well in modern rooms.
Maintenance and Care
Curtains made by Curtains Dept, for instance, require routine care to maintain their aesthetic appeal and practicality. Vacuuming or mild washing may be necessary, depending on the cloth. Refer to the manufacturer's instructions for cleaning and maintenance advice to avoid fading or damage.
Elevating Spaces with Thoughtful Curtain Selection
An essential component of home design, curtains can completely change a room when carefully picked and arranged. Any space can seem more elegant and useful while maintaining practicality if one knows how to choose the proper drapes and uses innovative styling approaches. 
Thus, please give it some thought, try out some alternative options, and observe how curtains play a significant role in determining the overall visual appeal of your house.