It's the best time of the year, folks. The NFL Playoffs are upon us again, as things will continue to heat up. With all of the tremendous talent entering in, there is going to be a fantastic slew of games being played. And in the NFC, Tom Brady is the only starting QB with one more than one playoff game coming into this postseason in their career.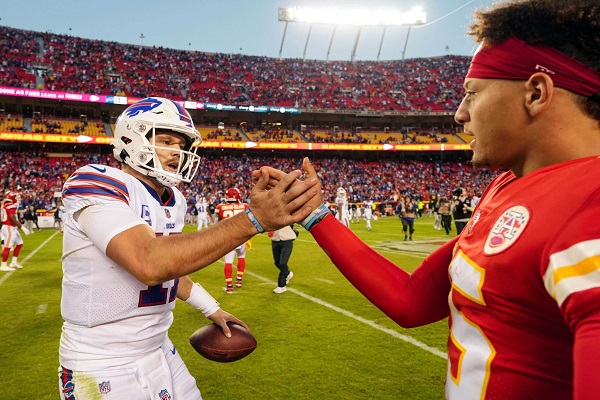 And as it is that time, folks are starting to submit their own Super Bowl predictions. This time of the year is excellent for determining who the genuine contenders are compared to who the fakes may be. With all that in mind, let's look at some of the teams with a chance to claim the Lombardi.
Tampa Bay Buccaneers
Though they are the only team to enter with a losing record, the Bucs are still a team that should be taken seriously. With the great Tom Brady quarterbacking them, they are a shoo-in to be a team folks are confident in. The only problem is that they will face the Cowboys in the opening round.
The road would get more manageable if they could clear them out and advance. The team that knocked them out a year ago, the LA Rams, did not qualify for the dance this time around. And as a result of that, they won't have a chance at redemption, which also means that it's a new hope.
Brady has proven time and time again why he is the best quarterback in league history. He's already won once with Tampa Bay, bringing his team back down three scores in the final quarter before LA could prevail. He's 45 years young and ready to show that being 8-9 means nothing. That every team is now 0-0.
Buffalo Bills
Even before the riveting, ultimately scared sick to feel-good story of the year, the Bills would be a contender. But now that Damar Hamlin is ultimately alright and the team can turn their full attention back to football, they will be a tough team to beat. Josh Allen was 13 seconds away from taking his team to the AFC title game last year, but Patrick Mahomes had one more score in him.
Stefon Diggs was an All-Pro, while they saw Nyheim Hines run two kicks back for scores in an impressive final-week win over the Patriots. They have as complete a team as any squad in the league, and so, who is going to be able to take them head-to-head? The project to be able to beat Cincy, and if they can get a KC rematch, the game would be played on a neutral site in Atlanta.
Watch out for them, Bills. Allen and co. are hungry.
San Francisco 49ers
It truly does not matter who is quarterbacking the 49ers, and that's wild to be saying about a team that lost the NFC title game last year due to poor QB play. The final pick in last year's NFL Draft is a QB by the name of Brock Purdy. Nobody expected to hear anything about him this season, But when Trey Lance went down in Week 2, and Jimmy Garoppolo went down a few months later, he had to step up.
This team has won 10 games in a row and boasts Christian McCaffrey at RB and Nick Bosa leading their pass rush. They are well coached with Kyle Shanahan at the helm and have yet to lose a single contest with Purdy under center.
A team must have the magic beans ready to beat them. Minnesota wins close games, but could they score against the Niners? Tampa Bay could get out-classed, as they got blown out by these guys in the regular season.
The Philadelphia Eagles were 14-1 when Jalen Hurts started games for them, so the most likely NFC Championship battle could put those teams together. Will they be making puns about Hurt's name should that matchup come to fruition, celebrating after? Or will it be another year falling short?