March Madness has become one of the best sporting events for even casual fans. The fact that an amateur sport like college basketball can capture a country's attention for three weeks as 68 teams get whittled down to one is amazing.
A large part of that is there are millions of brackets with people filling out March Madness picks. With the legalization of sports betting, there are so many more ways for sports fans to become more engaged with the games.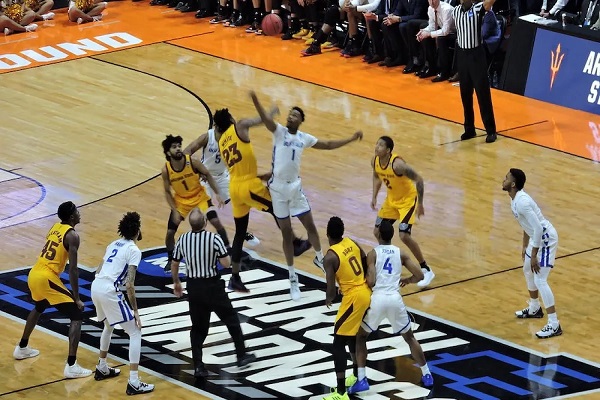 The real beauty of March Madness is the upsets, buzzer-beaters, and Cinderella stories that fans have come to love. Those shocking moments are largely why a lot of sports fans tune in. With every game as an elimination game, it gives the smaller programs an opportunity of a lifetime to etch their names in the minds of fans for years.
It also allows players who were not highly ranked or heavily recruited to secure glory. But it also shows the great talent of players who may reach the peak of their basketball careers in this event.
Looking at the Most Outstanding Players from March Madness in the 2000s. Here are our five best listed alphabetically.
Carmelo Anthony, Syracuse, 2003
Carmelo Anthony dominated the Big East and became a consensus All-American after averaging a double-double – 22.2 points and 10.0 rebounds per game – during the regular season.
Hailing from New York, he stayed home and won the Orangemen a national championship for legendary coach Jim Boeheim. In the six NCAA Tournament games, he averaged 20.2 points and 9.8 rebounds per game, including three straight double-doubles with at least 20 points to secure the title.
Mateen Cleaves, Michigan State, 2000
Mateen Cleaves didn't put up gaudy numbers in a dominant Michigan State program that finally broke through with a national championship in 2000. He was one of four eventual NBA players on that team. The two-time Big Ten Player of the Year averaged 14.2 points, 4.5 assists, 2.0 rebounds, and 1.2 steals per game during the championship run. The Flint native scored 18 points in the national championship win over Florida.
Anthony Davis, Kentucky, 2012
Anthony Davis was on one of the most dominant teams of all-time. The 2012 Kentucky team featured seven players who would eventually play in the NBA, and Davis was the prized freshman out of Chicago. The 6-foot-10 forward was athletic and averaged 14.2 points, 10.4 rebounds, and 4.7 blocks per game during the regular season for a team that finished 38-2. He only scored six points in the national championship game but averaged 13.7 points, 12.3 rebounds, and 4.8 blocks per game in the tournament.
Joakim Noah, Florida, 2006
Joakim Noah was a two-time national champion and was named Most Outstanding Player of the 2005-06 team, which featured five eventual NBA players. Noah averaged 14.2 points, 7.1 rebounds, 2.4 blocks, and 2.1 assists per game during the regular season. He upped his game in the tournament by averaging 16.2 points, 9.5 rebounds, 4.8 blocks, and 3.2 assists per game to earn MOP honors. He'd close his career with another championship as one of six eventual NBA players on an even better Gators team.
Kemba Walker, UConn, 2011
Kemba Walker found a different level in his final season at UConn. The Bronx, New York native led a heroic run that led to him being named Big East Tournament MVP and culminated in six more wins leading to the Huskies' national championship. He averaged 23.5 points, 5.4 rebounds, 4.5 assists, and 1.9 steals per game during the regular season. The Huskies won 11 straight postseason games to win the Big East and national championships.
During the six-game NCAA Tournament, Walker averaged 23.5 points, 5.7 assists, 6.0 rebounds, and 1.5 steals per game. It was one of the most memorable runs in college basketball history for his individual performances and the dramatic games his team won.
And here is our best of the rest.
Honorable mention: Ochai Agbaji, Kansas, 2022; Shane Battier, Duke, 2001; Corey Brewer, Florida, 2007; Kyle Guy, 2019, Virginia.