Healthy eating is undeniably a crucial component of a long and enjoyable life in people of any age, but as a person gets older, there is more of an impetus to focus on specific vitamins, minerals, and nutrients as part of a daily diet.
So, with this in mind, continue reading to discover important things you need to know about nutrition and older people.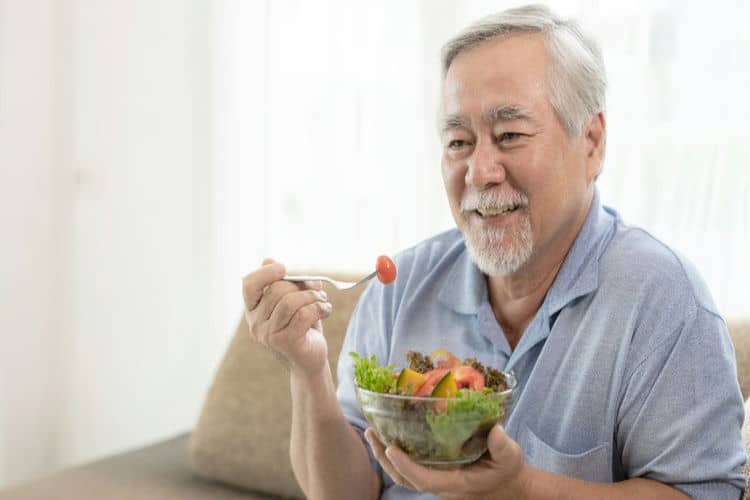 Causes of Diminished Appetite & a Healthy Diet
First and foremost, it would be helpful to highlight the most important changes to the diet of an older adult that should always be taken into consideration.
Many factors negatively affect the healthy dietary intake of an older adult, including:
Social isolation and loneliness
Lack of taste
Interactions with medications and food
Illness
Poor oral health
General reduced ability to absorb key nutrients
Changes to Eating Plans for Elderly People
Just as with any person of any age, a balanced and nutritious diet should include plenty of fruit and vegetables (ideally five portions of a mixture of both each day), lean meat, fresh and oily fish, and carbohydrates such as pasta, potatoes, and cereal.
However, for older people, calcium is perhaps the most important commodity to increase, as their bones tend to break more easily and are usually weaker, so increasing the amounts of cheese, leafy greens, yogurt, and milk in their diet is vital.
In addition, fiber becomes an even more important element of a healthy diet for older people, so wholegrain bread, wholegrain cereal, brown rice, porridge, and brown pasta should also be included on a regular basis.
Outside Assistance
These days, there is a wide plethora of options and available services specifically designed to help older people with choosing, preparing, and consuming foods that offer primary health benefits.
For some older people, the impetus to cook healthy meals for themselves considerably diminishes over time, and this is why a popular and exceedingly transformative decision taken by many is to relocate to a prestigious and established assisted living in Southbury CT. Such prominent assisted living facilities offer professionally designed and prepared healthy meals each and every day and, what is more, always take into consideration individual residents' dietary preferences and specific allergens.
Dysphagia
Often, problems with chewing and swallowing develop in older people, and this not only makes it physically more difficult to eat the right foods and, indeed, the right amounts but also makes eating in general far less desirable.
Swallowing problems are referred to, in medical terms, as dysphagia, and luckily there are several ways to help combat this issue, namely the addition of food thickening products. If an elderly loved one, or even yourself, suspects that you might have developed dysphagia, check your symptoms with the following common signs of dysphagia list:
Sharp pain in the throat when swallowing
Wheezing or coughing during eating or immediately afterward
A wet and thick voice after eating
Congestion
Fatigue or shortness of breath after eating or drinking