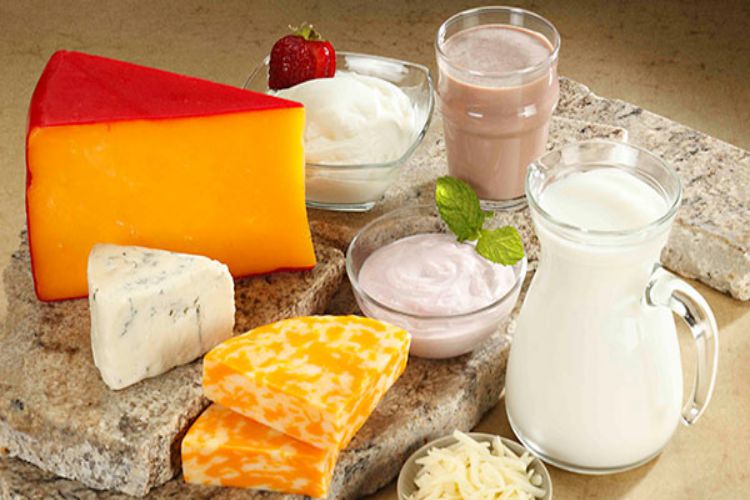 Dairy products have been an essential part of human diets for centuries, and their versatility in cooking is unrivaled. From creamy sauces to decadent desserts, dairy plays a crucial role in elevating the flavors and textures of various dishes. Beyond their culinary delights, dairy products also offer myriad nutritional benefits, providing essential nutrients that contribute to a well-balanced diet. 
This article will explore dairy's nutritional benefits and culinary wonders in cooking, delving into the various dairy products and their applications in savory and sweet dishes.
The nutritional bounty of dairy products
Dairy products are a rich source of essential nutrients that support overall health and well-being. Milk, cheese, yogurt, and butter are among the most common dairy products, and each offers a unique nutritional profile. One of the primary nutrients found in dairy is calcium, which is vital for maintaining healthy bones and teeth. Dairy products also contain protein, which is essential for building and repairing tissues in the body.
Another significant dairy component is vitamin D, crucial in calcium absorption, further promoting bone health. Vitamin D also supports immune function and helps regulate mood. Dairy products are a source of vitamin B12, essential for nerve function and red blood cell production, and riboflavin, which aids energy metabolism.
Culinary delights: Dairy in savory dishes
Dairy products lend their creaminess, richness, and depth of flavor to numerous savory dishes, enhancing the overall taste and texture. Creamy soups and sauces often utilize milk, cream, or cheese as a base, creating velvety textures that tantalize the palate. Classic dishes like creamy tomato bisque, Alfredo pasta, and savory risotto appeal greatly to adding dairy.
Cheese is a culinary superstar in its various forms, providing an extensive range of flavors and textures to elevate dishes to new heights. From aged Parmesan sprinkled over pasta to melted gooey mozzarella atop pizzas, cheese brings a delightful combination of creaminess and umami to many savory creations. Dairy-based dressings and dips, like ranch and tzatziki, add a tangy flavor that perfectly complements salads and grilled meats.
Dairy's sweet indulgences: Elevating desserts
In the world of desserts, dairy products are a cornerstone of delightful creations that bring joy to every sweet tooth. When whipped to perfection, cream becomes the luxurious whipped cream that crowns cakes and pies with a cloud-like lightness. Its versatility allows it to be infused with various flavors, such as vanilla or cocoa, to add a layer of decadence to desserts.
Yogurt and buttermilk also make their mark in the realm of desserts. Yogurt's tangy profile provides a refreshing contrast when paired with sweet fruits, making it a popular ingredient in fruit parfaits and smoothies. On the other hand, buttermilk's slightly acidic nature gives rise to tender and moist baked goods, like cakes and muffins, making them an irresistible treat.
Dairy and culinary innovation: Exploring plant-based alternatives
As culinary trends shift toward more plant-based diets, the demand for dairy alternatives has grown significantly. Innovations in the food industry have led to the development of plant-based dairy alternatives like almond milk, soy yogurt, and cashew cheese. These products provide options for those with lactose intolerance or dietary preferences while still offering unique flavors and textures that can mimic traditional dairy.
Nangs from providers such as https://www.nangwizard.net/guides/how-to-use-whip-cream-chargers-the-key-to-freshly-whipped-cream/ can add a light and airy texture to plant-based dairy alternatives, such as coconut whipped cream or almond milk foam, enhancing their creaminess and elevating the overall culinary experience. The rapid infusion of nitrous oxide from the nang charger creates a velvety texture in these alternatives, making them perfect for topping desserts, beverages, or even savory dishes for those seeking a dairy-free indulgence.
The versatility of dairy in international cuisine
Beyond the traditional uses of dairy in Western cuisine, various cultures worldwide have harnessed the power of dairy in their culinary traditions. In Indian cuisine, ghee, a clarified butter, adds a distinctive nutty flavor to dishes and is a critical ingredient in many Indian sweets and desserts. 
In Mediterranean cuisine, yogurt is a staple, used as a cooling accompaniment to spicy dishes or as a base for refreshing dips and sauces. In Middle Eastern cuisine, labneh, a tangy strained yogurt, takes center stage in mezze platters and salads, providing a delightful contrast to the vibrant flavors of the region.
To sum things up
Dairy products have held a cherished place in culinary traditions for centuries, and their nutritional benefits and culinary versatility make them a cherished staple in modern cooking. From providing essential nutrients like calcium and vitamin D to enhancing the flavors and textures of savory and sweet dishes, dairy products delight us in the kitchen. 
Whether savoring creamy pasta or indulging in a luscious cheesecake, harnessing the power of dairy in cooking brings endless possibilities to our culinary journeys. As we continue to explore new tastes and culinary innovations, dairy will remain an essential ingredient in the rich tapestry of global cuisine.