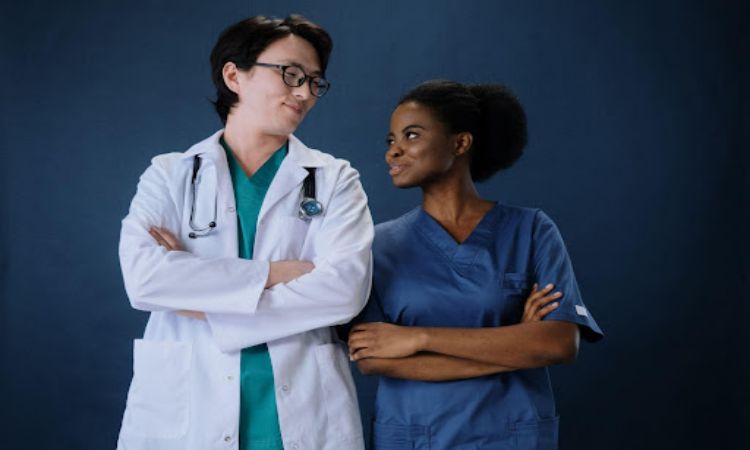 Understanding the nursing credential evaluation process, commonly known as CES Nursing, is crucial if you are an international nurse aspiring to work in the United States
CES Nursing is pivotal in determining your eligibility to practice in the U.S. In this comprehensive blog, we will delve into the significance of CES Nursing, provide an overview of the evaluation process, and emphasize the importance of thorough preparation.
Join us as we uncover essential tips and resources to pave the way for a smooth credential evaluation, bringing you one step closer to your nursing dreams.
Credential Evaluation Process For CES Nursing
The credential evaluation process, also known as CES Nursing, follows a series of essential steps that assess your qualifications and determine your eligibility to practice nursing in the United States.
Starting with an initial application, you must submit various documents such as academic transcripts, professional licenses, and employment verification.
These documents are carefully reviewed by experts who assess your educational background, clinical experience, and nursing competency.
Required documents for CES Nursing Evaluation
To ensure a smooth experience, gathering all the necessary documents is crucial. These typically include:
Academic transcripts
Course descriptions
Curriculum vitae
English proficiency test scores
The Evaluation Criteria And Standards
The evaluation team examines factors such as the comparability of your education to U.S. standards, the reputation and accreditation of your educational institution, and the relevance of your clinical experience.
By adhering to these established standards, CES ensures that internationally educated nurses meet the necessary qualifications and uphold the high standards of nursing practice in the United States.
Understanding these evaluation criteria and standards will help you better prepare for the evaluation process and increase your chances of a successful outcome.
Tips For A Smooth Nursing Credential Evaluation Process
Start The Process Early
Are you embarking on the nursing credential evaluation process?
Giving yourself ample time to navigate the intricate journey ahead is crucial. Starting early allows you to avoid unnecessary stress and ensures a smoother experience. Begin by familiarizing yourself with the requirements and gathering the necessary documents.
Research the steps involved in the process and create a timeline to stay organized. Early preparation grants you the opportunity to address any challenges that may arise, seek guidance when needed, and thoroughly review your application.
Gather And Organize Necessary Documents
One vital step is gathering and organizing the required documents for CES. To save time and streamline the process, create a comprehensive list of the necessary documents.
This typically includes academic transcripts, course descriptions, curriculum vitae, and English proficiency test scores. Next, employ efficient strategies to obtain and organize these documents.
Contact educational institutions for transcripts, ensure accurate translations, and create digital and physical copies for easy access.
Review And Translate Academic Records
As you navigate the nursing credential evaluation process, consider the significance of reviewing and translating your academic records. Accurate translations ensure your educational qualifications are properly understood and evaluated.
It's essential to convey the actual value of your academic achievements. To achieve this, consider enlisting the help of professional translation services specializing in educational documents.
These experts have the necessary expertise to translate your transcripts, ensuring clarity and precision. By investing in quality translations, you can present your educational background in the best possible light, enhancing your chances of a successful evaluation outcome.
Prepare For English Proficiency Exams
Fluency in English is a crucial requirement for the nursing credential evaluation process. To ensure success, familiarize yourself with the English proficiency exams accepted by CES Nursing, such as TOEFL or IELTS.
These exams assess your reading, writing, speaking, and listening skills. To excel, practice regularly, and consider utilizing study tips and resources tailored for these exams.
Online practice tests, study guides, and language learning apps can aid in improving your English proficiency.
Remember to allocate sufficient time for preparation and focus on areas that require improvement. By dedicating yourself to exam readiness, you'll enhance your language skills and confidently tackle the English proficiency exams.
Familiarize Yourself With The Evaluation Standards
These criteria assess educational comparability, accreditation, and clinical experience. Take the time to comprehend the evaluation standards to prepare yourself better.
Resources such as official guidelines, FAQs, and informational videos provided by CES for nursing can offer valuable insights. Additionally, professional nursing associations and online forums can provide guidance and clarification.
Seek Guidance From Nursing Associations And Organizations
These professional nursing associations have the expertise and resources to guide you through the intricacies of CES for nursing. They can provide valuable advice, clarify doubts, and offer support tailored to your needs.
Nursing associations can assist by providing information on credential evaluation, sharing best practices, and connecting you with fellow nurses who have undergone the process.
By tapping into the collective knowledge of these organizations, you can gain valuable insights, make informed decisions, and confidently navigate the CES for the nursing process.
In Conclusion
To all international nurses, leap and embark on the CES for the nursing process with unwavering confidence. Remember, CES for nursing is the gateway to fulfilling your dreams of practicing nursing in the United States.
Embrace the journey confidently, knowing your dedication and expertise will shine through the credential evaluation process.