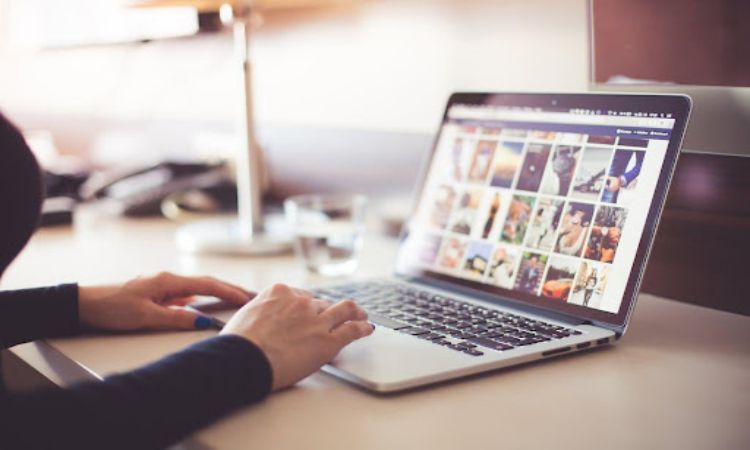 Wedding slideshows have become an integral part of modern-day celebrations, allowing couples to share their journey of love and create lasting memories with family and friends. Curating a captivating wedding slideshow requires careful consideration of various factors to ensure an engaging and meaningful presentation. 
Let's delve deeper into the dos and don'ts of making a slideshow with music, providing valuable insights and tips for a successful and unforgettable experience.
Things to Consider When Making a Wedding Slideshow
Here are the top seven things to consider when making a wedding slideshow to create a heartfelt and visually stunning slideshow that will leave a lasting impression on everyone.
1. Choose Meaningful Photos
Selecting the right photos is crucial for creating a wedding slideshow that truly reflects the couple's love story. Include photos that highlight special moments, milestones, and shared experiences. Candid shots capturing genuine emotions can add a personal touch. However, avoid overwhelming the slideshow with too many photos; instead, choose a carefully curated selection that represents the best and most heartfelt memories.
2. Set the Right Tone with Music
Music plays a significant role in setting the mood and enhancing the emotional impact of a wedding slideshow. Choose songs that resonate with the couple's journey and evoke the desired emotions. Consider their favorite songs, meaningful lyrics, or melodies that hold sentimental value. Ensure that the music complements the pace and transitions of the slideshow, creating a seamless and captivating experience for viewers.
3. Keep It Balanced and Engaging
Striking the right balance between the slideshow's duration and the audience's attention span is crucial. Aim for a duration that keeps viewers engaged without feeling too lengthy or rushed. Use transitions like fades or slides to create a seamless and visually pleasing flow. Avoid abrupt transitions that may disrupt the viewing experience. Smooth transitions and well-timed changes keep the audience engaged and immersed in the story unfolding before their eyes.
It's also important to maintain a dynamic flow throughout the slideshow by incorporating different types of photos, such as candid shots, posed portraits, and group photos. Mix up the order of the photos to create anticipation and keep the audience captivated throughout the presentation.
4. Maintain Visual and Audio Consistency
Visual consistency is key to making a slideshow with music. Maintain consistency in color tones, lighting, overall aesthetics, and music. Adjust the color balance and brightness of the photos to ensure a cohesive look. Avoid using photos with significant variations in image quality, as they can disrupt the visual flow and distract from the storytelling. Consistency enhances the overall impact of the slideshow and creates a harmonious viewing experience.
5. Opt for a Storytelling and Narrative Flow
A wedding slideshow should tell a compelling story that unfolds smoothly. Arrange the photos logically and chronologically, allowing the narrative to progress naturally. Consider incorporating captions or brief descriptions to provide context and enhance the storytelling. Aim for a cohesive and coherent storyline that captures the essence of the couple's journey. 
Incorporate images from different stages of their lives, such as childhood, dating, and engagement, and highlight diverse moments, such as quiet, intimate moments, fun-filled adventures, and more!
6. Do Not Wait Till the Last Minute to Test & Rehearse
Before presenting your wedding slideshow, be sure to test and rehearse the entire presentation. Check the timing, transitions, and audio to ensure everything runs smoothly. Test the slideshow on the equipment or display devices that will be used during the wedding to ensure compatibility and optimal viewing experience. Rehearsing the presentation will help you feel confident and ensure a flawless delivery on the big day.
7. Utilize Professional Photo or  Slides-to-Digital Services
If you have photo prints or film slides that you'd like to use in your custom slideshow we can scan them to high-quality digital files to use in your presentation. Consider working with a professional slides-to-digital service to ensure the highest quality images. These services offer expert scanning and digitization of your physical slides, resulting in high-resolution digital images that preserve the details and colors of your photographs. 
By entrusting this task to professionals, you can focus on creating the perfect slideshow while having peace of mind that your precious memories are handled with care. Professional scanning services also eliminate the risk of damage to your original slides during digitization.
Create a Symphony of Love and Memories with Smooth Photo Scanning
A well-crafted wedding slideshow has the power to evoke emotions, celebrate love, and create lasting memories. However, crafting a memorable wedding slideshow requires careful consideration and attention to detail. 
Let Smooth Photo Scanning help you create a stunning slideshow that will be cherished forever. Their team understands the significance of preserving and showcasing precious memories. Their design specialists specialize in slides to digital services, ensuring you have all the high-quality digital images you need to make heartfelt wedding slideshows.
Contact Smooth Photo Scanning by calling (973) 510-0818 to discuss your wedding slideshow needs and discover why they are the best choice for capturing your special moments in a captivating and unforgettable presentation.