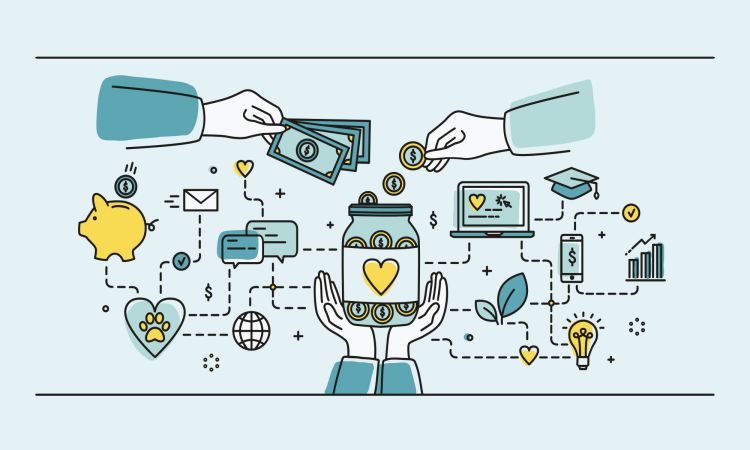 Fundraising is vital for non-profit groups because they need donations and gifts from people and businesses to keep running and move closer to their goals. These groups have found that using print on demand (POD) fundraiser items is an excellent way to raise money. This blog post will discuss what print on demand means and how it can move things forward.
What Does Print on Demand Entail?
Print on demand is a service that lets businesses make customized products on this website without keeping track of supplies. By making lots of items ahead of time, POD companies only make products when customers buy them. This makes it a good option for small businesses or organizations with few resources.
Using printing technology, POD companies let you customize things like t-shirts, mugs, phone cases, signs, etc. The process includes putting artwork designs on the company's website so that customers can choose from a variety of pre-made templates or make their own from scratch.
How Can Nonprofits Utilize Print On Demand?
Non-profit groups have already started holding galas and asking donors to send them checks. But over the years, they have also begun using POD to raise money for their cause by selling custom-made items connected to it. Here are a few examples:
T-shirts featuring slogans or symbols supporting the organization's cause are a way to demonstrate support and raise awareness.
POD services make creating Christmas cards or holiday-themed mugs easy.
This category includes a range of products like tote bags, magnets, and badges with codes used at charity events organized by the group.
The opportunities for customization are endless, as organizations can explore what works best based on the profile of their target audience and the nature of their campaign.
Benefits of Print On Demand
Customization with Zero Inventory Risk
As we've already discussed, one benefit of using POD is that you can customize things without buying stock that may or may not sell. Donors can choose from pre-made templates or make something new based on their tastes. They can choose colors, sizes, and quantities for the items they buy. Low initial investment cost
One benefit of print on demand is that it lets non-profits start campaigns with prices. There are no costs other than the time it takes to create, market, and set up a website for orders.
Global Accessibility
With print on demand, groups can give their supporters worldwide the chance to buy customized items. Printing is done locally, which keeps shipping costs low and makes it easy for people to buy these goods.
E-commerce Integration
Most print on demand providers also provide ecommerce solutions, letting donors purchase directly from a nonprofit's website. This type of one-on-one service is more convenient for customers. This removes roadblocks for potential buyers.
Effortless Order Fulfillment Process
Print on demand services handle the order fulfillment process for non-profits. This includes production, packing, and delivery services. These services are usually done within a day after someone buys something from your website or store page.
The Future of Print On Demand for Philanthropy
As technology improves worldwide and donors want to customize their purchases through channels like SMS or phone calls at fundraising events, fundraisers will have to change. They will invest in ways to include printed goods in their campaigns. Even though brick-and-mortar stores will always be helpful, print on demand (POD) benefits branding and selling products.
POD businesses can use this method to test how likely a product will sell, determine how much it costs compared to how much it costs to buy, find design ideas that customers like, and increase their return on investment (ROI). If you order 20,000 T-shirts all at once without testing the market, you won't be able to sell all of them.
Conclusion
Print on demand is a good choice for non-profit groups that want to make money by selling items. This technology makes it possible to make personalized things that raise money for good causes without any costs or risks. As e-commerce solutions get better, so does the business approach. This gives makers more time to look into sustainable materials. Fundraisers have a lot of options and can use strategic methods when they combine projects with print on demand production and delivery services. Traditional ways of designing products no longer work in this situation.