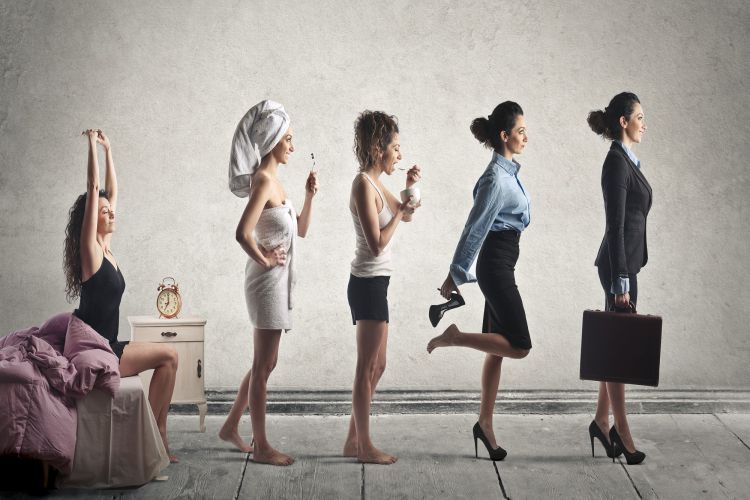 Perhaps you're heading from work to a hot date, have spent a long time traveling, or didn't get a great night's sleep and need a midday spruce-up. Having a quick freshen-up can make you feel ready to face the day, so it's important to ensure you have a way of freshening up while on the go.
1. Have a Stretch 
When taking five minutes out of your day to freshen up, it's a good idea to have a good stretch. Nothing fancy, you can just do some simple intuitive movements, like stretching your hands high above your head, circling your hips, or rotating your hands in circles. Doing small movements throughout the day helps improve circulation and flexibility. Your muscles are sure to thank you!
2. Comb your hair
Combing your hair or giving it a quick re-style can help you to feel fresher. It's a good idea to carry around a small travel-size brush to do this. If you're looking to change your style during the day, why not try out a simple plaited style that's sure to make you feel great? This type of style is perfect if your hair needs a wash.
3. Use hand sanitizer
When you're on the go, it's important to keep a hand sanitizer in your bag so that you can freshen up and kill 99.9% of germs and bacteria. If you've been traveling on public transport, or have been in a busy area, it's imperative to sanitize afterward. Opt for a sanitizer with a fresh scent that won't dry out your skin. 
4. Apply lip balm
Applying lip balm is especially necessary when the weather gets cold. Keep a gentle nourishing lip balm in your bag, so you can freshen up as often as you like and avoid getting chapped lips in the process. If you're someone who reapplies lipstick throughout the day, try adding a little lip balm first to keep your lips looking and feeling their best. 

5. Apply some perfume 
Now, we're not implying that you smell bad, but don't we all get a thrill from knowing we smell great? Find a gorgeous scent that makes you feel good about yourself, and don't be afraid to give yourself an extra spritz throughout the day. 
If you wear the same perfume day in, and day out, your nose can easily become accustomed to the smell, so you could try alternating between a few different scents that you love. That way you'll be able to smell the scent yourself and feel confident that you smell great.
6. Take a few long deep breaths
Often, an overloaded mind can make us feel like we need to freshen up and get away from our desks for five minutes. Don't be afraid to take small breaks throughout the day. Freshen up by taking five minutes to yourself to just breathe. Close your eyes and take the deepest breath you've taken all day. This is sure to leave you feeling calmer, more grounded, and able to get on with your day with an added spring in your step.