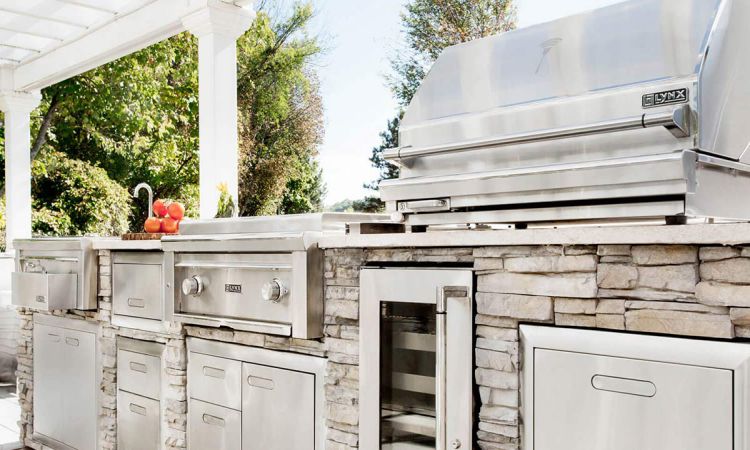 Outdoor kitchens offer an amazing addition to any home. These outdoor spaces allow homeowners to enjoy the outdoors while they cook for family or entertain guests. Homeowners must make many decisions when planning an outdoor kitchen, including kitchen cabinet materials. Selecting stainless steel drawers and cabinets is beneficial in many ways.
What Are the Benefits of Stainless Steel Drawers and Cabinets?
Choosing stainless steel drawers for your outdoor kitchen is one of the best ways to enjoy your outdoor space. The following are some top benefits of installing stainless steel cabinetry.
Homeowners Can Choose Multiple Finishes
There are hundreds of stainless steel finish options available for homeowners to select. Powder-coated finishes are a popular choice and are available in countless colors. Homeowners can choose frosted glass inserts and many textures. Homeowners can also seek customized options to match the design of their kitchen.
Stainless Steel Offers Enhanced Durability
Since outdoor kitchens are exposed to the elements, homeowners need to select durable materials that will hold up well. Stainless steel is more resistant to rust than other metals and will not rot. Stainless steel also does not attract pests that can get into a homeowner's food supply and wreak havoc. Even those living in coastal communities can appreciate the durability of stainless steel that will stand up to corrosion from salty, moist air.
Stainless Steel Drawers Offer Easy Maintenance
Stainless steel cabinets are easy to keep clean and maintain. Because they are not porous, they do not absorb moisture, making them an excellent choice for keeping germs at bay. All homeowners need to do is wipe them down with a soapy rag, rinse, and dry. These cabinets practically maintain themselves.
Those with powder coatings should use filtered water and mild soap. Powder coatings help further offer maintenance-free care. Stainless steel is an ideal material for busy homeowners who do not want to deal with a lot of cleaning.
Homeowners Will Find Stainless Steel Versatile
Many homeowners like to switch up the look of their outdoor kitchens from time to time. Certain cabinetry can put a damper on design schemes because it limits them. Stainless steel offers a neutral background that appeals to any design scheme. Homeowners can select countless colors and designs, and the stainless steel cabinetry will not interfere.
Stainless Steel Is Eco-Friendly
Unlike some cabinetry materials, stainless steel is entirely recyclable. Because of its incredible strength, you will not have to worry about replacing the cabinets too often. The limited cleanup also ensures homeowners are not using strong chemicals that negatively impact the environment.
Tips for Choosing Stainless Steel Cabinetry
Selecting stainless steel cabinetry does not have to be overly challenging. There are a few tips to keep in mind.
Make sure all the hardware and components are stainless steel so they will not corrode.
Ensure the cabinetry has plenty of storage options to meet your needs.
Check to see if the manufacturer offers a warranty.
Make sure the stainless steel cabinets close completely to prevent openings for pests to get inside.
Stainless Steel Cabinets Complete Outdoor Kitchens
Adding stainless steel cabinets to an outdoor kitchen can revolutionize the design and make it flawless. Stainless steel cabinets are easy to maintain and continue to look beautiful for decades. Those on the fence about stainless steel should consider the advantages and begin pursuing their options.