The interplay between architecture and well-being is a subject of immense significance. It encompasses not only the physical aspects of our surroundings but also the psychological and emotional dimensions of how we experience these spaces. Architecture is a canvas upon which the tapestry of our lives unfolds, affecting our physical health, emotional state, and social interactions.
Human beings have an innate connection to nature, an ancient and profound relationship that goes beyond aesthetics. Biophilic design, a concept that has gained traction in recent years, recognizes the intrinsic bond between humans and the natural world.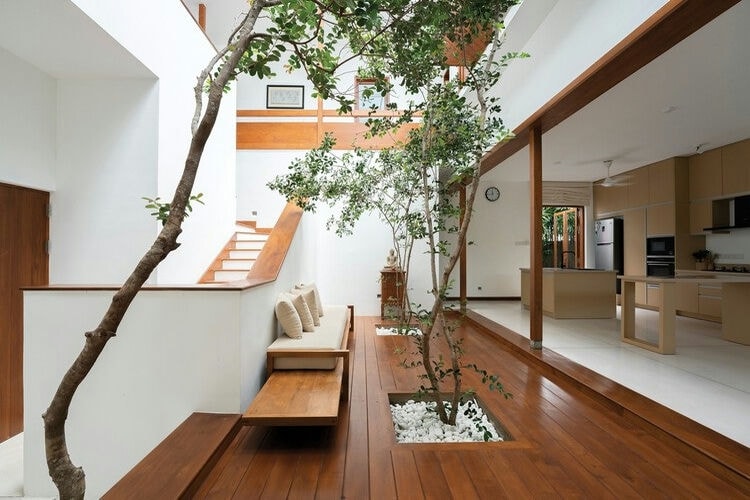 This approach seeks to incorporate elements of nature into the built environment, recognizing that doing so can enhance our physical and psychological well-being. Biophilic design often involves the integration of greenery, natural materials, and views of the outdoors into architectural spaces.
By bringing nature indoors or by allowing easy access to outdoor spaces, architects aim to reduce stress, improve cognitive function, and promote overall health. Several case studies vividly illustrate the positive impact of biophilic design on the well-being of individuals and communities.
The Role of Natural Light in Architectural Well-Being
Amid the concrete jungles and steel structures of the modern world, the significance of natural light in architectural design cannot be overstated. Adequate exposure to natural light has been linked to various aspects of our well-being, such as improved mood, better sleep patterns, and increased productivity.
Architects strive to harness the benefits of natural light through strategic placement of windows, skylights, and reflective surfaces. The play of light and shadow, the changing quality of daylight, and the warmth of the sun's rays all contribute to our sense of well-being. Additionally, the emphasis on daylighting techniques not only enhances the occupants' physical health but also contributes to energy efficiency and sustainable design.
Urban Planning and Community Well-Being
Our urban environments are complex ecosystems that significantly impact our overall well-being. Urban planning, the art of designing cities, neighborhoods, and public spaces, plays a pivotal role in shaping the health, happiness, and quality of life of entire communities.
The principles of urban planning that prioritize community well-being include promoting walkability, creating green spaces, and ensuring accessibility. Cities designed with these considerations in mind tend to foster physical activity, social interaction, and a stronger sense of belonging. In this section, we will examine the challenges and opportunities faced by urban planners as they strive to create healthier, more vibrant cities in the face of rapid urbanization.
The Importance of 3D Rendering in Architecture
In the digital age, architectural design and visualization have undergone a transformative evolution. 3D rendering services are part of the technologies that creates realistic, immersive representations of architectural designs, and have become an invaluable tool in the architect's toolkit.
Through 3D rendering, architects can convey their vision with astonishing clarity and detail, enabling clients, stakeholders, and the design team to understand and engage with proposed spaces. This technology enhances the design process, fostering better communication and comprehension.
It significantly contributes to the well-being of those involved in architectural projects by reducing misunderstandings, improving collaboration, and ultimately leading to better-designed spaces.
Soundscapes and Acoustics in the Built Environment
The soundscape of a space, whether bustling with urban activity or nestled in serene natural surroundings, profoundly influences our comfort and mental state. Acoustic design in architecture is the art of shaping sound to enhance our well-being. It involves minimizing unwanted noise, optimizing auditory experiences, and creating spaces where tranquility and harmony prevail.
By creating environments that resonate with the sounds we desire, architects positively impact our psychological well-being.
Color, Mood, and Psychological Well-Being
The aesthetics of architectural design go beyond mere appearances; they have a powerful impact on our emotions and psychological well-being. Different colors evoke distinct moods and psychological responses, which architects can strategically utilize to create spaces that promote positive emotions. The psychology of color is a nuanced field, where careful consideration of the color palette in a space can significantly influence the mental state of its inhabitants.
Sustainable Design and Environmental Well-Being for Industrial Rendering in VR
Sustainable design in architecture is a multifaceted approach that focuses on minimizing the environmental impact of buildings while enhancing the well-being of occupants. The principles of industrial rendering in architecture include energy efficiency, the use of renewable materials, and the incorporation of green building practices for projects related to big industries, all of these which can be seen being implemented by VR tours.
Architecture and Social Interaction
Architecture serves as a stage for social interactions and relationships to unfold. The layout of spaces can either encourage or impede social engagement. Elements such as communal areas, accessibility, and overall design play a pivotal role in shaping our interactions with others. Knowing how architects can promote community building, collaboration, and diverse forms of social interaction through their designs is vital. The environments they create can either foster isolation or facilitate connection, thereby significantly influencing our social well-being.
Therapeutic and Healing Spaces in Architecture
Some architectural spaces are explicitly designed to promote physical and emotional healing. Hospitals, clinics, and therapeutic retreats are examples of environments where architecture plays a critical role in patient outcomes and well-being. By examining the design of healing spaces, we gain insight into the importance of elements such as access to nature, comforting aesthetics, and privacy. These factors collectively contribute to the recovery and well-being of individuals undergoing medical treatment.
Conclusion
The multifaceted relationship between architecture and well-being underscores the pivotal role that the built environment plays in our lives. As architects continue to deepen their understanding of this relationship, they have the power to create more innovative and purposeful design solutions that prioritize the health and happiness of individuals and communities.
Through the incorporation of biophilic design, the harnessing of natural light, and the careful consideration of soundscapes, color, sustainability, and social interaction, architects have the means to positively shape the well-being of those they serve. In this ever-evolving field, the quest for healthier, more harmonious spaces continues to be a driving force in architectural innovation and excellence.