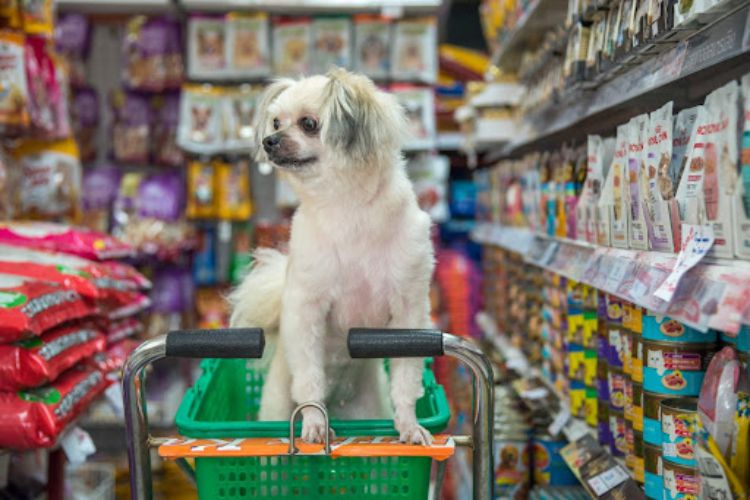 As a loving pet parent, your priority is ensuring comfort for your furry friend. We're here to help navigate the world of pet products! In this guide, we've curated a list of the top 10 essential items to enhance your pet's quality of life.
From cozy beds to interactive toys and innovative feeding solutions, these handpicked products will make both your and your furry companion's life easier and more enjoyable. Let us guide you on this exciting journey of discovering the perfect pet products for your little one. Don't miss out on the valuable tips and recommendations that await you!
Springer Water Bottle
Proper hydration is crucial for both humans and pets alike! Introducing the Springer Water Bottle, a game-changer in keeping your furry friend hydrated on the go. With its innovative design and user-friendly features, this water bottle ensures that your dog stays refreshed and energized during outdoor adventures.
Its lightweight and compact construction makes it effortlessly portable, while the easy-to-use mechanism guarantees convenience for pet owners. Don't miss out on this must-have accessory that prioritizes your pet's well-being!
Dog Carriers
Dog carriers are a must-have for any pet owner, whether it's a routine vet visit or an exciting vacation adventure. They provide a secure and cozy space for your furry friend during travel, ensuring their well-being and comfort.
With sturdy construction, ample ventilation, and soft padding, these carriers offer a stress-free and enjoyable experience for both of you. Invest in a high-quality dog carrier for peace of mind and convenience on every trip, short or long distance.
Pet Harness
A pet harness is not just for training; it's great for regular walks, too. It offers better control, especially for energetic dogs, and is safer and more comfortable than a standard collar. With its adjustable straps and secure buckles, the harness ensures a snug fit and reduces the risk of choking or neck injuries.
Additionally, the harness distributes the pressure evenly across the chest, reducing the strain on your furry friend's neck and making walks more enjoyable for both of you. So, whether you're going for a casual stroll or a vigorous hike, a pet harness is the perfect accessory to keep your dog happy, safe, and stylish.
Dog Beds
Every dog deserves a cozy place to rest after play. Dog beds provide a safe and secure space designed to meet their unique needs. With a soft and plush surface, these beds offer the perfect spot for your pet to relax and recharge.
There's a wide variety of dog beds available for every size, breed, and sleeping preference. Give your beloved companion the gift of ultimate comfort and create a haven for their serenity.
Chew Toys
Chew toys aren't just for fun; they play a crucial role in maintaining your dog's dental hygiene. By engaging their natural chewing instincts, these toys effectively clean and strengthen your dog's teeth and gums, promoting overall oral health.
Additionally, the textured surfaces of these toys provide a stimulating experience, keeping your furry friend entertained and satisfied for longer periods. As a result, your shoes can finally take a break from being the target of their destructive tendencies, while your dog enjoys a healthy and engaging playtime experience.
Treats play
Treats play a vital role in reinforcing good behavior in pets. However, it's important to prioritize their health and well-being when choosing treats.
Opting for options made with natural ingredients not only provides a delicious reward but also ensures that your pet's overall health is taken care of. By selecting treats that are free from artificial additives or preservatives, you can further enhance their overall quality of life and contribute to their long-term happiness.
Nail Clippers
Regular nail clipping is vital for your pet's comfort and health. Trimming their nails prevents discomfort, injuries, and infections. Choose easy-to-handle clippers with a safety guard to ensure safe and efficient trimming.
The guard prevents over-cutting and reduces the risk of injury. Regular nail clipping contributes to your pet's well-being and keeps their paws in optimal condition.
Poop Bags
Cleaning up after your pet is not only a responsible choice, but it is also essential for a clean and healthy environment. By using biodegradable poop bags, you can ensure that you are not only maintaining proper hygiene but also taking a step towards being more environmentally conscious.
These eco-friendly bags are designed to break down naturally, reducing the impact on our planet. So, make the right choice and opt for biodegradable poop bags to dispose of your pet's waste in a hygienic and environmentally-friendly way.
Brush
Regular grooming is an essential aspect of maintaining your dog's overall health and appearance. By regularly brushing your furry friend's coat with a brush specifically designed for their hair type, you can ensure that their fur stays healthy, shiny, and free from tangles or mats.
Not only does this promote a lustrous and well-groomed appearance, but it also helps to distribute natural oils throughout their coat, keeping them moisturized and preventing dryness. So, take the time to pamper your beloved pet with proper grooming to keep them looking and feeling their absolute best!
Dog Shampoo
Using a good quality dog shampoo is essential to maintain your pet's coat in optimal condition. Not only does it keep their fur shiny and healthy, but it also leaves them smelling great.
When choosing a dog shampoo, it's advisable to look for products with natural ingredients. This helps to avoid any potential skin irritations and ensures that your furry friend receives the best care possible.
Wrapping up Your Essential Pet Products List
When it comes to pet products, it's not just about convenience; it's about providing the best life possible for your beloved furry friend. From toys and treats to comfortable beds and nutritious food, every choice you make contributes to your overall happiness and well-being.
So, take the time to explore and experiment with different options, finding what works best for your unique pet's needs and preferences. Remember, a happy and content pet makes for a joyful and harmonious home environment that everyone can enjoy!
Want to learn more? Don't forget to check out our other articles before you leave!